---
A WARNing For Stocks In Labor Data
Echoing recent comments from Goldman Sachs, Bloomberg macro strategist Simon White warns (forgive the pun) that Worker Adjustment and Retraining (WARN) Notices are picking up which points to unemployment claims soon rising and a deterioration in the jobs market, posing a risk to stocks.
Unemployment claims (the latest data is out this morning) have remained resilient in the downturn, reflecting a labor market that looks robust. However, that may be about to change in the coming weeks and months.
The WARN Act obliges employers with more than 100 full-time workers to provide written notice to the state and the workers themselves at least 60-90 days ahead of planned plant closings and mass layoffs.
In recent months, WARN notices have been steadily rising. As the chart below shows, this generally precedes sharp rises in unemployment claims, especially around recessions.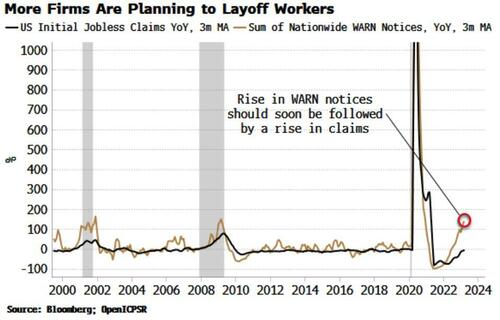 The Cleveland Fed has done analysis on WARN notices and they show lead other labor-market indicators, including claims, changes in the unemployment rate and changes in private employment, with the strongest lead relationship over one month.
The rise in WARN notices coincides with a sudden rise in the number of US states showing an least 25% annual rise in their claims.
Often when this measure hits its current threshold, it jumps considerably higher, culminating in a recession.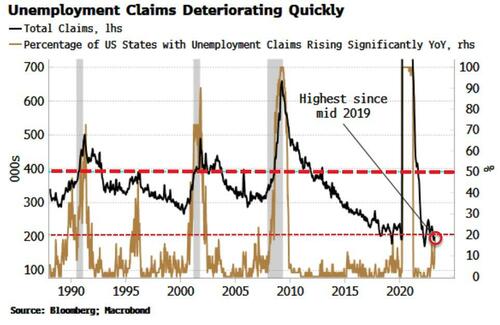 It's clear stocks are not pricing in much chance of a recession, certainly not one that could hit quite soon, as they continue to rally towards 4,100.
But a rapid deterioration in job-market data, downwards revisions of previous data, poor liquidity and much tighter financial conditions in the wake of SVB would leave stocks facing potentially considerable further downside.
Loading...