It has been a rough two months for Elizabeth Warren, whose formerly insurmountable lead according to PredictIt has all but melted away, leaving her tied with Joe Biden for the Democratic presidential nomination.
But as Warren's star was setting, that of Pete Buttigieg has rising, with his nomination odds staging an impressive run in the past month, leading to what is effectively a three way tie between Warren, Biden and Buttigieg.
One possible reason for the Indiana mayor's run was laid out by Cowen analyst Jaret Seidberg, who said that the democratic presidential candidate is being well-received by markets due to his pragmatic approach to governing and his "appreciation for the benefits of capitalism." As a reminder, Buttigieg is due to take the debate stage on Wednesday night as the emerging front-runner in Iowa.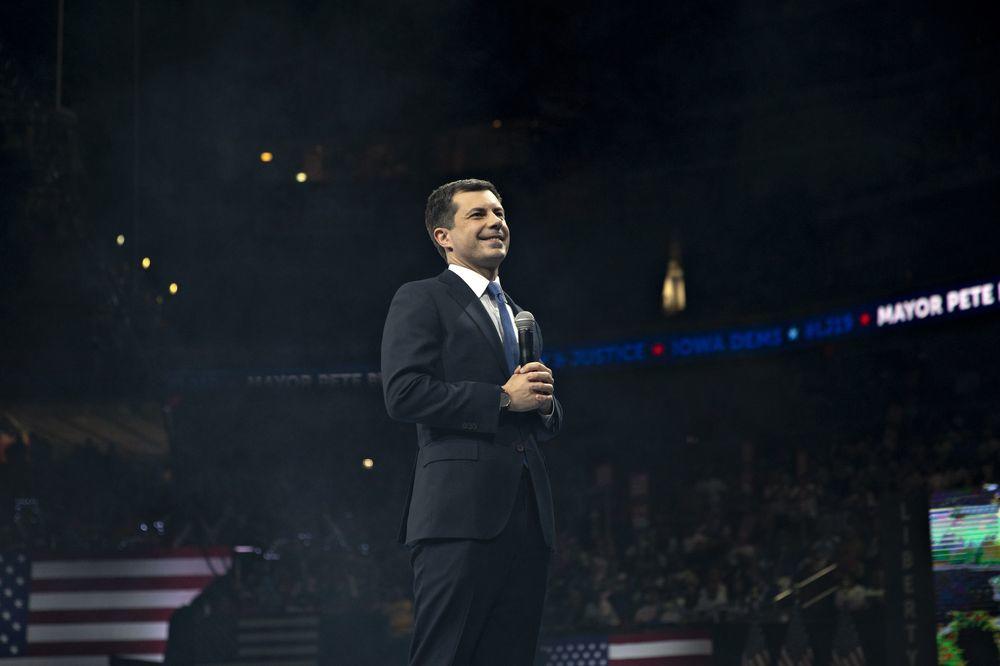 In a field that involves staunch leftists such as Warren and Sanders, the Indiana mayor is probably one of the better Democratic candidates for financial and housing stocks, Seiberg wrote adding that Buttigieg's "experience is solving problems rather than partisan brawling," while he hasn't endorsed "some of the more radical policy plans that other Democrats are advocating."
Seiberg also pointed out that though Buttigieg hasn't articulated many views on financial firms while campaigning, he's "Harvard and Oxford educated and worked for McKinsey on economic stabilization in war-torn areas."
That is a point made previously by Jeff Gundlach who said that two weeks ago that "Mayor Pete is very smart.  His Hunger Games "let them kill each other" strategy is perfect.  Can you name a single policy Pete's advocating?"
Mayor Pete is very smart. His Hunger Games "let them kill each other" strategy is perfect. Can you name a single policy Pete's advocating?

— Jeffrey Gundlach (@TruthGundlach) November 8, 2019
Buttigieg also presents himself as a "Democratic Capitalist" and has touted his business experience, with Seiberg also pointing out that his national policy adviser Sonal Shah, was formerly with Goldman Sachs and Google, and "sounds like another progressive pragmatist."
As a result, when it comes to markets, the Cowen analyst believes that Buttigieg would probably pick a Fed chairman who's similar to Janet Yellen, as he may understand the "importance of an independent central bank that can put the long-term interests of economy ahead of short-term political gains." More importantly, Buttigieg is unlikely to choose a central banker who endorses modern monetary theory, in contrast to what Warren or Sanders would certainly pursue.
And while little is known about Buttigieg does endorse, Seidberg summarized his known policy views on financials and housing as follows, courtesy of Bloomberg:
Buttigieg has been vocal about ensuring consumers can sue credit card companies rather than having to use arbitration.
He would restore corporate tax rates to 35% to pay for his health care plan, which means that higher taxes aren't a separate priority, reducing risk.
He has endorsed a transaction tax, possibly aimed at high frequency trading rather than traditional trading.
He supports higher estate and top individual tax rates.
Buttigieg may be good for housing as he wants to create a federal program to provide downpayment assistance for 1 million families.
Buttigieg's discussion of using affordable housing trust funds to finance two million units of affordable housing may be an "implicit endorsement" of Fannie Mae and Freddie Mac.
Cowen hasn't heard Buttigieg discuss bank regulation, noting that the candidate hasn't weighed in on breaking up banks or objected to plans to reduce reliance on leverage ratios in the Federal Reserve's stress test.
Like most of Democratic candidates, Buttigieg favors legalizing cannabis