---
10,000 Protesters In Vienna March Against Coronavirus Restrictions  
At least 10,000 people marched through the streets of the Austrian capital on Saturday to protest coronavirus restrictions, calling on Chancellor Sebastian Kurz's government to resign as his administration recently spoke of extending the measures. 
Demonstrators in Vienna, many without masks, held signs that said "Kurz Must Go" and "Make Influenza Great Again."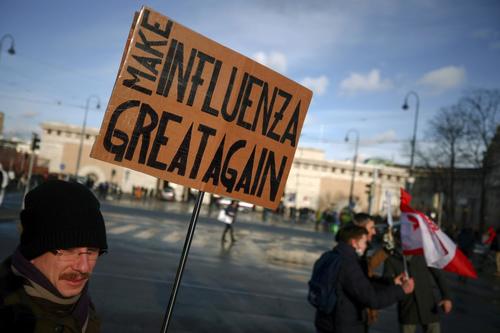 One social media user posted a video of the protest in Vienna. The user said, "massive protest in Vienna now. No one wearing a mask!"
#protestwien #wien #NoMasks #COVID19 #coronavirus @metropole_vie @orfbrk @ORF @CNNBrasil @GloboNews @cissamalan @AndreiaSadi pic.twitter.com/HKi932nmIj

— Karoline de Oliveira (@karolineoliro) January 16, 2021
According to RT News, "two rallies took place in different parts of the city, which rarely sees large protest action, before uniting into a single march of around 10,000 people. Most in the crowd ignored police calls to abide by social distancing rules and wear facemasks. On the contrary, the people greeted each other with kisses, hugged, and danced."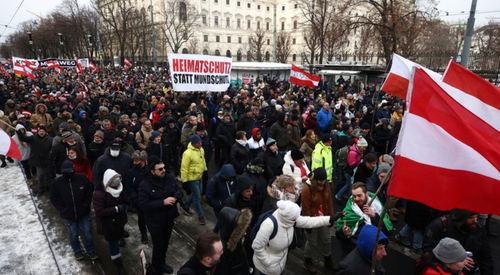 At least 500 counter-protesters were present, denouncing the 'anti-mask lunatics'. 
RT posted a video of the massive protest that seemed orderly. 
Since last March, Austria has entered its third lockdown, a move by the government to mitigate the spread of the COVID-19. Nearly 390,000 infections have been recorded since the start of the pandemic and 7,000 related-virus deaths. 
Kurz's official announcement of more coronavirus restrictions could come as early as Sunday. 
Lockdowns and restrictions across the euro-area economy due to the resurgent pandemic could produce a double-dip recession. 
Bloomberg noted that research desks at JPMorgan Chase & Co. and UBS Group AG downgraded their euro-area economic forecast because of the lockdowns. 
High-frequency indicators in the euro-area economy have been stumbling since late summer.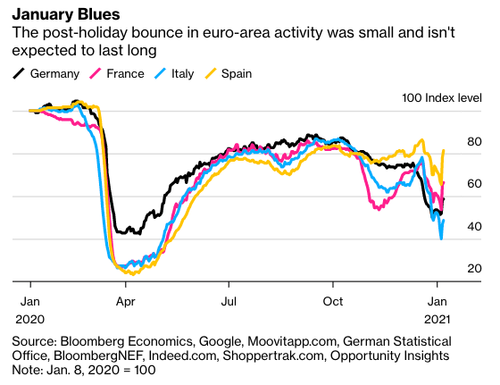 Goldman Sachs analysts have pointed out that "confidence" issues could develop, or "demand issue," as it said, not enough people will voluntarily get vaccinated. 
With 55 Americans and 29 Norwegians dead shortly after taking the mRNA-based COVID-19 vaccines produced by companies such as Pfizer - the entire recovery based on vaccine hope and monetary/fiscal packages could derail economic recoveries in the West. 
To sum up, people are getting angrier about additional lockdowns as vaccine deaths are causing the unimaginable to happen: an increase in vaccine mistrust.