---
2020 Democrats Running Low On Cash As Trump Builds Up War Chest
Authored by Karl Evers-Hillstrom via OpenSecrets.org
President Donald Trump has more campaign cash on hand than the entire Democratic field combined, building on his money advantage as 2020 Democrats burn through their reserves to woo voters in early primary states. 
Trump's campaign has nearly $103 million in the bank, compared to less than $85 million combined for the Democratic hopefuls. The president grew his bank by 24 percent from October to December while most of the remaining Democrats burned through their reserves.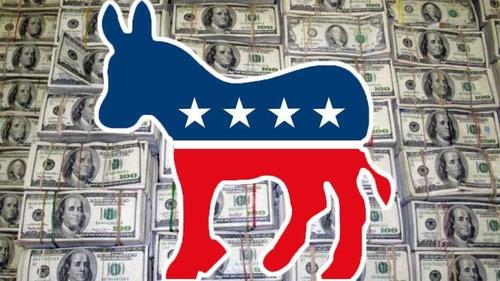 Sen. Bernie Sanders (I-Vt.), the current polling leader in Iowa, raised $34 million from October through December but spent almost $50 million. That spending, driven partly by expensive TV ad buys in early primary states, left Sanders with just over $18 million in the bank. Sanders surged in recent months, taking the top spot in Iowa and New Hampshire polls and joining former Vice President Joe Biden atop national polls. 
After critics raised concerns about the Biden campaign burning through campaign cash at a seemingly unsustainably rate, Biden dropped his opposition to super PAC support in October. Thanks to $5.5 million in Iowa ad buys from Unite the Country — a pro-Biden super PAC funded by ultra-wealthy donors — Biden was one of the few Democrats who didn't lose millions of dollars over the latest three-month period.
The same can't be said for Sen. Elizabeth Warren (D-Mass.) and former South Bend, Ind., Mayor Pete Buttigieg, who burned through 47 and 38 percent of their cash reserves, respectively. Warren's financial losses are coupled with losses in early primary polls, which left her with $13.7 million on hand and little momentum with Iowa voters in the Feb. 3 contest.
At this time in the 2008 presidential election, Barack Obama had $18.6 million on hand and Hillary Clinton had nearly $38 million in the bank. In another two-horse primary race in 2016, Clinton also had about $38 million, while Sanders entered the new year with $28.3 million on hand.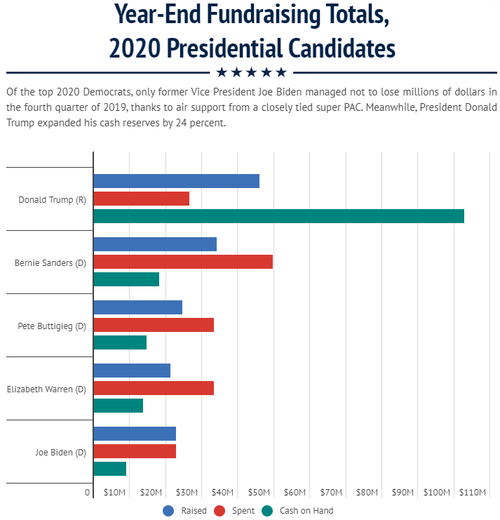 Chart and data via OpenSecrets.org
The 2020 Democratic primary features more viable candidates than past contests, effectively forcing candidates to spend heavily to stay in the race. The primary is disrupted by two billionaire self funders, Michael Bloomberg and Tom Steyer, who are saturating the airwaves with political ads and driving up prices for their opponents. Bloomberg has already poured $200 million of his own money into the campaign, obliterating self-funding records. He can afford to keep his campaign afloat perpetually, and the Democratic National Committee recently changed its debate rules to give Bloomberg a chance to participate. 
Meanwhile, Trump is comfortably building on his money advantage. The Republican incumbent has an unprecedented $103 million on hand, more than President Obama's $82 million at this point in 2012. His powerful joint fundraising committees, Trump Victory and Trump Make America Great Again Committee, have another $21 million in the bank. Trump's fundraising machine gets campaign cash from small donors and ultra-rich patrons, then transfers that money to his campaign, the Republican National Committee and allied lawmakers such as Sen. David Perdue (R-Ga.). 
Democratic presidential nominees generally launch a joint fundraising committee with the DNC and state parties to bring in big-dollar donations for the party. There is no presumptive nominee currently in sight, leaving the party with few fundraising resources and little money to spend on outreach in swing states. The threat of a drawn out primary is worrying some Democratic leaders that Democratic candidates will be low on money by the time the party selects a nominee.