---
4 Wounded In "Meat Cleaver" Attack Near Site Of 2015 Charlie Hebdo Massacre
Update (0900ET): French police are reportedly investigating today's attack as an act of terrorism.
* * *
Four people were wounded Friday near the former offices of the satirical newspaper Charlie Hebdo, CNN reported, the site of a brutal 2015 terrorist attack and mass shooting during which 12 people were killed.
Four people have been wounded in a knife attack near the former offices of satirical magazine Charlie Hebdo in Paris, French police have said.

Sky's Europe correspondent @AdamParsons reports.

For the latest updates, click here: https://t.co/Lwqqo5dDcI pic.twitter.com/M6nutUf89r

— SkyNews (@SkyNews) September 25, 2020
Just weeks ago, Charlie Hebdo republished the "Mohammed Cartoons" under the title "Tout ça pour ça" ("All of that for this") - but it was unclear among local authorities if the attack was related to the newspaper's latest publication.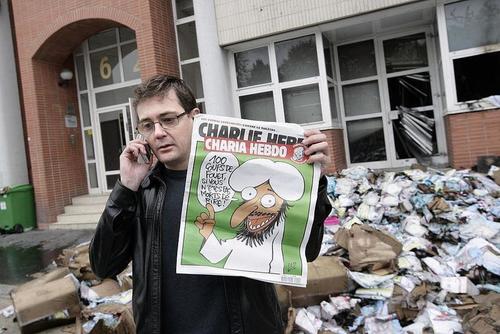 Jean Castex, the French prime minister, tweeted, "a stabbing attack was perpetrated near the former premises of the weekly Charlie Hebdo." He cut short a scheduled speech in the Parisian suburb of Seine-Saint-Denis, saying that a "serious event" had unfolded int the capital.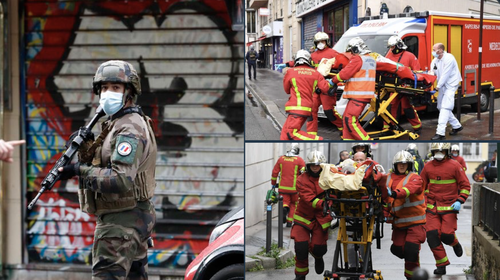 A Paris police spokesperson said two of the four injured were in critical condition. According to BBC, a suspect has been "detained in the nearby Bastille area after police said at least one person had fled the area by metro." 
#France #Latest Public TV now confirms that 2 injured by knife attack in #Paris are workers of TV news agency Premieres Lignes, located near the former offices of Charlie Hebdo. Not clear if it was a targetted attack. Same agency that filmed #CharlieHebdo attackers 5yrs ago. https://t.co/JurGt0PNPE

— José Miguel Sardo (@jmsardo) September 25, 2020
French media is reporting the suspect, who has been arrested, had blood on his clothing. The weapon, used in the incident, was described as a "meat cleaver" - was recovered at the scene.
BREAKING - Paris police at the area where 4 people were injured in a knife attack near Charlie Hebdo offices. pic.twitter.com/RXgfOuuakw

— Disclose.tv 🚨 (@disclosetv) September 25, 2020
It's unclear whether the attack was motivated by Charlie Hebdo's latest publication of Mohammed Cartoons or whether it was random. Notably, the attack comes as a high-profile trial has begun of 14 people accused of supporting two jihadists who carried the 2015 attack on the newspaper.