---
"Absolutely Crushed" - Broadway Theater Shutdown Extended Until Next Spring 
Broadway's 41 theaters in New York City are now suspending ticket sales through May 30, 2021, according to a Friday morning announcement from The Broadway League, which represents producers and theater owners.
Charlotte St. Martin, President of the Broadway League, said, "with nearly 97,000 workers who rely on Broadway for their livelihood and an annual economic impact of $14.8 billion to the city, our membership is committed to re-opening as soon as conditions permit us to do so." 
Martin said the league is "working tirelessly with multiple partners on sustaining the industry once we raise our curtains again." 
All of Broadway's theaters were abruptly closed in early March as the virus pandemic swept through the city. All shows have been canceled ever since, with producers previously extending the shutdown from June 7 to Sept. 6 to Jan. 3, 2021, to now May 31, 2021.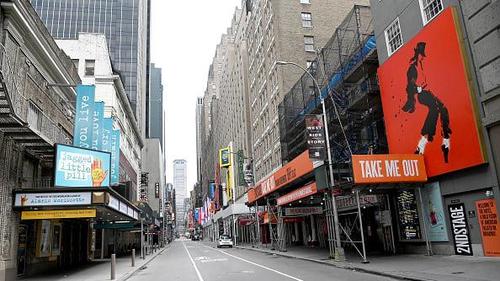 FOX 5 New York said the latest extension to close theaters would result in further difficulties in the first half of 2021 for Broadway, including the release of new shows in the spring. 
With Broadway closed, actors have very little work. Actors' Equity Association, the labor union representing 51,000 actors, has requested Washington to provide those in the performing arts industry with funding and loans amid shutdowns. 
"We're in the middle of the worst crisis facing the American theater since the flu of 1918, and why would now be the time to change our decades-long relationship of working together?" said Mary McColl, Equity's executive director. 
McColl said, "it doesn't help actors and stage managers, and it doesn't help the labor movement. We should be fighting to protect the workers, and instead, we're in this argument about whose fence should be where."
Broadway has shuttered its doors for nearly seven months - has been devastating for the local economy, as the lack of tourists who venture to the city's musicals and plays contributes billions of dollars every year to small and medium-sized businesses. About 65% of Broadway's annual sales include tourists from out of state. 
Social media was devastated by Broadway's extended closure: 
The fact that broadway closed like a week after my first broadway audition the year I graduated with a degree in musical theater and was supposed to start making a life for myself in NYC is just,,,,a different kind of painful

— Sawyer Greene (@queer_elf_club) October 9, 2020
since broadway is going to be closed for longer this is a reminder to support ur favorite artists rn! stream their music, go to their zoom shows, buy cameos, sub to their twitch's, whatever they're doing to make money rn! donate to the actors fund! (if u can financially!! )

— ELoween ❥ CRG TONY CAMPAIGN (@sapphicmoritz) October 9, 2020
If you can at least go to the nearby shops and restaurants, please go. This is such a fragile ecosystem and they will need support till we're back. https://t.co/eMtBFrXAKz

— Patrick Vaill (@patrick_vaill) October 9, 2020
broadway being closed until next summer .. i am absolutely crushed for the performers, directors, musicians, ushers, hair/makeup/costume crews, techies, and so on. theatre quite honestly is the beating pulse of america and i have no clue what the future holds for the industry

— molly ミ☆ jan era (@jackiesmaalls) October 9, 2020