---
After Telling Sitting President To "Shut Up, Man" - Biden Begins Selling T-Shirts
Following a tense exchange during Tuesday night's presidential debate in which former Vice President Joe Biden snapped at President Trump, the Biden campaign has started selling T-Shirts with the phrase "WILL YOU SHUT UP, MAN".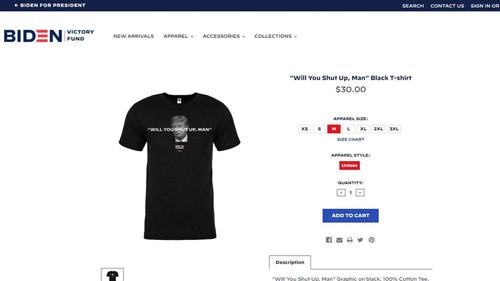 The shirts are currently selling for $30 each on Biden's Victory Fund website, in sizes up to 3XL for the "look, fat" demographic.
Biden uttered the phrase after Fox News debate moderator Chris Wallace asked Biden if he supported ending the filibuster and packing the Supreme Court if he's elected, during which President Trump repeatedly interrupted - pressing Biden over whether he would in fact pack the court.
"Will you shut up, man?" replied Biden, adding "This is… this is so unpresidential."
Joe Biden: "Will you shut up, man?" #Debates2020 https://t.co/oXZEIYMzl6 pic.twitter.com/Lm7gkXUPAC

— The Hill (@thehill) September 30, 2020
Later in the debate, Biden called Trump the "worst president America has ever had."