---
Alan Dershowitz: Trump Can Serve As President "From Prison"
Authored by Jack Phillips via The Epoch Times (emphasis ours),
Retired Harvard Law professor Alan Dershowitz suggested that former President Donald Trump could run for office or even serve as president if he is convicted in connection to the Manhattan District Attorney's office investigation.
Trump announced on social media this past weekend saying he believes he'll be arrested soon in connection to District Attorney Alvin Bragg's probe into whether he was involved in allegedly making hush money payments to during the 2016 campaign. Unnamed sources have also told news outlets that the former president may be indicted, but Trump has denied any wrongdoing.
Dershowitz, an attorney who has represented controversial clients including O.J. Simpson and Jim Bakker, told Newsmax that he believes Trump will be indicted in New York City because of what he described as an unfair legal system in the Democrat-dominated city. But if Trump is convicted and sentenced to a prison term, the U.S. Constitution will allow him to serve in that capacity.
"He will be indicted," Dershowitz, who also provided legal counsel to Trump during his first impeachment trial, told Newsmax. "In New York, you can indict a ham sandwich. In New York City, you can convict a ham sandwich because the jury pool is so unfair. Even if he's convicted, he can run for president. He can run for president from prison; he can even serve as president from prison."
The U.S. Constitution doesn't bar felons from holding elected office, including the presidency. The Constitution's text only lists three criteria to run for president: a candidate has to be age 35 or older, be a natural born citizen, and they must have lived in the United States for at least 14 years.
In a separate interview with Chris Cuomo, Dershowitz asserted that "Trump can run from prison, the way [Boston] Mayor [James] Curley did, and he could win, and he can govern from prison." Curley, a Democrat who served as mayor of Boston four times in the early part of the 20th century, was convicted twice and notably served time in prison during his fourth term in office.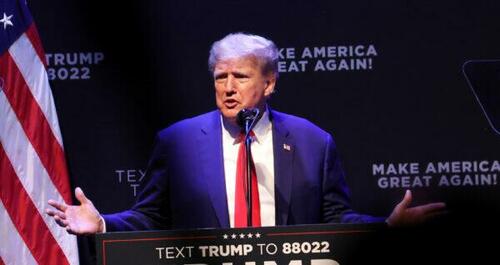 Trump has previously stated that he will continue to run for president in 2024 even if he is charged. Later this month, Trump is slated to hold his first 2024 rally in Waco, Texas.
There has been no public announcement of any time frame for the Manhattan grand jury's secret work in the case. At least one additional witness is expected to testify, further indicating that no vote to indict has yet been taken, according to a person familiar with the investigation who was not authorized to publicly discuss the case and spoke on condition of anonymity.
A Trump-affiliated lawyer, Robert Castello, told media outlets on Monday that he testified in front of a Manhattan grand jury and sought to denigrate testimony put forth by Michael Cohen, a former Trump attorney who has been described as a key witness in the case. Castello said that Cohen, who was sentenced to federal prison on a range of charges, is an unreliable witness.
Meanwhile, Bragg's office has issued few public statements in connection to the investigation. A spokesperson for the district attorney issued a response to the Washington Post regarding a House Republican demand for information and testimony in connection to the Trump probe, merely saying that claims that New York City is dealing with a surge in violent crime is not true.
A Trump lawyer, Susan Necheles, told The Associated Press that Trump's weekend Truth Social post was "based on the media reports," and another Trump spokesperson said there had been "no notification" from Bragg's office, though the origin of Trump's Tuesday reference was unclear. The Epoch Times has contacted Bragg's office for comment.
Trump's aides and legal team have been reportedly preparing for the possibility of an indictment. Should that happen, he would be arrested only if he refused to surrender. Trump's lawyers have previously said he would follow normal procedure, meaning he would likely agree to surrender at a New York Police Department precinct or directly to Bragg's office.
The indictment of Trump, 76, would be an extraordinary development after years of investigations that yielded essentially nothing. It would also be the first time a current or former president was indicted.
Loading...