---
"All Options On The Table" - DeSantis Takes Aim At Bud-Light Owner's Shareholder-Unfriendly Actions
Authored by Michael Cantrell via PJMedia.com,
Florida Republican Gov. Ron DeSantis has issued instructions for the State Board of Administration, otherwise known as the SBA, to launch a full-blown investigation into the assets of woke Anheuser-Busch, the parent company of Bud Light, in the aftermath of the whole partnership debacle with Dylan Mulvaney, a transgender activist who is a biological male claiming to be a female. Which, of course, is nonsense, but that's a topic for another time, right?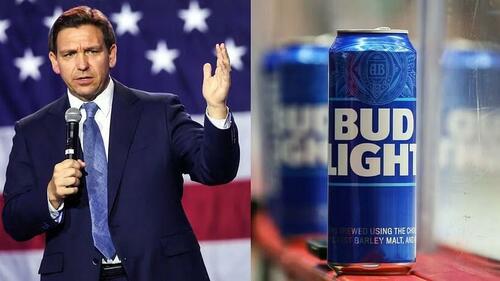 According to a new report from the Daily Wire, DeSantis sent a letter to Lamar Taylor, the interim executive director of the SBA, shining a big, bright spotlight on the massive 30 percent loss in sales the company suffered during the month of June. You're probably wondering what the SBA does exactly. Allow me to explain briefly. The organization is involved in asset management and is responsible for helping to invest both state and local government assets.
"As sales of Anheuser-Busch InBev products within the U.S. continue to precipitously decline, reports are now emerging that large American mainstays like Costco will be pulling Bud Light from the shelves," the 44-year-old Republican presidential candidate and current Florida governor stated in the letter.

"Clearly, the Board's mismanagement — as well as its failure to remediate the problem and repair its relationship with millions of disaffected American consumers — has led to this impasse and will continue to financially harm the SBA and other shareholders."
The Florida Republican then remarked that it was incredibly important for the SBA to stay committed to its legal obligations to "prudently manage the funds of Florida's hardworking law enforcement officers, teachers, firefighters, and first responders in a manner that focuses on growing returns, not subsidizing an ideological agenda through woke virtue signaling."
"I therefore request that you immediately initiate a review to examine how Anheuser-Busch InBev's conduct has impacted and continues to impact the value of SBA's AB InBev holdings," the governor's letter continued.

"It appears to me that Anheuser-Busch InBev may have breached legal duties owed to its shareholders, and that a shareholder action may be both appropriate and necessary. To protect SBA and the retirees of Florida from losses attributable to AB InBev's disregard of those duties, all options are on the table."
We've kneecapped ESG in Florida.

So I'm calling for an investigation into AB InBev's actions regarding their Bud Light marketing campaign and falling stock prices.

All options are on the table and woke corporations that put ideology ahead of returns should be on notice. pic.twitter.com/B3frLY4f30

— Ron DeSantis (@GovRonDeSantis) July 21, 2023
On Thursday, DeSantis made an appearance on Jesse Watters' Fox News program, where he made the announcement about the letter and the SBA request it contained. During the interview, the governor stated that the pension had $50 million invested in Anheuser-Busch stock and that the recent plummet of the company's value dealt a significant blow to Florida's teachers and other pensioners.
"We believe that when you take your eye off the ball like that, you're not following your fiduciary duty to do the best you can for your shareholders," he explained during the program.

"So we're going to be launching an inquiry about Bud Light and InBev. And it could be something that leads to a derivative lawsuit filed on behalf of the shareholders of the Florida pension fund. Because at the end of the day, there's gotta be penalties for when you put business aside to focus on your social agenda at the expense of hard working people."
July 21, 2023
This is a good move on DeSantis' part. It shows that he is the kind of leader who cares about the average, hard-working Americans in his state, and as such, will carry that kind of leadership into the White House if he should win the primary and then the general election next year.
Also, this reveals that the decisions that are made by big corporations do indeed have a big impact in people's lives, so we should most definitely care a bit more about what they choose to do.
Loading...