---
Amazon Says "Did Not Intimidate" Voters In Victory Over Union
Update (1248ET): In a Friday statement following their victory over attempts by Alabama warehouse employees to unionize, Amazon insisted they 'did not intimidate' voters whatsoever, and noted that less than 16% of total employees at the plant voted to join.
"It's easy to predict the union will say that Amazon won this election because we intimidated employees, but that's not true," the statement reads.
Read the entire statement below:
Thank you to employees at our BHM1 fulfillment center in Alabama for participating in the election. There's been a lot of noise over the past few months, and we're glad that your collective voices were finally heard. In the end, less than 16% of the employees at BHM1 voted to join the RWDSU union.
It's easy to predict the union will say that Amazon won this election because we intimidated employees, but that's not true. Our employees heard far more anti-Amazon messages from the union, policymakers, and media outlets than they heard from us. And Amazon didn't win—our employees made the choice to vote against joining a union. Our employees are the heart and soul of Amazon, and we've always worked hard to listen to them, take their feedback, make continuous improvements, and invest heavily to offer great pay and benefits in a safe and inclusive workplace. We're not perfect, but we're proud of our team and what we offer, and will keep working to get better every day.
We hope that with this election now over, there's an opportunity to move from talk to action across the country. While our team is more than a million people around the world and we've created 500,000 new jobs since Covid began, we're still a tiny fraction of the workforce. There are 40 million Americans who make less than the starting wage at Amazon, and many more who don't get health care through their employers, and we think that should be fixed. We welcome the opportunity to sit down and share ideas with any policymaker who wants to pass laws ensuring that all workers in the U.S. are guaranteed at least $15 an hour, health care from day one, and other strong benefits. Our employees have seen tremendous benefit from what we offer and we think every American family deserves the same. We believe that we can work better together instead of against each other to pass those important laws, and we hope that's what will happen in the months and years ahead.
In the meantime, for anyone who's interested in meeting some members of our team and seeing what it's like to work inside one of our buildings, we encourage you to sign up for a tour at www.amazonfctours.com. It's an incredible operation, supported by a world-class team, and we'd love for you to see for yourself.
*  *  *
Amazon clinched enough votes to defeat a bid for unionization at a Bessemer, Alabama warehouse on Friday, with 'no' votes against forming a union outnumbering 'yes' votes by more than 2-to-1, according to the New York Times.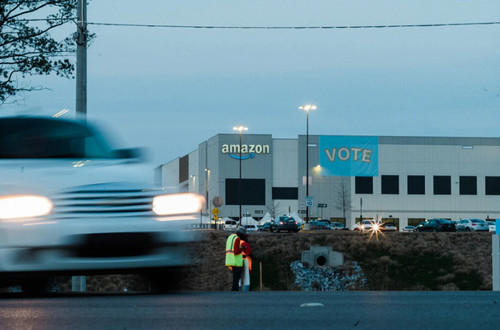 As of this writing, the vote stands at 694 'yes' votes and 1,693 'no' votes, out of 3,215 ballots cast. While counting is ongoing, Amazon has secured enough votes to win.
When I was in Bessemer, AL, two pro-union Amazon employees there told me if union vote didn't pass, they were confident they'd lose their jobs after speaking out. One told me: "I'm doing the best I can to help people, and make it better for the people. I don't regret. No regret."

— Gary Grumbach (@GaryGrumbach) April 9, 2021
The win for Amazon comes after spending more than a week in closed sessions with the labor board to review the eligibility of each ballot cast. Several hundred ballots were contested, largely by Amazon, which were then set aside to be adjudicated and counted if they are determined to be vital to the outcome. Given that Amazon just received enough votes to win, the contested ballots are likely to be moot.
As the Times notes, Amazon just defeated "the most serious organized-labor threat in the company's history. Running a prominent campaign since the fall, the Retail, Wholesale and Department Store Union aimed to establish the first union at an Amazon warehouse in the United States. The result will have major implications not only for Amazon but also for organized labor and its allies."
According to labor organizers, poor warehouse working conditions were the result of Amazon's pursuit of efficiency and profits, while Amazon countered that their starting wage of $15 an hour is more than what other local employers are offering.