---
Amazon 'Pauses' HQ2 Construction In Virginia Amid Sweeping Job Cuts
Amazon has paused construction on its giant second headquarters in Arlington, Virginia, the company has confirmed to Bloomberg, which notes that the move comes amid sweeping job cuts following slowdowns in consumer and corporate spending.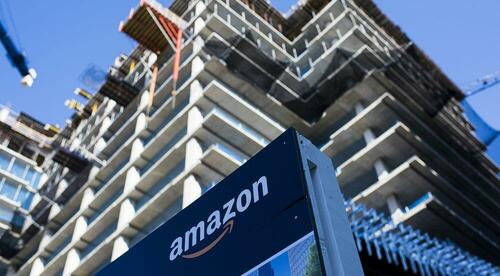 As Bloomberg first reported, Amazon real estate chief John Schoettler says that despite the pause, the company remains committed to HQ2, where it's committed to spend $2.5 billion by 2030 and hire some 25,000 workers. The pause will of course delay the online retailer's full arrival at its largest real estate project, and could throw local developers' plans into disarray.
That said, the first phase of HQ2 is nearing completion and will finish as planned. In June, Amazon will begin moving its more than 8,000 local employees to the complex which consists of two newly completed office towers in a 2.1-million-square-foot development called Metropolitan Park which is located near the Ronald Reagan Washington National Airport, and the Pentagon.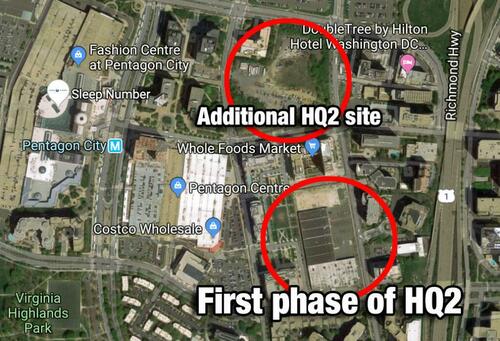 The delay affects a larger phase across the street. It calls for three, 22-story office towers and the 350-foot-tall (107-meter) Helix, a corporate conference center and indoor garden designed to echo the Spheres, plant-filled orbs at the heart of the company's Seattle headquarters. Arlington officials granted the 2.8-million-square-foot project, called PenPlace, its most important approval in April.

JBG Smith Properties, the developer working on the project, dropped as much as 8% to a record low. Amazon gained 2.5% in New York. -Bloomberg
"We're always evaluating space plans to make sure they fit our business needs and to create a great experience for employees," Schoettler said in a statement. "And since Met Park will have space to accommodate more than 14,000 employees, we've decided to shift the groundbreaking of PenPlace out a bit."
Plans for HQ2 require permitting and construction milestones to be met by April 2025 unless the company is granted an extension. Amazon has anticipated roughly three years between groundbreaking and when the first employees can begin work at the completed office tower.
Announced in 2017, the second headquarters is expected to house around 50,000 employees.
"Our second headquarters has always been a multiyear project, and we remain committed to Arlington, Virginia, and the greater Capital Region – which includes investing in affordable housing, funding computer science education in schools across the region, and supporting dozens of local nonprofits," Schoettler told Bloomberg.
"We appreciate the support of all our partners and neighbors, and look forward to continuing to work together in the years ahead."

Loading...