---
And Now A "Stunned" Don Lemon Out At CNN
Two rival networks and two superstar hosts departing on the same day. Within a mere hour after the bombshell news of Tucker Carlson's departure from Fox News, CNN announced Don Lemon is leaving.
Lemon, who was long part of the prime-time lineup did a very short but controversial stint as a morning show co-host. "CNN and Don have parted ways," the network announced. "Don will forever be a part of the CNN family, and we thank him for his contributions over the past 17 years. We wish him well and will be cheering him on in his future endeavors."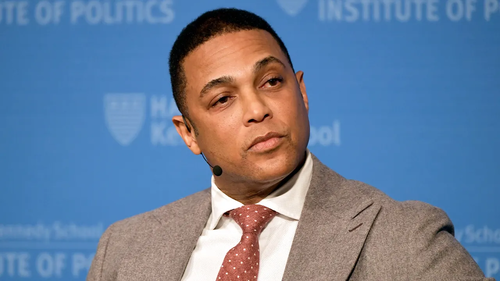 As for the fate of his morning show which he hosted alongside Poppy Harlow and Kaitlan Collins, the network said "'CNN This Morning' has been on the air for nearly six months, and we are committed to its success."
The 57-year old whose recent words and actions have been met with widespread controversy of late said he's "stunned"...
He said on Twitter: "I was informed this morning by my agent that I have been terminated by CNN." Head added: "I am stunned. After 17 years at CNN I would have thought that someone in management would have had the decency to tell me directly. At no time was I ever given any indication that I would not be able to continue to do the work I have loved at the network."
oops, to ad insult to injury...
Don Lemon's statement about this morning's events is inaccurate. He was offered an opportunity to meet with management but instead released a statement on Twitter.

— CNN Communications (@CNNPR) April 24, 2023
Among other things, he's recently been accused of misogynistic comments and threatening co-workers. For a review of his rocky (to put it mildly) controversies at the network and largely failed morning show, here's a trip down ZH headline memory lane:
Lemon has increasingly been seen by co-workers as a "diva" who berates his female cohosts at the drop of a hat... 
I made a video of all the times from December 8's @CNNThisMorning when Kaitlan Collins and Don Lemon talked over each other before Lemon berated Collins after the show to the point that she got emotional and stormed off the set https://t.co/Bw1edg9OxY pic.twitter.com/q6ZEkqmMva

— Curtis Houck (@CurtisHouck) February 3, 2023
Recall, back in September 2022 we wrote about Lemon's obvious demotion from primetime to mornings on CNN. At the time, he said: "For all those who are out there saying, 'Oh, he moved me and without my —,' he asked me and I said yes. I could have said no. This is my show, I have a contract for this show, I decided I would take him up on that and take this journey with him. This is not someone moving me."
Lemon exclaimed back in September: "I was not demoted. None of that. This is an opportunity. This is a promotion. This is an opportunity for me to create something around me and I get to work with two great ladies [Poppy Harlow and Kaitlan Collins] who you know."
Things went bad from the start, and not such good rapport with "the ladies"...
Loading...