---
Anderson Cooper: 'You Have Every Right Never To Watch CNN Again' After Trump Town Hall
The chaos going on at CNN after Wednesday night's town hall featuring former President Trump is the gift that keeps on giving.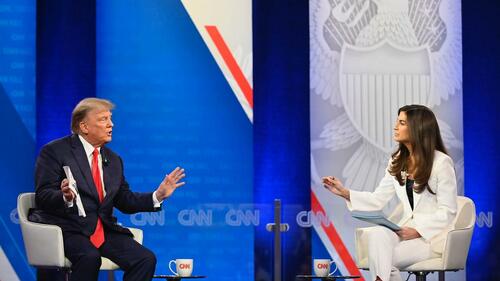 "It was a total debacle and I've never been more ashamed to work at CNN," one prominent on-air talent told The Hill on Thursday. "I don't think anybody came out looking good. This is entirely a corporate and management failure. They should have anticipated how out of control Trump would be … to think he was going to act more presidential in that kind of setting is just naivety on a galactic scale."
According to CNN media reporter Oliver Darcy, CEO Chris Licht was "facing a fury of criticism — both internally and externally over the event."
"And CNN aired it all. On and on it went. It felt like 2016 all over again. It was Trump's unhinged social media feed brought to life on stage," Darcy ranted. "And Collins was put in an uncomfortable position, given the town hall was conducted in front of a Republican audience that applauded Trump, giving a sense of unintended endorsement to his shameful antics."
Plenty of attention was being paid Thursday to the audience at the town hall, which was highly supportive of Trump.  

"It felt like we got some of these people from a MAGA rally," the on-air talent said.  

CNN on Thursday clarified it had curated the audience through community, student politics and government, faith groups, as well as agriculture and education organizations. The school and campaign also invited guests, the network said.  

Trump, a day before the event, said CNN had made his campaign "an offer [he] couldn't refuse," so he agreed to participate in the town hall. -The Hill
Following the event, hosts Anderson Cooper and Jake Tapper were absolutely beside themselves - with Tapper seemingly on the verge of tears.
CNN talking heads VERY triggered over Trump tonight. pic.twitter.com/W7AAku8AyQ

— The Post Millennial (@TPostMillennial) May 11, 2023
And on Thursday, Cooper apologized to the network's audience, telling viewers they have "every right to be outraged." 
"You have every right to be outraged today and angry and never watch this network again," said Cooper. "But do you think staying in your silo and only listening to people you agree with is going to make that person go away? If we all only listen to those we agree with, it may actually do the opposite. If lies are allowed to go unchecked as imperfect as our ability to check them is on a stage in real time, those lies continue, and those lies spread. If you're angry or upset, I understand, but you have the power to do something about it. You can actually get involved. You can make a difference, whatever side of the aisle you're on. After last night, none of us can say I didn't know what's out there. I didn't know what's coming. We asked Republican Senators for their thoughts about last night. Some preferred not to say anything. Others did."
JUST IN: Anderson Cooper gives wild opening monologue, telling his audience he understands if they never watch CNN ever again.

"You have every right to be outraged today and angry and never watch this network again. But do you think staying in your silo and only listening to… pic.twitter.com/xZXYSwtAoF

— Collin Rugg (@CollinRugg) May 12, 2023
On MSNBC, host Joe Scarborough called the town hall "disgraceful on every level."
"I wouldn't say it's dangerous for democracy because we passed that a long time ago, but it showed the corrosive effects of Trumpism over eight years. And I've got to say the most shocking part was an audience that cheered on a president who tried to overturn American democracy. An audience that mocked and ridiculed a woman who a jury of Donald Trump's peers found had been sexually assaulted. Those Americans there last night turned that into a punchline. Laughed and dismissed cops getting the s*** kicked out of them on January 6th, getting beaten up over and over again. Calling a cop a thug who was actually trying to stop people on the House floor from being killed. I could just go on and on." -Joe Scarborough
Watch:
Amazing how threatened they are by free speech, eh?
Loading...