---
Andrew Tate Detained In Romania In Human Trafficking Case As Greta Gets Last Word
Controversial social media personality Andrew Tate and his brother have been detained by Romanian police on suspicion of rape and human trafficking following a raid of his home and other properties in Bucharest.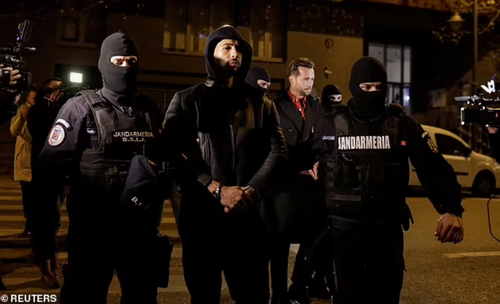 The 36-year-old British-American former professional kickboxer and his brother Tristan were detained for 23 hours according to Romanian prosecutors. They have been under investigation since April along with two Romanian nationals, with prosecutors alleging that the brothers are engaged in an organized crime ring that sexually exploited 'cam girls.'
Video released by Romanian police shows a raid on a property carried out along side the arrest of social media influencer Andrew Tate.

The 36-year-old British-American and his brother Tristan have been detained for 24 hours.

Read more 👉 https://t.co/KHLhadccAS pic.twitter.com/8eFRCjwE8n

— Sky News (@SkyNews) December 30, 2022
"The four suspects … appear to have created an organized crime group with the purpose of recruiting, housing and exploiting women by forcing them to create pornographic content meant to be seen on specialized websites for a cost," said prosecutors. "They would have gained important sums of money," the statement continued.
Prosecutors say they have identified six women who have allegedly been sexually exploited by the suspects.
Back in October, Buzzfeed News reported on Tate's so-called "Hustlers University 2.0," a series of virtual courses which, according to Tate, aimed to help users "escape the Matrix." The $50-per month course of lessons via a Discord channel included financial, career and dating advice (including a now-removed "Pimpin Hoe Degree"). Buzzfeed News reported that some individual courses were priced at $500 each.

Romanian prosecutors said they found six women who'd been sexually exploited by the suspects, according to Reuters. As reported by the Guardian, Tate was previously banned from Twitter for saying women "bear some responsibility" for being raped. -The Hill
Following the arrest, Tate's Twitter account tweeted: "The Matrix sent their agents."
The Matrix sent their agents.

— Andrew Tate (@Cobratate) December 30, 2022
Tate's arrest came just one day after igniting a Twitter feud with 19-year-old climate activist Greta Thunberg.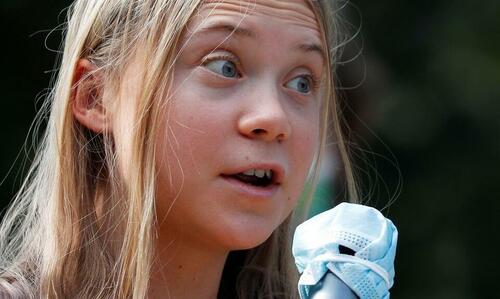 Tate took the first shot, tweeting a photo captioned: "Hello @GretaThunberg, I have 33 cars. This is just the start. Please provide your email address so I can send a complete list of my car collection and their respective enormous emissions," to which Thunberg replied: "Yes, please do enlighten me. Email me at smalld—energy@getalife.com."
yes, please do enlighten me. email me at smalldickenergy@getalife.com https://t.co/V8geeVvEvg

— Greta Thunberg (@GretaThunberg) December 28, 2022
After Tate's arrest, a very unconfirmed report began to swirl that Romanian authorities were able to identify Tate's location based on a pizza box seen in a video response he posted to Thunberg.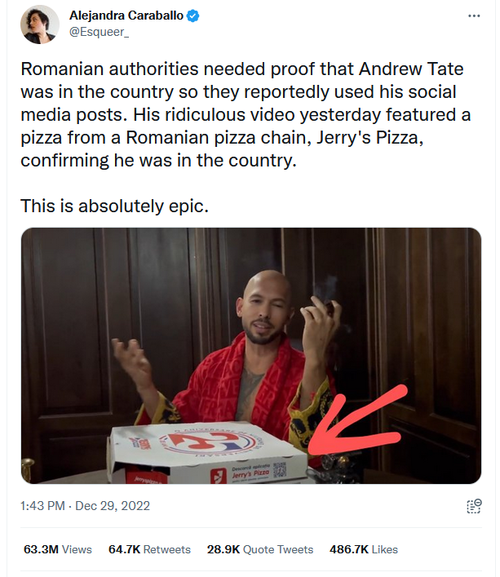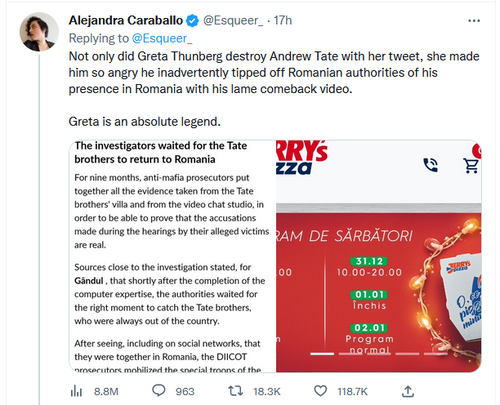 I see that Caraballo has posted an entire thread justifying why she made the pizza claim up. The bigger deal is news outlets keep citing someone who constantly spreads misinformation on social media as if they are a reliable source & even an expert on that very subject. https://t.co/zdPB3YhhLo

— AG (@AGHamilton29) December 30, 2022
And while the pizza box story appears to be unmitigated fake news, Greta used it to take another swipe at Tate.
this is what happens when you don't recycle your pizza boxes

— Greta Thunberg (@GretaThunberg) December 30, 2022
Loading...