---
Anheuser-Busch Distributors Freaking Out Over Transgender Ad Campaign
Distributors for Belgian-owned Anheuser-Busch are reportedly 'spooked' over the reaction to the company's Bud Light transgender ad campaign featuring Dylan Mulvaney's "365 Days of Girlhood," according to Beer Business Daily.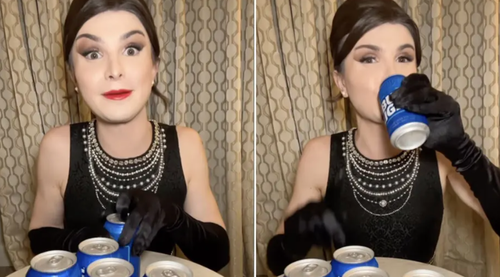 In what many thought was an April Fool's joke, the transgender activist whose act consists of mocking women with exaggerated stereotypes that the left is too stupid to pick up on, revealed that the company had begun featuring Bud Light cans featuring his face, which Mulvaney said was his "most prized possession." The ad campaign includes a video of Mulvaney drinking Bud Light in a bathtub.
Dylan Mulvaney has become the new brand ambassador for Bud Light. 🍺

The beer brand even made a special edition Dylan Mulvaney Can 🥤celebrating his 365 days of girlhood.

(This is not April Fools, it's actually real)

🍺🍻🍺😒🍻🍺🍻 #dylanmulvaney #trans #transgender pic.twitter.com/xuu87WxrvZ

— Oli London (@OliLondonTV) April 1, 2023
According to the trade publication, which viewed the situation "purely from a marketing and sales perspective," Mulvaney's target audience of Gen Z and TikTok viewers is a demographic that the beer company is "desperate" to reach.
"We reached out to a handful of A-B [Anheuser-Busch] distributors who were spooked, most particularly in the Heartland and the South, and even then in their more rural areas," the beer publication wrote, adding that according to preliminary data, "it appears likely Bud Light took a volume hit in some markets over the holiday weekend," with the caveat that rural customers are also most likely to celebrate Easter.
"Whether it lasts or whether the publicity sparks incremental off-setting demand from over the ideological divide in metro areas, remains to be seen," the report added, while noting that it's hard to "appeal to the sensitivities of a new generation of drinkers" without pissing off their existing customers.
"I've never seen the country so hotly divided, sadly," the author continues, according to Fox News.
The beer company has doubled down on its ad campaign, saying in a statement to Fox News Digital "Anheuser-Busch works with hundreds of influencers across our brands as one of many ways to authentically connect with audiences across various demographics. From time to time we produce unique commemorative cans for fans and for brand influencers, like Dylan Mulvaney. This commemorative can was a gift to celebrate a personal milestone and is not for sale to the general public."
The campaign has led to endless parodies (viewer discretion is advised)...
Day 6 of girlhood sponsored by Bud Light💄 🍺 pic.twitter.com/HH6Ml67F3B

— Tyler Fischer (@TyTheFisch) April 6, 2023
Last week a VP for Bud Light, Alissa Heinerscheid, explained how the company wants to become the King of 'Woke' Beers, and the need to shift away from the "out of touch" frat party image to one of "inclusivity."
Heinerscheid, a middle-aged, upper income highly-educated white woman, was interviewed on the podcast "Make Yourself At Home" on March 23. 
"I'm a businesswoman, I had a really clear job to do when I took over Bud Light, and it was 'This brand is in decline, it's been in a decline for a really long time, and if we do not attract young drinkers to come and drink this brand there will be no future for Bud Light,'" she said.
Heinerscheid stressed a need to "evolve and elevate" the Bud Light brand away from the "fraternity/out of touch humor" brand of the younger generation. She expanded on that idea:
"What does evolve and elevate mean? It means inclusivity... It means shifting the tone. It means having a campaign that's truly inclusive and feels lighter and brighter and different. And appeals to women and to men. And representation is sort of the heart of revolution."
Alissa Heinerscheid, Bud Light's VP of Marketing, doubles down on her extreme woke strategy to promote the "declining" American beer brand to "young people", while smearing her former customers as "fratty and out of touch".

How's that working out for you, lady? @budlight pic.twitter.com/zNYKbMnZnu

— Old Row (@OldRowOfficial) April 9, 2023
Good luck with that.
Meanwhile, where is all this woke advertising coming from?
Why many big corporations, like Anheuser-Busch, do seemingly insane things. They're being pressured to do it. From @nypost: https://t.co/DUwkC40Ytw pic.twitter.com/YzKRdpzX8Q

— Byron York (@ByronYork) April 10, 2023
Dear Women,

Tampax pays this man $10,000's to MOCK YOU.

Don't buy Tampax. pic.twitter.com/WuopDV7K2n

— Oli London (@OliLondonTV) April 9, 2023
Loading...