---
"Anti-Semite" Ilhan Omar & "QAnon Believer" Marjorie Taylor Greene Win Tuesday-Night Primaries
Tuesday night was an interesting one in the seemingly endless stream of state primaries that have almost entirely slid out of the headlines thanks to the pandemic and Joe Biden's VP pick.
But just last night in Minnesota, following the primary victories of her fellow "Squad" members AOC & Rashida Tlaib, ilhan Omar, possibly the most controversial member of the bloc of progressive lawmakers (a bloc that looks set to expand in the next Congress with the prospect of a few new additions from New York State and elsewhere), has won the Democratic Primary in her Minneapolis District, practically guaranteeing her reelection in the fall.
Omar, one of two Muslim women in Congress, defeated fellow progressive and political newcomer Antone Melton-Meaux and three other candidates to win with more than 60% of the vote, wider than her margin of victory last time.
Melton-Meaux, a lawyer with no previous experience in electoral politics, mounted a strong challenge, raising $4.1 million, nearly as much as Omar herself. He also accused Omar of tending to her national reputation, and leaving behind the people of her district. However, the killing of George Floyd in Minneapolis - Omar represents a chunk of the city - helped supercharge her campaign, allowing her to beat back accusations of anti-semitism.
Democrats double down on anti-Semitism. https://t.co/spXtadlTVM

— (((Jason Rantz))) on KTTH Radio (@jasonrantz) August 12, 2020
In other election news, a major upset unfolded in Georgia, where a local business lady who was widely condemned by both Democrats and the establishment Republicans (who supported the neurosurgeon who was running against them) for allegedly believing in conspiracy theories like QAnon has triumphed in her district's GOP primary, giving her an easy path to Congress in an overwhelmingly Republican district.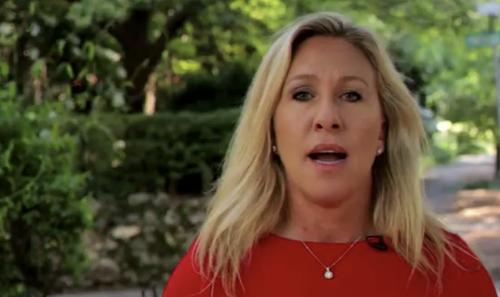 During her victory speech, Marjorie Taylor Greene delighted in attacking the Democratic establishment, as well as the progressive "squad", and referred to Nancy Pelosi as a "b**ch".
"I just wanna say to Nancy Pelosi. She's a hypocrite. She's anti-American. And we're going to kick that b***h out of Congress," Greene said.

Her remarks were met with loud cheers from her audience before she took aim at Congresswoman Alexandria Ocasio-Cortez.

"And we are not going to ever allow AOC's Green New Deal to be passed to destroy our economy and our energy industry," Greene said.
Expect Greene's inevitable election to elicit a flurry of furious MSM articles about the degradation of the American political system.