---
Antifa Erects "Big, Beautiful Border Wall" Around Latest Seattle 'Autonomous Zone'
Seattle's "Capitol Hill Autonomous Zone" is back, apparently, after what was previously referred to as CHOP drove headlines this summer after police belatedly moved to dismantle large portions of it. It has managed to survive, in it's current form emerging recently at Cal Anderson Park as more of a homeless shelter occupying a public park.
But the central irony no doubt missed by those advocating it as some kind of model far-Left utopia is that this week the encampment has erected a large "border wall" after the city announced authorities plan on clearing the area.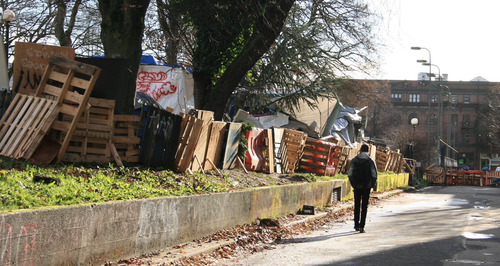 Newsweek reports Friday that a "border wall barricade has been erected around Seattle's Capitol Hill Organized Protest (CHOP)" just ahead of an expected showdown with police. "Photos shared on social media on Thursday showed the block surrounded by wooden pallets forming a makeshift wall," Newsweek noted.
So apparently Antifa believes not only in borders clearly demarking zones between its claimed territory and others, but is enforcing it with a very literal wall. This from the same people which deem Trump's prior vows to "build the big, beautiful wall" as "racist".
Prior signs put up in front of the "Capitol Hill Organized Protest" or CHOP in June in Seattle, Washington. Getty Images.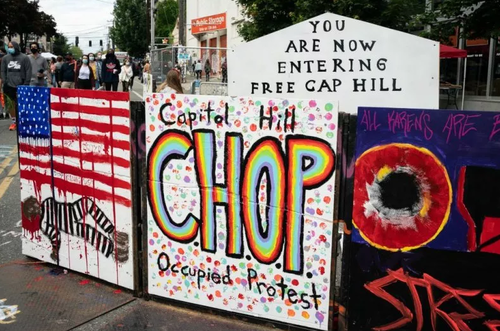 Among the "demands" to the city by those inside the camp are that Seattle stop all evictions, and that essentially low-income people receive free housing with no conditions.
Fresh hay on the hillside to deal with that old classic PNW mud problem pic.twitter.com/Xdm0icVNyD

— Nikki West (@Nikki__West) December 18, 2020
A similar standoff and 'autonomous zone' is currently the source of controversy and ongoing showdowns with police in Portland.
TRASHED: Here's another entrance at Cal Anderson Park. Saw people dropping off wooden pallets in pick up trucks. Clearly building make shift wall to keep city crews out during Wednesday's planned sweep. #seattle #CapitolHill #CalAndersonPark pic.twitter.com/qmfd2bNJyt

— Jonathan Choe Journalist KOMO News (@choeshow) December 15, 2020
Seattle's mayor, Jenny Durkan, has described the CHOP encampment as a "political occupation" and has vowed to dismantle it.
Man walks by barricades surrounding homeless encampment on Nagle Pl. Seattle, WA 12/17/20 pic.twitter.com/g4UR5wR5pE

— Nikki West (@Nikki__West) December 18, 2020
Police began entering Cal Anderson Park to evict the squatters on Friday morning, according to multiple reports.
The small tent village and the inhabitants appear to have been surviving on donations. There have been social media efforts urging that supporters go there to drop off food items.
* * *
Perhaps CHOP should consult others with more experience with "the wall"?