---
AOC And Matt Gaetz Team Up To Ban Lawmakers From Trading Stocks
Days before PacWest Bancorp tanked from the mid-20s to the mid $2 range in 48 hours, Rep. Dan Goldman (D-NY) - the Levi Strauss heir / Trump impeachment lead counsel-turned-lawmaker, sold his shares in the beleaguered bank.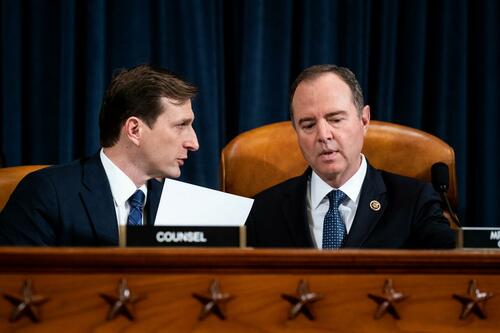 You just can't make this up

Rep. Dan Goldman (D) timed selling $PACW perfectly

He sold on 3/6, avoiding the not only the initial drop in $PACW but also the 50% drop after hours today

And guess which district he represents? Wall Street pic.twitter.com/8lObyctnnu

— Nancy Pelosi Stock Tracker ♟ (@PelosiTracker_) May 3, 2023
And while there's no evidence that Goldman was trading on insider information, Goldman's win is emblematic of so many others by lawmakers which seem to work out in their favor.
To that end - Reps. Alexandria Ocasio-Cortez (D-NY) and Matt Gaetz (R-FL) have teamed up to co-sponsor a bill which bans members of Congress from trading stocks.
The Bipartisan Restoring Faith in Government Act would ban members of Congress and their spouses and dependents from making financial investments. Also co-sponsoring the bill are Reps. Brian Fitzpatrick (R-PA) and Raja Krishnamoorthi (D-IL).
"The ability to individually trade stock erodes the public's trust in government," said Ocasio-Cortez. "When members have access to classified information, we should not be trading in the stock market on it. It's really that simple."
Meanwhile, Gaetz told Fox News that "AOC is wrong a lot, she'd probably say the same thing about me, but she's not corrupt and I will work with anyone and everyone to ensure that Congress is not so compromised."
A 63% majority of registered voters said they support a ban on stock trading for members of Congress, according to 2022 Morning Consult poll. That includes 69% of Democrats, 64% of independents and 58% of Republicans.

At least 113 members of Congress or members of their families disclosed stock transactions in 2021 totaling $355 million, according to a report from Capitol Trades, which tracks trading on Capitol Hill, and some but not all could be potential conflicts of interest based on lawmakers' committee assignments. The New York Times found 18% of Congress sat on committees that "potentially gave them insight into the companies whose shares they reported buying or selling." -Deseret.com
As Axios notes;
There was significant bipartisan support for the issue last year, but bills to ban or limit the issue were never brought to the floor for a vote in either chamber.
Back in January, Sen. Josh Hawley (R-Mo.) reintroduced his bill – dubbed the Pelosi Act.
After having consistently opposed such a measure, then-House Speaker Nancy Pelosi (D-Calif.) signaled she'd relent.
Last July, former Dallas fed president Richard Fisher slammed then-House Speaker Nancy Pelosi (D-CA) and her husband Paul over allegations of insider trading.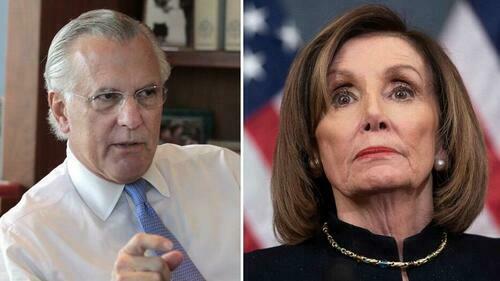 "Clearly people have taken advantage of inside information forever," Fisher told CNBC, responding to a report from Punchbowl News. "I'm sorry to see that Paul Pelosi and Nancy Pelosi and others appear to have taken advantage of inside information."
"Clearly people have taken advantage of inside information forever," says Richard Fischer. "I'm sorry to see that Paul Pelosi and Nancy Pelosi and others appear to have taken advantage of inside information." pic.twitter.com/v9PmHvCoM3

— Squawk Box (@SquawkCNBC) July 28, 2022
The Pelosis have repeatedly come under fire for the trades which appeared to be based on nonpublic information.
Recall, the last we wrote about Pelosi's suspiciously good timing with her stock trades, we noted she had punted on several names heading into 2023. Prior to her trades being carefully scrutinized, Pelosi had a knack for minting cash from her stock trades, which we detailed here. 
In March of 2021, the Pelosis scored $1.95 million on Microsoft call options less than two weeks before the tech giant secured a $22 billion contract to supply US Army combat troops with augmented reality headsets, while in January of the same year, Paul Pelosi bought up to $1 million of Tesla calls before the Biden administration announced plans to push electric vehicles.
Pelosi being asked if her husband ever insider traded today was literally the same thing as this classic Chappelle sketch... 😂😂😂 pic.twitter.com/MBYTA0gXsH

— Tim Young (@TimRunsHisMouth) July 21, 2022
Loading...