---
AOC Says Pelosi, Schumer Need To Go
Authored by Douglas Braff via SaraACarter.com,
Rep. Alexandria Ocasio-Cortez (D-N.Y.) said that the Democratic Party needs new leadership, specifically stating that House Speaker Nancy Pelosi and Senate Minority Leader Chuck Schumer need to go. She warned, however, that a power vacuum within the Democratic Party could be filled by "nefarious" forces who are "even more conservative" than the current caucus leaders.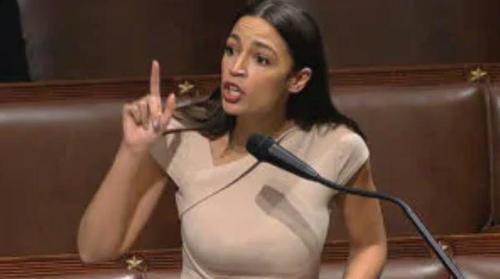 The self-described democratic socialist made the remarks during a podcast interview on "The Intercept" that aired Thursday.
"I do think we need new leadership in the Democratic Party," Ocasio-Cortez said.

"I think one of the things that I have struggled with, I think that a lot of people struggle with, is the internal dynamics of the House has made it such that there [are] very little options for succession."
Pelosi, who is 80 years old, was handily re-elected as speaker for another two-year term last month, despite the Democrats' lackluster performance in U.S. House races in which they unexpectedly lost a handful of seats to Republicans. She first ascended to the speakership in 2006, which made her the first—and still only—to serve in the influential role. She has indicated that this will be her final term as speaker.
Since the 2020 election, Democrats from different factions have clashed with each other over the direction of the party as the progressive wing's influence has grown meteorically in recent years, thanks in part to Ocasio-Cortez, who was first elected during the 2018 midterm elections. A major incident occurred on a November 5 Democratic conference call, during which moderate Rep. Abigail Spanberger (Va.) and other Democrats reportedly criticized progressives and accused them of playing a role in their 2020 losses.
Schumer, who is 70 years old, also easily won re-election as Senate Minority Leader unopposed.
The direction of the party's leadership also concerned Ocasio-Cortez, indicating that a power vacuum could allow members who are more conservative than the current leadership to seize the reins.
"My concern—and I acknowledge this as a failing, as something that we need to sort out—is that there isn't a plan," Ocasio-Cortez said.

"How do we fill that vacuum? Because if you create that vacuum, there are so many nefarious forces at play to fill that vacuum with something even worse. And so, the actual sad state of affairs is that there are folks more conservative than even they are willing to kind of fill that void."
The New York City congresswoman also said that there are a lack of leadership opportunities, which ultimately spurs talented freshmen representatives to depart Capitol Hill or to run for statewide office instead.
"The answer is we need to shift power," Ocasio-Cortez said.

"We need to make sure that we have a transition of power in the Democratic Party."
The Bronx and Queens congresswoman shut down the possibility of running for House leadership anytime soon.
"The House is extraordinarily complex and I'm not ready," Ocasio-Cortez said. "It can't be me. I know that I couldn't do that job."
Listen to the whole podcast below: