---
Bavaria-Wide Ban On Alcohol Consumption In Public Areas Overturned
German Chancellor Angela Merkel, who has struggled to impose lockdowns by consensus with the leaders of Germany's various states, is now seeing Bavaria, one of the most significant and most economically vital regions of Germany, buck the latest national lockdown extension. 
According to RT News, in an unexpected win for the people, the Bavarian Administrative Court temporarily suspended the statewide ban on drinking alcohol in public areas, initially introduced by lawmakers to mitigate the COVID-19's spread.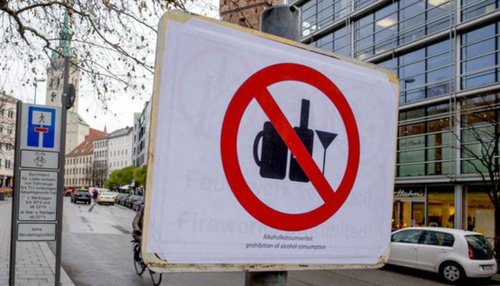 On Tuesday, Bavarian judges temporarily suspended the statewide ban on consuming alcohol in public spaces in Passau, Regensburg, and Amberg. 
A man from Regensburg mounted a legal suit against the Bavarian State Government, claiming they overstepped their bounds by announcing a complete ban on outdoor alcohol consumption in public places.
Local news BR24 said judges explained that the Infection Protection Act allows for the alcohol ban, but only in certain places. Therefore, the court temporarily suspended the order allowing local municipalities to choose whether a ban should be reinstated. 
"The decision of the Bavarian Administrative Court is regrettable, as alcohol disinhibits and contributes to a more lax approach to the absolutely necessary hygiene distances," the state chancellery stated. "We will therefore reinstate the old regulation whereby municipalities determine certain places where alcohol consumption in public spaces is prohibited."
The ban on drinking alcohol in public places throughout Bavaria had been enforced since mid-December. 
According to the court, the man also attempted to persuade judges to overturn other virus measures - but BR24 noted that it came with little success. He specifically wanted libraries reopened and wanted the 9.3-mile rule for day-tourist trips suspended.
The virus has walloped Germany. More than two million infections have been recorded, along with 47,600 deaths virus-related deaths. The country is currently in lockdown, with most stores and schools closed. 
Merkel extended the countrywide lockdown on Tuesday for the next couple of weeks, at least through Feb. 14, due to contagious mutations of the virus. 
Bavaria is a landlocked state in Germany's south-east and home to Oktoberfest. 
For the first time since World War II, Oktoberfest was canceled in 2020 due to the pandemic, crushing the area's local economy.
Overturning the bans is a massive win for the people of Bavaria and the local economy. As we've shown, lockdowns don't work; also, the use of polymerase chain reaction tests can be misleading by registering false positives.