---
Biden Admin Moves To Make Expired COVID Rules For Health Care Workers Permanent
Authored by Bill Pan via The Epoch Times (emphasis ours),
In its latest effort to make permanent pandemic-era mandates for health care workers, the federal agency regulating workplace safety has submitted a final draft of rules to the White House budget office for review.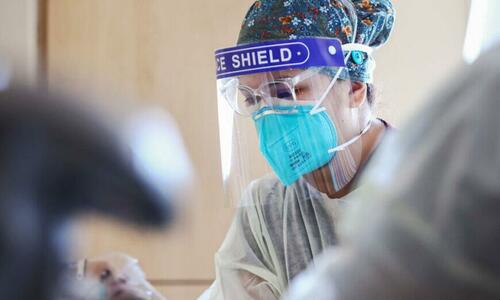 The Occupational Safety and Health Administration (OSHA), which sees exposure to COVID-19 as a matter of workplace safety, in June 2021 issued a temporary emergency standard for health care facilities that include requirements around screening, ventilation, physical distancing, physical barriers, cleaning and disinfection, and masks.
In December 2021, however, OSHA announced that it would stop enforcing all temporary emergency standard requirements except for a few related to record keeping, since it was impossible to meet a six-month deadline to finalize the standard. The agency has since been working toward a permanent regulatory solution while considering "broader infectious disease rulemaking."
On Dec. 9, almost a year after the initial withdrawal, OSHA sent a final draft to the Office of Information and Regulatory Affairs at the White House Office of Management and Budget for review.
Although details of the final draft have yet to be shared with the public, an earlier draft required employers to enforce physical distancing, make sure workers wear masks except when they're alone, grant paid leave for vaccination, and provide medical removal protection for workers who are unable to work due to COVID-19 infection or exposure.
The push for a permanent COVID-19 standard has been met with mixed reactions, including disappointment from employer groups and cheers from labor unions.
National Nurses United, the largest nursing union in the United States, applauded the move, arguing that its members and patients in their care are still under the threat of "new, more immune-evasive" variants of COVID-19.
"The COVID-19 pandemic is not over," the union said in a Dec. 8 statement. "Nurses, other health care workers, and their patients remain at risk of COVID exposure, infection, illness, and death because their employers continue to fail to fully protect them."
The union also laid out a list of specific measures it wants the permanent standard to include, including screening and testing of patients, visitors, and workers; isolation of patients with suspected or confirmed COVID-19; providing personal protective equipment for workers caring for patients with suspected or confirmed COVID-19, contact tracing and notification for COVID-19 exposure; and paid leave for workers who are exposed to or infected with COVID-19.
"Many nurses continue to experience the devastating impacts of long COVID," said Deborah Burger, president of National Nurses United. "This is why we need a permanent standard and why we must continue to maintain multiple measures of infection control."
Meanwhile, health care provider organizations such as the American Hospital Association (AHA) argued that there's no need to establish a permanent COVID-19 standard, since employers have already been complying with the Centers for Medicare & Medicaid Services' (CMS) vaccination mandate and following the Centers for Disease Control and Prevention's (CDC) ever-changing guidelines.
"With the constantly evolving, science-based CDC guidance and recommendations, CMS' vaccination requirement and existing OSHA general standards, we strongly believe that an inconsistent and overly strict OSHA COVID-19 health care standard is not necessary, would cause confusion and will ultimately lower hospital employees' morale and worsen unprecedented personnel shortages in hospitals," the AHA said in an April 26 letter to OSHA.
Read more here...
Loading...