---
Biden: Americans Need To 'Forgo' Holiday Traditions This Year
As Democrat leaders across the country arrogantly ignore their own COVID-19 restrictions (over and over and over), their leader - Joe Biden - has asked Americans to "forgo" holiday traditions this year.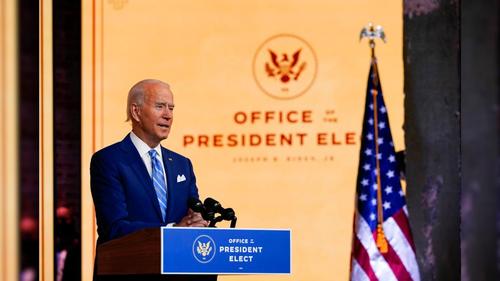 In a monotone Thanksgiving eve address against a yellow "Office of the President Elect" backdrop (an office which doesn't actually exist), the presumptive president-elect said that every American has "a responsibility" to take coronavirus seriously and 'redouble our efforts' to fight the disease.
"This year we are asking Americans to forgo so many of the traditions that have long made this holiday," said Biden, before urging people to limit travel and practice social distancing to reduce the risk of exposure - noting that he and wife Jill Biden will be spending Thanksgiving with their daughter and son-in-law, while their other children will be doing their own thing "in small groups" (which may include hookers and crack).
"I know how hard it is to forgo family traditions, but it's so very important."

Pres.-elect Joe Biden on skipping family's holiday traditions amid COVID-19 surge: "Because we care so much for each other, we're going to be having a separate Thanksgiving." https://t.co/pjEkZJtJGS pic.twitter.com/Z6WzgS1yJA

— ABC News (@ABC) November 26, 2020
"I know how hard it is to forgo family traditions," Biden added. "But it is so very important. Our country's in the middle of a dramatic spike in cases. We are now averaging 160,000 new cases a day."