---
CNN Admits Most Americans Can't Find One Good Thing About Biden Presidency As Approval Rating Plummets
Even CNN is being forced to admit that the majority of Americans are deeply unimpressed with President Biden. 
With inflation continuing to soar - the latest numbers released this week have only confirmed that price pressures are spiraling out of control - 6 out of 10 Americans are telling pollsters that there's literally nothing Biden has done during his presidency that they are happy with. The findings stem from a CNN Poll conducted by SSRS in January and February.
The latest poll numbers confirm that the president's approval rating has fallen sharply over the past year, which has been marked by ongoing COVID-related restrictions and increasing price pressures (which Democrats memorably scoffed at when they were passing multiple trillion-dollars stimulus packages that economists have widely criticized as overkill).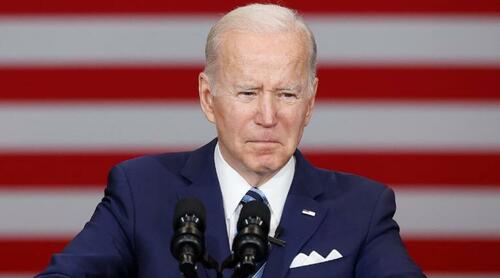 Just 41% of respondents approved of the way Biden has handled his job while 58% disapproved, a "significant drop" from last January's CNN polling. Unsurprisingly, dedicated Dems are still standing behind their man: Just 36% of independents and 9% of Republicans approved of Biden, while that number stood at 83% among Democrats. Last year, Biden's approval among Dems was higher than 90%. Overwhelmingly, respondents said that Biden's first year in office had been more of a failure than a success. 
The omicron wave and the inflation that started to pick up during the second half of last year have done by far the most damage to Biden's credibility; his approval rating for handling the economy has dipped 8 points to 37% since early December. Meanwhile, his ratings for handling coronavirus have dropped 9 points to 45%.
When it comes to the best way forward for the US, Americans are deeply divided:  Nearly three-quarters of Democrats, 73%, said that stopping the spread should remain the highest priority. However, 72% of Republicans and 54% of independents - independents outnumber both registered Republicans and Democrats in the US by a sizable margin - said it was time to learn to live with the virus.
Looking ahead, Americans are overwhelmingly downbeat about the federal government and its ability to adequately represent their interests. The share of Americans who say they felt even somewhat well represented by the federal government remained low at 32%, and only 21% of Americans said they currently had a lot of confidence in Biden's ability to provide real leadership for the country.
The share who said they had a lot of confidence in the President's ability to work effectively with Congress has dropped by half since last March, from 32% to 15%, including a 28 percentage point drop among Democrats over that time.
Biden's approval rating has been declining for some time now after an extremely brief post-election honeymoon. Polls show that President Trump's favorability rating with the American public is currently higher than Biden's.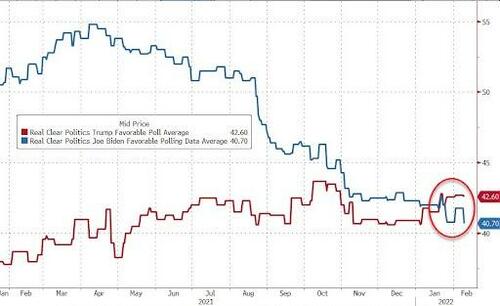 But, to put their approval numbers in a more appropriate context, Trump's favorability was higher at this point in his presidency (despite the non-stop leaks from the Mueller probe).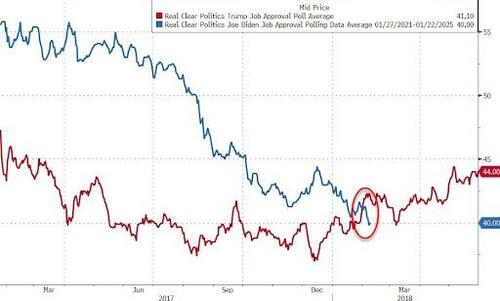 That certainly doesn't bode well for Democrats in Congress ahead of this November's midterm...