---
Biden Campaign Becomes First In History To Raise $1 Billion From Donors
Authored by Karl Evers-Hillstrom via OpenSecrets.org,
President-elect Joe Biden's campaign is the first in history to raise $1 billion from donors, adding yet another broken record to the 2020 cycle that set a new benchmark for political fundraising.
Biden wielded a massive financial advantage over President Donald Trump during the final months of the 2020 campaign. Biden heavily outspent Trump on the airwaves in key swing states he ultimately won by narrow margins. He also had superior backing from big-money super PACs and "dark money" groups.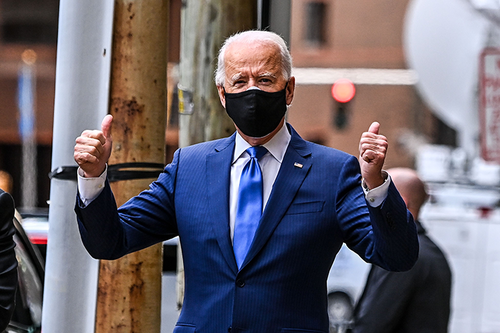 The Biden campaign netted nearly $107 million from Oct. 15 to Nov. 23, according to Federal Election Commission filings released Thursday, pushing its total past the billion-dollar mark. 
Overall, the 2020 election cycle is by far the most expensive ever. OpenSecrets estimated that the election will cost roughly $14 billion — twice as expensive as the 2016 contest — and the total could rise further with big spending in the Georgia Senate runoffs. 
Biden secured 306 electoral votes with narrow victories in Georgia, Arizona, Wisconsin and Pennsylvania. But Trump has not conceded. He continues to push unfounded claims of voter fraud and a "rigged election" while keeping up his campaign's fundraising efforts long after the election was called for Biden. 
Trump's campaign netted $178 million from Oct. 15 to Nov. 23, according to FEC filings. That's significantly more than Trump raised during even the months leading up to Election Day. The campaign has sent out hundreds of misleading fundraising emails to its large list of supporters accusing Democrats of trying to "steal" the election and asking for money to fund its legal challenges. According to post-election filings, the campaign spent about $9 million on recount efforts, with the vast majority of its money on advertising and fundraising fees.
Trump's campaign reported bringing in $774 million in net contributions, the second-most raised by a presidential candidate. That's in addition to hundreds of millions Trump raised for the Republican National Committee and leftover cash Trump's joint fundraising committees did not transfer to the main campaign.
The Biden campaign's $1 billion fundraising haul is unprecedented. Former New York City Mayor Michael Bloomberg's unsuccessful presidential campaign spent $1.1 billion, but that money came from Bloomberg himself, not from individual donors. Former President Barack Obama raised $745 million for his 2008 campaign and slightly less for his 2012 run. 
Both Biden and Trump stressed the 2020 contest was the "most important election ever" and they made that urgency clear in their flurries of online fundraising appeals. The candidates spent record sums on online ads mostly aimed at converting supporters' rage into campaign donations. Campaigns invested heavily in online fundraising with the pandemic shutting down in-person events. Democratic fundraising firm ActBlue facilitated $4.8 billion in online donations in the 2020 cycle, and Republicans' rival firm WinRed helped Republicans make gains with small donors.
Through mid-November, Trump raised an estimated 49 percent of his money from small donors giving $200 or less, an astoundingly high figure for a presidential candidate. Biden brought in an estimated 38 percent of his campaign cash from bite-sized donors. The president-elect received far more support from donors in the financial sector, as well as lawyers and educators.   
Trump broke boundaries when he began raising money for his reelection campaign shortly after his inauguration. Now Trump is raising money for a potential 2024 bid while still in office. Trump's new leadership PAC, Save America, raised roughly $569,000 in a matter of weeks. The PAC could be used to lay the groundwork for a Trump 2024 run by spending on consulting and polling. Or the PAC could pay for Trump's travels or funnel more money to Trump-owned properties under fewer restrictions than a campaign committee.
Researcher Doug Weber contributed to this report.