---
Biden Cancels $72 Million In Loans For 2,300 Student Borrowers
Authored by Naveen Athrappully via The Epoch Times (emphasis ours),
The Biden administration has approved a $72 million dollar student loan forgiveness initiative aimed at providing relief for students who were defrauded by an online school.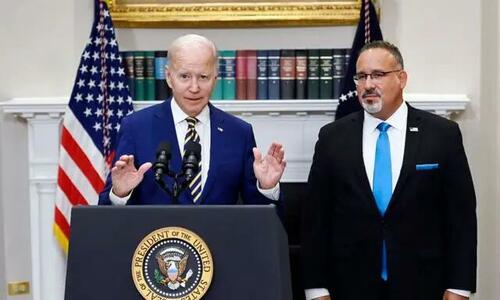 The loan forgiveness will be applicable to over 2,300 students who attended Ashford University, a former online for-profit school based in San Diego, California, said an Aug. 30 press release by the U.S. Department of Education (DOE). The loan forgiveness has been approved under the "borrower defense" student aid program that has been in place for decades. Under the program, student loan borrowers who were misled by for-profit colleges could apply for forgiveness.
The loan forgiveness was approved after the DOE reviewed evidence presented by the California Department of Justice (DOJ) in its successful 2017 lawsuit against Ashford and parent firm Zovio.
The lawsuit accused Ashford of engaging in deceptive practices to mislead students. On March 3, 2022, a court ruled in favor of the California DOJ, judging that Ashford made over 1.2 million misleading representations nationwide to prospective students.
Based on its review of the case, the DOE approved loan forgiveness for Ashford's student borrowers who filed for debt relief under the borrower defense program. The relief is applicable to borrowers who enrolled in Ashford between March 1, 2009, and April 30, 2020.
"As the California Department of Justice proved in court, Ashford relied extensively on high-pressure and deceptive recruiting tactics to lure students," said U.S. Under Secretary of Education James Kvaal.
"Today we are protecting the students who were cheated by Ashford, and we will also hold the perpetrators accountable, protect taxpayers, and deter future wrongdoing."
The $72 million forgiveness announcement comes days after dozens of Democrats wrote a letter (pdf) to President Biden asking that he "continually find ways to use your authority to bring down student debt" after the Supreme Court earlier blocked the government from implementing a massive student debt forgives scheme.
A few weeks earlier on June 30, SCOTUS had struck down the Biden administration's plan to cancel as much as $20,000 in loan principal for 40 million student borrowers.
The Congressional Budget Office (CBO) had estimated that this forgiveness plan would cost around $400 billion. But an estimate from the Wharton School put the price tag higher at over $1 trillion.
Borrower Defense Injunction
The "borrower defense" program that the DOE is using to discharge debts of Ashford students recently faced a setback from a court.
New rules regarding the borrower defense program were set to come into effect on July 1.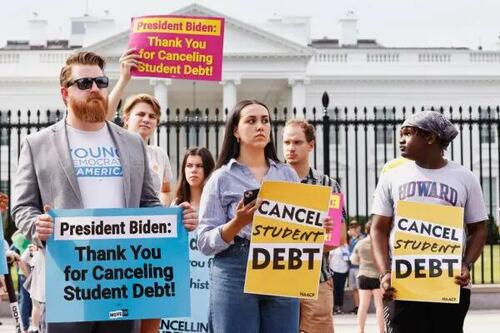 However, the New Orleans-based U.S. Court of Appeals for the 5th Circuit issued an injunction against the new rules on Aug. 7 in a case brought forward by the Career Colleges & Schools of Texas (CCST) which represents more than 70 for-profit educational institutions in the state.
CCST argued that the new rules would no longer require borrowers to prove individualized harm in most circumstances and place an unfair cost burden on educational institutions.
On the Student Aid website, the DOE states that it will not judge "any borrower defense applications under the latest rule unless and until the effective date is reinstated."
The new rules would only apply to "all claims pending on or received on or after July 1, 2023," according to a DOE Fact Sheet.
In its Aug. 30 press release, the DOE said that it had approved the findings related to Ashford student debt forgives prior to July 1, 2023. Plus, "this action covers loans under the 1995 or 2016 regulation" and not under the July 1, 2023, regulation that has been delayed by the injunction.
The Ashford Case
In the Ashford case, the DOE found that the school had engaged in "extensive substantial misrepresentations."
Recruiters told students they would be able to work as teachers, nurses, social workers, and drug and alcohol counselors even though Ashford never obtained the necessary state approval or accreditation to allow students to enter these professions.
Ashford's recruiters "also lied about the cost to attend Ashford, the amount and type of financial aid students would receive, and the amount of debt students would accumulate," the DOE stated in its press release.
Recruiters misled students about the time it would take to obtain an Ashford degree. Compared to the traditional four-year schools, Ashford's programs took five academic years to complete, it stated.
Only 25 percent of students were found to have graduated from Ashford within 8 years of enrolment.
"Borrowers in their applications described the inability to obtain employment, unexpected financial burdens, and an inability to complete their programs.
"The evidence from the California case also demonstrated that three-quarters of all Ashford bachelor's degree programs would have resulted in a negative value for students, making the education they obtained effectively worthless."
With the DOE approval, Ashford student borrowers will not have to make any more payments on loans. Instead, the loans will be discharged by the Biden administration. An email to Ashford students who qualified for borrower defense discharge will be sent in September by the DOE.
"Borrowers will see any remaining loan balances for federal loans zeroed out and credit trade lines deleted. Any payments those borrowers made to the Department on their federal student loans will be refunded," the DOE stated.
Ashford was acquired by the University of Arizona in 2020 and turned into the University of Arizona Global Campus (UAGC).
Loading...