---
Biden Ukraine 'Dealings' Back In Spotlight: NYT Sues For Emails; Memo Accuses Hunter Of 'Undercutting' Corruption Fight
As the 2020 election drew to a crescendo, bombshell reports of Biden family corruption were deemed verboten misinformation. 
Both legacy, and social media, refused to cover credible reports of Joe and Hunter Biden's involvement in everything from CCP-linked Chinese energy companies (10 for the big guy!), to footage of the now-president bragging about withholding $1 billion in a quid-pro-quo with Ukraine unless they fired their chief prosecutor, Victor Shokin.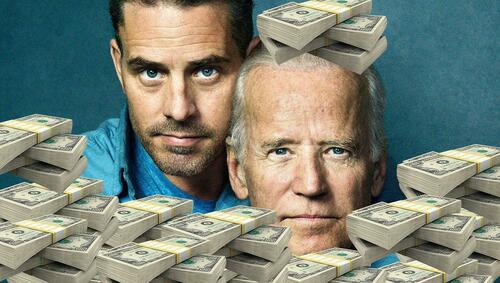 Which brings us to the first order of business - that a key component of Democrats' impeachment thesis against President Trump was just debunked.
Shokin, as it were, was investigating Ukrainian energy giant Burisma - which had hired Hunter Biden to the tune of $80,000 per month to sit on its board and act as a middle man between the company and DC lobbying firm, Blue Star Strategies.
In January, 2019, Shokin stated that there were five criminal cases against Burisma founder Mykola Zlochevesky, including money laundering, corruption, illegal funds transfers, and profiteering through shell corporations while he was a sitting minister.
Yet, *poof* - Shokin is fired. When the story entered the 2020 US election, Democrats insisted that Shokin was corrupt - and that "The firing of Shokin was universally urged by Ukraine's benefactors," as the Washington Post's Glenn Kessler dutifully reported three weeks before the 2020 US election.
Shokin's alleged corruption - for which there was zero evidence - was a key aspect of Democrats' impeachment argument against former President Donald Trump - who had asked Ukrainian president Volodomyr Zelensky to investigate Joe and Hunter Biden's dealings. Shokin's successor, Yiuri Lutsenko, said in a January 2019 deposition that Shokin is 'honest."
Yet during Trump's impeachment, Democrats perpetuated claims that Shokin was corrupt, that his removal was justified, and then-Vice President Biden was simply carrying out official US policy.
"Biden was carrying out official U.S. policy in calling for Shokin's removal. Shokin was corrupt. And these witnesses explained the U.S. was not alone... There is simply no evidence, nothing, nada, in the record to support this baseless allegation." - @RepSylviaGarcia pic.twitter.com/VkCuXC8gZf

— House Intelligence Committee (@HouseIntel) January 23, 2020
Shokin's alleged corruption was fabricated, however - as a leaked phone call between former Secretary of State John Kerry and former Ukrainian President Petro Poroshenko not only confirmed that Shokin wasn't corrupt, but explicitly detailed the quid-pro-quo for the $1 billion in loan guarantees.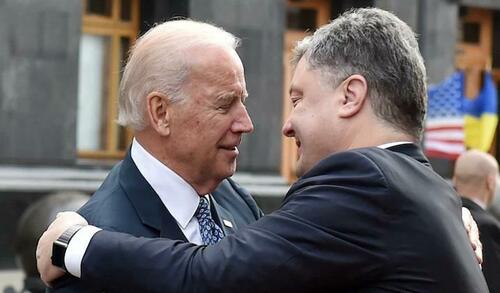 Part 6 of Biden, Kerry, Poroshenko calls leaked by Ukrainian MP Andrii Derkach. In this call Poroshenko details the quid pro quo explicitly. Earlier in the calls he says there's no evidence of Shokin being corrupt but they demanded his resignation anyways for Biden.

Biden #4 ⬇️ pic.twitter.com/lz36xEn3cn

— Robby Starbuck (@robbystarbuck) May 19, 2020
Now, according to newly released State Department memos obtained by Just the News, six months before Biden had Shokin fired, the US State Department told the Ukrainian official that they were "impressed" with his anti-corruption efforts and fully supportive of his work.
"We have been impressed with the ambitious reform and anti-corruption agenda of your government," wrote then-Assistant Secretary of State for European and Eurasian Affairs Victoria Nuland to Shokin in a June 9, 2015 letter that was delivered to Shokin two days later by former US Ambassador Geoffrey Pyatt.
Nuland, now President Biden's undersecretary of state, wrote that "Secretary Kerry asked me to reply on his behalf" to let Shokin know he enjoyed the full support of the United States as he set out to fight endemic corruption in the former Soviet republic.

"The ongoing reform of your office, law enforcement, and the judiciary will enable you to investigate and prosecute corruption and other crimes in an effective, fair, and transparent manner," Nuland added. "The United States fully supports your government's efforts to fight corruption and other crimes in an effective, fair and transparent manner." -Just the News
Trump's impeachment defense never received this letter, according to GOP congressional investigators and Trump's former impeachment defense lawyers.
"We did not receive this. We should have received it. President Trump's defense attorneys also should have received it," said Sen. Ron Johnson (R-WI), who investigated Hunter and Joe Biden's business dealings. "This just underscores how congressional oversight has really diminished over the years mainly because we don't have enforcement powers," he added.
In other Biden family news, the New York Times is suing the State Department  to obtain emails from Romanian embassy officials sent between 2015 and 2019 which mention several international business people - including Hunter Biden and Tony Bobulinski - who made worldwide news in the home stretch of the 2020 US election when he revealed his business dealings with the Bidens, according to Politico.
In May, 2017, Bobulinski agreed to spearhead a deal between the Bidens and a CCP-linked Chinese company - meeting with Hunter Biden and Rosemont Seneca partner Rob Walker "multiple times," and meeting with former Vice President Joe Biden ('the big guy') twice.
Speaking with Fox News' Tucker Carlson, Bobulinski described a May 2nd meeting at the Los Angeles Beverly Hilton with Hunter and Jim Biden. A short while later, Joe Biden reportedly showed up to the meeting "because they were sort of, wining and dining me, and presenting the strength of the Biden family to get me more engaged" in their China deal with CEFC "both in the United States and around the world."
Tony Bobulinski on Tucker says it is a "blatant lie" when Joe Biden says he had no knowledge of his son's business dealings:

"There was no other reason for me to be in that bar meeting Joe Biden then to discuss what I was doing with his family's name and the Chinese." pic.twitter.com/famy4WaxOk

— Daily Caller (@DailyCaller) October 28, 2020
In Tucker Carlson's interview with Hunter Biden's ex-business partner Tony Bobulinski, they play a tape of Rob Walker, a self-described Biden family representative, telling him "you're just gonna bury all of us" if he went through with his plan to go public on business dealings pic.twitter.com/zbfvaXtw13

— Daniel Chaitin (@danielchaitin7) October 28, 2020
The Times' FOIA request also seeks information on Rudy Giuliani - who Trump sent hunting for dirt on Hunter's dealings in Ukraine.
And in a final bit of Bidengate developments, Just the News also reports that an email concealed from public view for more than five years reveals that a top US State Department official in Kyiv told his DC superiors that Hunter Biden's business dealings in Ukraine "undercut" US efforts to fight corruption in the country.
The email, obtained by Just the News, was written on Nov. 22, 2016 by former U.S. embassy official George Kent, one of the Democrats' star witnesses in their first effort to impeach former President Donald Trump.

It was classified "confidential," the lowest level of secrecy, by then-U.S. Ambassador to Kiev Marie Yovanovitch, another of the Democrats' impeachment witnesses, and was not produced as evidence to House lawmakers during impeachment. Contrary to federal law, the State Department failed to acknowledge the existence of the document to the court or to Just the News in its multiple Freedom of Information Act lawsuits against the State Department seeking records on Hunter and Joe Biden's dealings in Ukraine.

Most importantly, the email's stark message directly conflicts with the narrative the mainstream media, State Department witnesses and Democratic congressmen gave the public two years ago, when they insisted Hunter Biden's lucrative job with the allegedly corrupt Ukrainian gas company Burisma Holdings — while creating the appearance of a conflict of interest — had no impact on U.S. efforts to fight corruption in that country. -Just the News
"The real issue to my mind was that someone in Washington needed to engage VP Biden quietly and say that his son Hunter's presence on the Burisma board undercut the anti-corruption message the VP and we were advancing in Ukraine," wrote Kent to multiple high-ranking officials in the State Department.
Kent's email also described "an intense pressure campaign by advocates for Burisma — including a former U.S. ambassador — to rehabilitate the Ukrainian company's corrupt reputation and to get Ukraine prosecutors to drop their criminal investigations of the company," according to the report.
The email chain also showed that State officials were acutely aware that Hunter Biden had an affiliation with an American business partner also accused — and eventually convicted of — corruption.

"I should note that there were two American members of the Burisma board: Hunter Biden and Devon Archer," another State official on the email chain wrote Kent and Andrews. "Archer was recently indicted in a federal fraud case." -Just the News
For a complete list of Hunter Biden's 'crony-connected' jobs, click here.