---
Biden Unveils Most Severe COVID Actions Yet: Mandates Vax For All Federal Workers, Contractors, & Large Private Companies
Watch Live:
*BIDEN SAYS NEARLY 80M AMERICANS ARE STILL NOT VACCINATED
*BIDEN SAYS WE ARE IN A TOUGH STRETCH, COULD LAST FOR A WHILE
*BIDEN: TSA TO DOUBLE FINES ON TRAVELERS WHO REFUSE TO MASK
Highlights and reactions:
BREAKING: President Biden says his 'patience is wearing thin' with unvaccinated Americans:

"What more is there to wait for? What more to do you need to see? We've been patient, but our patience is wearing thin and your refusal has cost all of us." pic.twitter.com/XcALP2MrQB

— Breaking911 (@Breaking911) September 9, 2021
Joe Biden threatens to get elected state leaders "out of the way." pic.twitter.com/Q3WdtGlrYT

— RNC Research (@RNCResearch) September 9, 2021
"Show some respect."

Pres. Biden calls out unruly passengers on planes: "The anger you see on television toward flight attendants and others doing their job is wrong. It's ugly." https://t.co/sJbdMAvu3F pic.twitter.com/wIBu7Y6GV4

— ABC News (@ABC) September 9, 2021
BIDEN: "Many of us are frustrated with the nearly 80 million Americans who are still not vaccinated, even though the vaccine is safe, effective and free. You might be confused..." pic.twitter.com/9WQW0kQyqL

— Breaking911 (@Breaking911) September 9, 2021
What do troops have to do with this, like wtf man.

— Alex Jones was right (@AlexJonesWs) September 9, 2021
.@JeremyDBoreing, CEO of @realDailyWire: proper, well-spoken, clear, and to the point@TyCardon, CEO of Blaze Media: 'MERICA 🇺🇸🔥

Separate, but equal 🇺🇸 pic.twitter.com/ZBC0Qu7Onr

— TheBlaze (@theblaze) September 9, 2021
Joe Biden last year:
I don't trust the Trump vaccine.

Joe Biden this year:
You lose your job if you don't trust the vaccine.

— Rising serpent 🇺🇸 (@rising_serpent) September 9, 2021
She's right. Women can make decisions about their own bodies.

I now identify as a woman and will make a decision to not get vaccinated. https://t.co/DbnDTcGJoY

— Hap (@hap317) September 9, 2021
Biden- "If you're vaccinated you have almost zero risk of getting sick"
Also Biden- "We must take more steps to protect the vaccinated"

— Shill LeBeau (@Lebeaucarnew) September 9, 2021
Summary:
Biden to require 'vast majority' of federal workers and contractors to get vaccinated or test weekly
Biden expected to ask Labor Department for for rule on mandatory vaccinations
'Some' exemptions for disability, religion
Psaki refuses to answer 'my body, my choice' question over vaccinations
Update (1452ET): President Biden will speak at 5pm ET, where he is expected to announce what's already been leaked - that most federal workers and contractors will be required to get vaccinated after a 75-day 'ramp-up' period. If workers decline to receive shots in that time frame, they will be subject to termination.
"We would like to be a model for what we think other business and organizations should do around the country," said White House spokeswoman Jen Psaki.
Further, Biden is expected to announce that the Department of Labor will compel employers with over 100 workers to mandate vaccines, or weekly testing.
Employers who don't abide by the new policy will face "substantial fines up to nearly $14,000 per violation," according to a senior Biden official (via PBS). What's more, Biden will require health care workers at hospitals which take Medicare and Medicaid to be vaccinated - impacting over 17 million workers.
Reporter: "Can the Department of Labor or anybody else compel major employers, large employers, to force the vaccine mandates on their employees?"

Jen Psaki: "Yes. Stay tuned. More to come this afternoon." https://t.co/yRbPtR0ZVi pic.twitter.com/HsNZGEDUWb

— CBS News (@CBSNews) September 9, 2021
More:
The Labor Department in the coming weeks plans to issue an emergency temporary standard implementing the new requirement, which will cover 80 million private-sector workers, officials said. Businesses that don't comply can face fines of up to $14,000 per violation, they said.

The employers will also have to give workers paid time off to get vaccinated or to recover from any side effects of getting vaccinated. -WSJ
Their way around it is by OSHA pic.twitter.com/H281ncEBcO

— Neeiick (@Neeick) September 9, 2021
And of course, when a reporter asks what about 'my body, my choice' in regards to vaccination, Psaki makes a beeline for the door.
Psaki runs away like her disgrace of a boss when a reporter asks her "what happened to my 'body, my choice' when it comes to vaccinations?"

WATCH THIS. pic.twitter.com/vA043ziipw

— Benny (@bennyjohnson) September 9, 2021
And as we asked earlier, what will the unions do?
They have already pushed back (here, here, and here) against various mandates (and Dem leadership need all the support they can get as Biden's approval plummets).
Association representing 30,000 federal law enforcement officers and agents opposes vaccine mandate. pic.twitter.com/b2J0NvuEvz

— Steve Herman (@W7VOA) September 9, 2021
*  *  *
Update (1345ET): Now that the executive order has been confirmed, White House spokeswoman Jen Psaki tells the public there will be limited exemptions for health and religious reasons.
For everybody else, refusing to take the vaccine could lead to termination.
* * *
As resistance to President Biden's booster-shot push grows, it appears the administration is - just as we expected - upping the pressure on federal workers who haven't yet been vaccinated - while asking private businesses to do the same. According to CNN, the Biden Admin will no longer allow workers to get tested weekly instead of taking the vaccine. Instead, he's signing an executive order Thursday requiring all workers to get the vaccine or face indefinite suspension.
What's more, Biden's order will extend to employees of government contractors. Per CNN, the same standard will be extended to employees of contractors who do business with the federal government. The Department of Defense, the Department of Veterans Affairs, Indian Health Service and National Institute of Health will also complete their previously announced vaccination requirements, which the White House believes has covered 2.5MM people.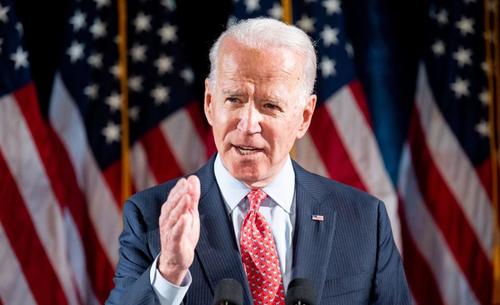 This marks a significant escalation since earlier in the summer, when Biden unveiled a requirement that federal workers be vaccinated, but allowed for those who opted out to be subject to stringent mitigation measures like weekly tests.
But mostly the White House is relying on private industry to impose and enforce its vaccine requirements. But Biden also believes the White House has a responsibility to set an example.
We have one quick question though... What will the unions do?
They have already pushed back (here, here, and here) against various mandates (and Dem leadership need all the support they can get as Biden's approval plummets).
And then there is Portland, whose city officials are preparing to exempt the police force from the "now legally dubious" vaccine mandates.
The president also plans to announce a major expansion to free testing, a step public health officials have said would be critical to containing the virus, particularly as children return to school and more workers return to the office. Plus, it would, in theory, combat claims that the administration didn't make the vaccine "accessible" enough.
Thursday will impose more stringent vaccine rules on federal workers, and take steps to encourage private businesses to do the same, during a major speech meant to lay out a new approach to combating the coronavirus.
Biden will talk about all this and more tonight, when he unveils his plans to stop the delta variant.