---
Biden Gives Go-Ahead To Giant Alaska Oil Project, 'Green's Furious
Well this is a little awkward...
President Biden pledged during the election campaign: "I guarantee you we're going to end fossil fuels."
The same President Biden today has - much to the angst of conservationists - authorized a giant ConocoPhillips oil project in northwest Alaska.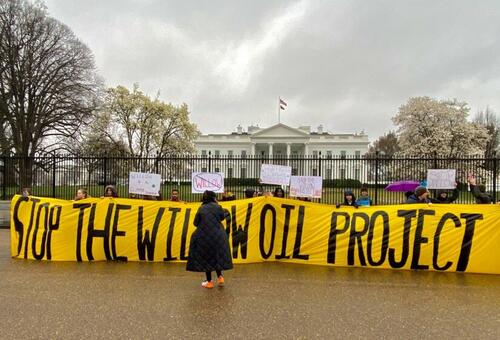 The $8 billion Willow oil field development project was initially proposed in 2018. It is set within the 23 million-acre National Petroleum Reserve-Alaska (NPRA), the largest expanse of federal public lands in the country, located on Alaska's North Slope.
ConocoPhillips had initially proposed five pads as part of the project. In the oil industry, a pad refers to a temporary drilling site. Under the Trump administration, the Department of the Interior (DOI) had approved the proposal in October 2020.
But a lawsuit by multiple groups, including Earthjustice, forced the U.S. Bureau of Land Management (BLM) to recommend scaling down the number of pads from five to three.
Biden's Willow plan would allow three drill sites initially, the sources said, which project developer ConocoPhillips has said would include about 219 total wells.
A fourth drill site proposed for the project  would be denied. The company has said it considers the three-site option workable.
The authorization represents one of the most significant climate decisions yet for Biden
ConcoPhillips welcomed the decision, issuing a statement that it expects to immediately initiate gravel road construction activities
"This was the right decision for Alaska and our nation," said Ryan Lance, ConocoPhillips chairman and chief executive officer.

"Willow fits within the Biden Administration's priorities on environmental and social justice, facilitating the energy transition and enhancing our energy security, all while creating good union jobs and providing benefits to Alaska Native communities."
As we detailed previously, environmental activists have vehemently opposed the project, citing pollution concerns. A petition at Change.org asking the Biden administration to not allow the Willow project has garnered more than three million signatures.
"If this project were to be approved, Willow would emit more climate pollution annually than more than 99.7 percent of all single-point sources in the country. The first oil to be used from this project wouldn't be for years," the petition insists.
Christy Goldfuss, a former Obama White House official who now is a policy chief at the Natural Resources Defense Council, said she was "deeply disappointed'' at Biden's decision to approve Willow, which NRDC estimates would generate planet-warming greenhouse gas emissions equivalent to more than 1 million homes.
"This decision is bad for the climate, bad for the environment and bad for the Native Alaska communities who oppose this and feel their voices were not heard,'' Goldfuss said.
However, lawmakers and trade unions from Alaska are pushing for the Biden administration to approve the project that is expected to hire 2,500 construction workers in the state. Willow is projected to output 180,000 barrels of oil per day, or around 1.5 percent of total American oil production.
Over its 30-year lifespan, Willow is expected to produce over 600 million barrels of oil while contributing up to $17 billion in revenues for state and federal governments as well as local communities.
However, in a clear appeasement of his 'green' base,  even as Willow gets a green light, the Biden administration is moving to limit future oil development across the 23 million-acre (93,000 square-kilometer) NPR-A, which was set aside for energy supply needs roughly a century ago. The Interior Department said it soon will propose a rule that could prevent future oil and gas leasing across more than 13 million acres of the Indiana-sized reserve.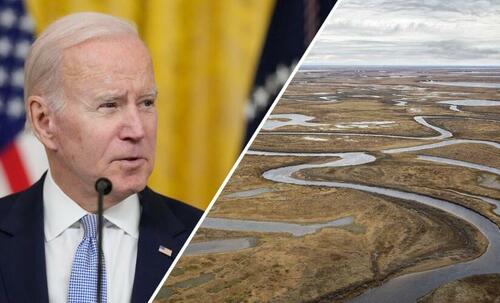 As Bloomberg reports, environmentalists hailed the protections but said they did nothing to offset the climate damage from approving the Willow project.
"Protecting one area of the Arctic so you can destroy another doesn't make sense, and it won't help the people and wildlife who will be upended by the Willow project," said Kristen Monsell, a senior attorney at the Center for Biological Diversity.

"We need to protect the entire Arctic and stop building massive oil and gas developments that will contribute to greenhouse gas emissions for years to come."
Oil industry advocates argued the Biden administration moves conflicted with a push for domestic energy security.
The Biden administration is forestalling "responsible development of federal lands and waters," and sending "mixed signals on energy policy," said Frank Macchiarola, senior vice president of policy for the American Petroleum Institute.
Loading...