---
The Biden Impeachment Begins: Beaking Down The Evidence
Authored by Techno Fog via The Reactionary (emphasis ours),
Yesterday began what we might unofficially call the start of the impeachment of President Joe Biden. Or, as announced by the House Oversight Committee: the hearing on The Basis for an Impeachment Inquiry of President Joseph R. Biden, Jr.
For the more zealous among us, there is pressure to get on with it already. Start the proceedings, get the votes, and see what happens. A fair position, but we're not there yet. The evidentiary record is not yet complete.
Thus, the "impeachment inquiry" is an essential investigative step, one which will require the testimony of scores of witnesses and numerous subpoenas for travel records, business and shell company records, bank records, and communications targeted at the Biden family and their business associates. Representative James Comer already has at least some of the investigation already planned; today he announced he is issuing subpoenas for Hunter Biden's and James Biden's personal and business bank records.
That wasn't an empty promise. Yesterday evening, Comer "issued three subpoenas for Hunter and James Biden's personal and business bank records."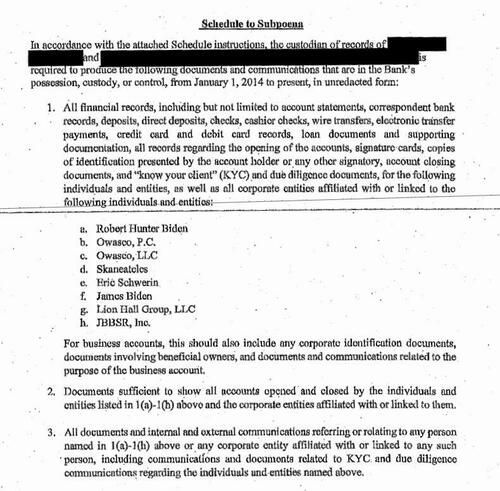 That's where it should get juicy. The Biden family and their shell companies received over $15 million from 2014-2019. Their business associates, many of whom served as pass-throughs for the Biden family's profits, received over $9 million. Where did all that money go?
To answer that question, there is perhaps the most important category of records investigators still need to obtain: the financial records of Joe Biden. Undoubtedly the Republicans will obtain those records as the investigation proceeds.
From there we might finally get confirmation to the admission of Burisma's founder and CEO, who admitted to paying millions to Hunter Biden and Joe Biden - while Joe was the Vice President of the United States: "it cost 5 (million) to pay one Biden, and 5 (million) to another Biden."
More broadly, the intensification of the investigation relates to the need to further prove the conspiracy and criminal access-operation among the Bidens – Joe, Jim, and Hunter. Not that the evidence isn't there. It certainly is. But impeachment is about getting votes from politicians hostile to accountability and convincing an American public of its necessity.
In other words, the inquiry must be deliberate and exhaustive, pursuing every investigative lead and interviewing every witness and getting every document. Think of the House as a type of special grand jury, assigned to investigate a matter of paramount importance. After all, this is one of the most important public corruption cases in American history.
Onto today's House Oversight hearing, which featured three witnesses on behalf of the House Majority. The testimony of each is briefly summarized below.
Bruce Dubinsky, CPA, a forensic accountant and certified fraud examiner. Dubinsky is a world-class expert in complex financial fraud, especially where – as is the case with the Bidens – the perpetrators utilize shell companies and otherwise complex structures used to mask the source and distribution of funds. He has "investigated some of the world's largest frauds." This included the investigation of Bernie Madoff's $65 billion Ponzi scheme (the largest in history), where he testified for the US government.
Dubinsky helped lay-out some of the most important questions that need further evidentiary support: why the Bidens were receiving million from foreign entities and individuals; why the Bidens used a complex web of shell companies; whether the money was fair market value for the alleged services rendered; and whether political favors were disguised as services. We note that the answers to many of these questions are in the public records released via the Hunter Biden laptop and Congressional investigations, there is no doubt there is significantly more to uncover.
Eileen J. O'Connor, Esq. led the DOJ's Tax Division from 2001-2007 and has decades of working with tax administration and enforcement. She testified during the Hunter Biden investigation, "leads and procedures that would have been followed in any other case were thwarted. These included:
The denial of searches requested by IRS criminal investigators of Joe Bidens' Delaware guest house and Hunter Biden's storage facility, where probable cause existed to believe documents relevant to the criminal investigation existed.

The denial of interview requests of Hunter Biden family members and associates, including those which would have explained "10% held by H (Hunter) for the big guy."

The sabotage of investigative steps to determine Joe Bidens' presence – allegedly next to Hunter – while Hunter shook down a Chinese businessman.
O'Connor further detailed the necessity to investigate the investigators – those who allowed the statute of limitations on Hunter's financial crimes to expire and why other criminal charges were not pursued.
Finally, Jonathan Turley testified to the public allegations of Joe Biden's corruption that warranted a full investigation: (1) his lies about foreign dealings with his family; (2) the fact that he was the target (if not a cooperating figure) "of a multimillion-dollar influence peddling scheme"; and (3) that Joe Biden "may have benefitted from this corruption through millions of dollars sent to his family as well as more direct possible benefits."
More Insight into the Biden Family's Corruption
Accompanying the impeachment inquiry has been the release of newly public documents that further prove the corruption of the Biden family and bolster the purpose of this investigation. For example, a large set of records were provided yesterday by the House Ways and Means Committee, including transcripts of witness interviews (including Hunter's business associates and prostitutes), summaries of the recommended tax charges against Hunter Biden, and e-mails and documents proving the obstructive steps taken by the DOJ.
BREAKING: Let me try to simplify Biden corruption scheme to the American people, Republican Congressman William @RepTimmons says in EXPLOSIVELY DETAILED remarks. WATCH pic.twitter.com/NLIrc4GH3P

— Simon Ateba (@simonateba) September 28, 2023
While much of it confirms what has already been reported, or provides context or proof of allegations of DOJ misconduct with respect to the Hunter investigation, of note from those records was this 2018 text from Hunter Biden to Jim Biden. In the message, Hunter says Jim was "drawn into something purely for the purpose of protecting Dad."
Why former Vice President Biden needed protection, and why Hunter and James were drawn into providing that protection, are good questions.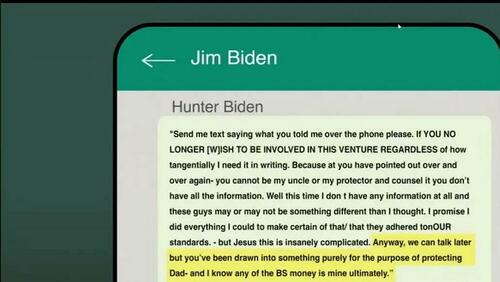 Here's the answer.
In March of 2018, James Biden was seeking access to the $1 million retainer that Hunter was owed for providing "legal services" to corrupt Chinese businessman Patrick Ho. (Note: Hunter did not, in fact, provide legal services.)
On March 21, 2018 - the same date as the text - James Biden "wrote to CEFC [China Energy] officials with 'wiring instructions,' providing the address and routing numbers for how to transfer" the $1 million to an account linked to Hunter Biden.
The next day, on March 22, 2018, the money was wired.

But wait, there's much, much more...
Loading...