---
Biden Impeachment? Top Republican Says IRS Whistleblower, Chinese 'Collusion' And Hunter Laptop Letter Hoax "Tip Of The Iceberg"
A Republican member of the House Oversight Committee thinks a flurry of recent corruption scandals could lead to the impeachment of President Joe Biden.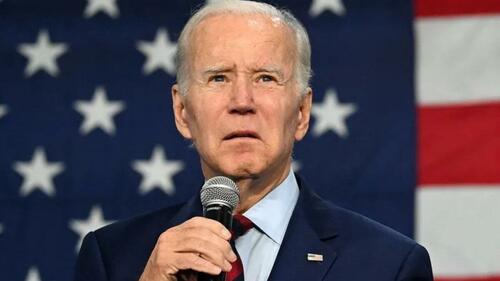 Between the revelation that the 'Hunter laptop letter hoax' signed by 51 current and former intelligence officials was created at the best of Antony Blinken during the 2020 US election, the obvious implications of CCP leverage over the Biden family, and information presented by an IRS whistleblower regarding the Hunter Biden probe, things may get interesting according to Rep. Tim Burchett (R-TN).
When asked about China's influence over the Biden family, Burchett told Fox News' Maria Bartiromo on Friday: "We know of at least eight Biden family members who have profited from dealings overseas," adding "I think if you delve into it deep enough, there's prostitution rings involved in this, human trafficking has been rumored to be part of some of this. These so-called companies that have allowed the Biden family to profit. It is gross, and it is disgusting."
"If I was those 51 people, I'd be lawyering up right now because they're going to be asked in public at some point what they knew and if they knew that all this other stuff was going on, because it is very damning Maria. This is just the very tip of the iceberg," he continued.
"This very brave IRS agent coming forward, I think, will just start it," Burchett said, referring to the senior agent in charge of the Hunter Biden investigation who came forward earlier this week in a letter to lawmakers, accusing the DOJ of 'mishandling' the Hunter Biden case, and that his client had information that would contradict sworn testimony from a senior political appointee.
Rep. Tim Burchett rips Biden WH over influence peddling: 'Corruption goes straight to the top' pic.twitter.com/02eyPaysHW

— Mornings with Maria (@MorningsMaria) April 21, 2023
When asked if that might lead to an impeachment, Burchett said: "If this coverup shows what's going on, what we assume is going on, and that the 51 folks were basically lied to and showed false documentation, how can you not..."
The lawyer for the whistleblower joined "Special Report with Bret Baier" Thursday night claiming his client is "not a political person" and does not have a "political agenda," but does have documents to support his allegations that he hopes to bring to both congressional Democrats and Republicans.

"If you delve into it deep enough, there's prostitution rings involved in this. Human trafficking has been rumored to be a part of some of these so-called companies that have allowed the Biden family to profit. It is gross and it is disgusting about what has been allowed to go on," Burchett said. -Fox News
"I cannot imagine how the Justice Department allowed this to go on, if not for corruption at the highest level. And they are in some serious trouble right now. I think they know it," Burchett continued.
🚨 The walls are closing in on the Biden family.

It's clear Hunter & other members of the Biden family benefited from shady business schemes.

Now it appears the Biden Admin is working overtime to protect the Biden family.@GOPoversight will ensure accountability. @seanhannity pic.twitter.com/IUH1fJGNUR

— Rep. James Comer (@RepJamesComer) April 20, 2023
When it comes to China, Burchett said: [China has] so much invested in this White House now, that their cover-up upon cover-ups will continue. But I can assure you that the American people understand what's going on," adding "And I can assure you that [Oversight] Chairman Comer and Chairman Jordan are steering this in the right direction. As I stated before, this is complete collusion with the communist Chinese. They bought and sold this White House."
Loading...