---
Biden To Join UAW Picket Line As Strike Expands, Good Luck Getting Repairs
Authored by Mike Shedlock via MishTalk.com,
In a symbolic, photo-op gesture to win union votes, Biden will head to Michigan for a token visit.
Biden to Walk the Picket Line
Tuesday, I'll go to Michigan to join the picket line and stand in solidarity with the men and women of UAW as they fight for a fair share of the value they helped create.

It's time for a win-win agreement that keeps American auto manufacturing thriving with well-paid UAW jobs.

— President Biden (@POTUS) September 22, 2023
Taking Sides
CNN had some Interesting comments on Biden Talking Sides.
Jeremi Suri, a presidential historian and professor at University of Texas at Austin, said he doesn't believe any president has ever visited a picket line during a strike.

Presidents, including Biden, have previously declined to wade into union disputes to avoid the perception of taking sides on issues where the negotiating parties are often engaged in litigation.

On September 15, the day the strike started, Biden said that the automakers "should go further to ensure record corporate profits mean record contracts for the UAW."

Some Democratic politicians have been urging Biden to do more. California Rep. Ro Khanna on Monday told CNN's Vanessa Yurkevich that Biden and other Democrats should join him on the picket line.

"I'd love to see the president out here," he said, arguing the Democratic Party needs to demonstrate it's "the party of the working class."
UAW Announces New Strike Locations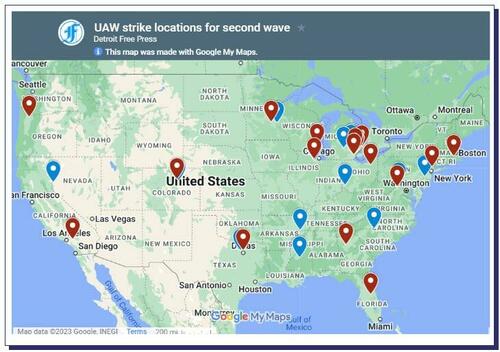 As the strike enters a second week, UAW Announces New Strike Locations
UAW President Shawn Fain called for union members to strike at noon ET Friday at 38 General Motors and Stellantis facilities across 20 states. He said the strike call covers all of GM and Stellantis' parts distribution facilities.

The strike call notably excludes Ford, the third member of Detroit's Big Three, suggesting the UAW is more satisfied with the progress it has made on a new contract with that company.

General Motors plants being told to strike are in Pontiac, Belleville, Ypsilanti, Burton, Swartz Creek and Lansing, Michigan; West Chester, Ohio; Aurora, Colorado; Hudson, Wisconsin; Bolingbrook, Illinois; Reno, Nevada; Rancho Cucamonga, California; Roanoke, Texas; Martinsburg, West Virginia; Brandon, Mississippi; Charlotte, North Carolina; Memphis, Tennessee; and Lang Horne, Pennsylvania.

The Stellantis facilities going on strike are in Marysville, Center Line, Warren, Auburn Hills, Romulus and Streetsboro, Michigan; Milwaukee, Wisconsin; Plymouth, Minnesota; Commerce City, Colorado; Naperville, Illinois; Ontario, California; Beaverton, Oregon; Morrow, Georgia; Winchester, Virginia; Carrollton, Texas; Tappan, New York; and Mansfield, Massachusetts.
Contract Negotiations Are Not Close
Good Luck Getting Repairs
Good luck getting your car repaired:

Auto worker strikes now expanding to *38* parts and distribution locations across 20 states.

This feels like a movie.

(via CNBC)

— CarDealershipGuy (@GuyDealership) September 23, 2023
Party of the Working Cass, Really?
Let's discuss the nonsensical notion that Democrats are the party of the "working class".
Unnecessary stimulus, reckless expansion of social services, student debt cancellation, eviction moratoriums, earned income credits, immigration policy, and forcing higher prices for all, to benefit the few, are geared towards the "unworking class".
On top of it, Biden wants to take away your gas stove, end charter schools to protect incompetent union teachers, and force you into an EV that you do not want and for which infrastructure is not in place.
All of this increases inflation across the board as do sanctions and clean energy madness.
Exploring the Working Class Idea
If you don't work and have no income, Biden may make your healthcare cheaper. If you do work, he seeks to take your healthcare options away.
If you want to pay higher prices for cars, give up your gas stove, be forced into an EV, subsidize wind energy then pay more for electricity on top of it, you have a clear choice. If you support those efforts, by all means, please join him on the picket line for a token photo-op (not that you will be able to get within miles for the staged charade).
But if you can think at all, you understand Biden does not support the working class, he supports the unworking class.
Loading...