---
Biden Is Looking For Legal Excuse To Bailout Upper Middle Class With Student Debt Cancelation
White House is exploring whether it has the legal authority to unilaterally cancel up to $50K of student debt per borrower as Biden comes under mounting pressure from progressive Dems to act in the name of combating "economic inequality".
White House Chief of Staff Ron Klain said in an interview with Politico that Biden had tasked his education secretary, Miguel Cardona, to prepare a memo about the president's legal authority to cancel student debt. NBC News described the measures as an effort to combat "the student loan crisis crippling millions of Americans".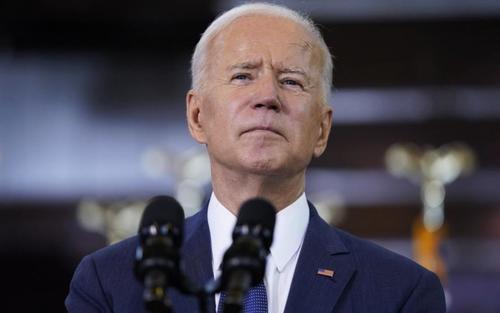 Nevermind that the vast majority of student debt is held by middle-class, and upper-class borrowers. But since most progressive voters are white millennials from wealthy backgrounds, progressives like AOC are simply engaging in the same blatant pandering to their base that they accuse other politicians of doing, as we have pointed out before. 
While the infrastructure plan described by President Joe Biden in Pittsburgh earlier this week would take some time to impact the general economy, Goldman Sachs analysts pointed out that forgiving $50K in loans per borrower would create an immediate economic boost. However, the benefit wouldn't be as large, or as widespread, as some might expect. Goldman said that while a more generous loan-forgiveness program of $50K per borrower would provide a slightly bigger boost to GDP than the $10K/borrower plan, the impact per dollar spent would be smaller.
Goldman gamed out how these gains would be distributed across society, and it might come as a surprise to some progressives to see that the wealthy would enjoy the biggest boost, as the government would essentially be upping its subsidies to expensive private colleges.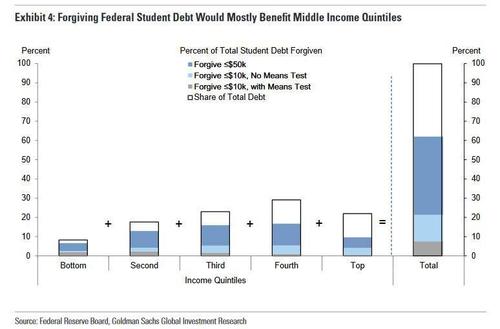 Biden will reportedly decide how to proceed once he receives and reviews the memo. The president has reportedly been leaning toward an executive action that would forgive up to $10K in debt per borrower, but progressives have been pushing him to do more (part of a progressive agenda that's centered around ending the filibuster, forgiving student debt, packing SCOTUS and passing M4A). The Bernie Sanders and Elizabeth Warren-approved plan for forgiving up to $50K in loans  got a boost after the election from Majority Leader Chuck Schumer, who has also endorsed the plan, and insisted that Biden could erase the debt "with the stroke of a pen", and that including Congress in the decisionmaking simply isn't necessary.
"He'll look at that legal authority, he'll look at the policy issues around that, and then he'll make a decision," Klain said. "He hasn't made a decision on that either way. In fact, he hasn't yet gotten the memos that he needs to start to focus on that decision."
Biden has said he doesn't believe he has the legal authority to forgive $50K per borrower. This has been his primary excuse for endorsing $10K in forgiveness, instead of $50K. But by tasking one of his most progressive cabinet members to come up with a legal rationale, it looks like Biden is seriously considering even more unilateral debt forgiveness.
"I understand the impact of debt, and it can be debilitating," Biden said at a town hall event in February. "I am prepared to write off the $10,000 debt, but not $50,000 because I don't think I have the authority to do it."
Proponents of canceling student debt have argued that the president does have the authority to cancel student debt, and that this authority stems from the Higher Education Act of 1965, which gives the education secretary the authority to use federal authority and credit to back - and, therefore, cancel - student loans.
Readers can watch the full Politico interview with Klain below: