---
Biden 'Praying For The Right Verdict' In Chauvin Trial As Major Cities Brace For Violence
In a rare statement by a President during jury deliberation in a major trial, Joe Biden says he believes that the evidence in the Derek Chauvin trial is "overwhelming," and wants us to know that he's communicated with God in his hope for the 'right' verdict in the case of the former Minneapolis police officer accused of murdering George Floyd last summer during an arrest.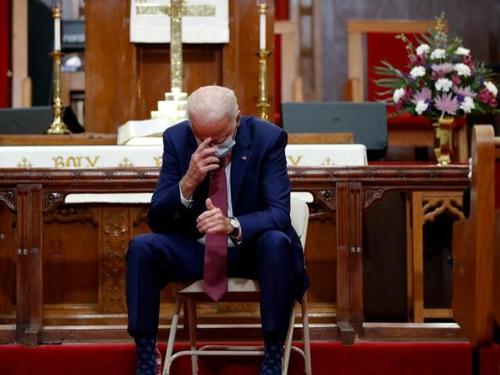 "I'm praying the verdict is the right verdict," Biden told reporters in the Oval Office - hours after speaking with members of the Floyd family, adding: "I think it's overwhelming in my view." Biden said he wouldn't have commented if the jury had not been sequestered.
President Biden says he recently called George Floyd's family:

"I'm praying the verdict is the right verdict, which is, I think it's overwhelming in my view. I wouldn't say that unless the jury was sequestered." pic.twitter.com/v6G03KqUSw

— Breaking911 (@Breaking911) April 20, 2021
Biden's comments come as major cities across the country brace for violent protests - which we suspect are likely regardless of outcome.
In Minneapolis - which would be the epicenter for major protests - some 3,000 National Guard troops have been deployed throughout the downtown area, two of whom were injured early Sunday when someone shot at their Humvee hours after Rep. Maxine Waters told people to "get more confrontational" in order to "send a message" to white supremacists.
On Monday, Gov. Tim Walz declared a state of emergency - obtaining $9 million in emergency funding for law enforcement's response.
"We cannot allow civil unrest to descend into chaos. We must protect life and property," said Walz, a Democrat, adding: "I acknowledge them that we can't live like this. We simply can't. But we can't have thousands of businesses burned and people put at risk ... I cannot allow those businesses to burn. I cannot have people's livelihood or their safety put at play. But I will recognize what they're saying."
In Chicago, Gov. J.B. Pritzker authored the deployment of 125 Illinois National Guard troops following a request made by Mayor Lori Lightfoot "out of an abundance of caution." According to Pritzker's office, the "limited mission" would include assisting local authorities in closing streets during local demonstrations (and will of course be on hand if things get out of control).
"It is critical that those who wish to peacefully protest against the systemic racism and injustice that holds back too many of our communities continue to be able to do so," Pritzker said in a statement. "Members of the Guard and the Illinois State Police will support the City of Chicago's efforts to protect the rights of peaceful protestors and keep our families safe."
In Washington DC, 250 National Guard troops will be deployed after city officials initially requested 1,000 Guardsmen. The deployment was confirmed Monday by acting Army Secretary John Whitley.
In an April 8 request signed by Christopher Rodriguez, director of the city's Homeland Security and Emergency Management Agency, the city asked the D.C. Guard's commander, Maj. Gen. William Walker for six teams to monitor Metro stops, Guard members to staff 30 traffic checkpoints, and a quick reaction force "of at least 300 guardsmen to be staged at the D.C. Armory with the ability to respond within thirty (30) minutes to a request for assistance."

Calling the request "precautionary," Rodriguez noted the potential for "First Amendment demonstrations to occur in the District of Columbia in response to the verdict." -Epoch Times
In Los Angeles, Beverly Hills has stepped up patrols after BLM protesters marched through the wealthy enclave last year.
In Philadelphia, shop owners have boarded up windows.
What's more, six states and Washington D.C. have requested help from the National Guard to protect their Democratic-run cities, after they were forced to sleep on the floor of a parking garage during inauguration security detail in January.
"The number one focus for us is deescalation. We don't want to use force if we don't have to," said Minneapolis Police Chief Medaria Arradondo.
In short;
Get out of cities

— Jack Posobiec (@JackPosobiec) April 12, 2021