---
Biden Proposes In-Person Summit With Putin, Warns Of Ukraine Escalation In Phone Call
In a huge development at a moment of soaring tensions on multiple US-Russia fronts and points of contention - most especially the Ukraine crisis and the SolarWinds hack - President Biden in a Tuesday phone call with Vladimir Putin (the second Putin call of his presidency) has proposed that the two soon meet in person for a summit. 
A White House Press statement indicated Biden's proposed bilateral summit, which would be the first such of his presidency, should take place "in a third country in the coming months." Per the readout, the meeting would cover "the full range of issues facing the United States and Russia."
The statement further indicated Biden "made clear that the United States will act firmly in defense of its national interests in response to Russia's actions, such as cyber intrusions and election interference," which a US intelligence review last week pointed the finger at the Kremlin for being behind.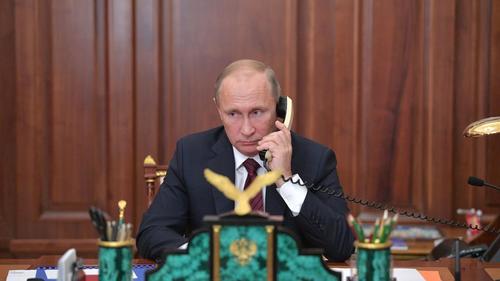 Biden is still said to be mulling further US 'retaliatory action' - likely in the form of sanctions - for the cyber-intrusion and alleged election meddling. 
On Ukraine, which has been the focus of international headlines for much of the past week amid a troop build-up by both sides, Biden "emphasized the United States' unwavering commitment to Ukraine's sovereignty and territorial integrity," the White House said. 
"The President voiced our concerns over the sudden Russian military build-up in occupied Crimea and on Ukraine's borders, and called on Russia to de-escalate tensions," the readout stated further. 
But despite Biden's urging Putin for 'de-escalation' - it appears a pair of American warships are still en route to the Black Sea in waters near Ukraine, which prompted an earlier warning by the Kremlin for US vessels to steer away from coming near Crimea "for their own good". Biden has been adamant that Crimea still belongs to Ukraine. 
President Biden spoke today with President Putin, making clear the United States' resolve to defend our national interests and expressing our support for Ukraine's sovereignty and territorial integrity.

— The White House (@WhiteHouse) April 13, 2021
The Kremlin days ago warned that it's Kiev's own actions and initial troop build-up in and near Donbass that is risking "broader war" in the region. Days ago Kremlin spokesman Dmitry Peskov said, "The trend in the behavior of the Ukrainian side creates the risk of a resumption of full-scale military action."
Further on Tuesday the Kremlin alleged a major new NATO build-up of troops in the Black Sea and Baltic regions, saying NATO is set to "concentrate 40,000 troops and 15,000 items of armament and military hardware near Russian borders, basically in the Black Sea and Baltic regions," according to fresh statements from Russia's Defense Minister Sergei Shoigu.
Though Putin's precise words have not been revealed in the call with Biden, we can imagine to Russian president pushed back by complaining of Ukraine's increasingly vocal bid to join NATO and invite more Western troops into the country, a strict Russian 'red line'.