---
'Is Biden Really In Charge?' Asks A Skeptical Sen. Cornyn
Texas Senator John Cornyn (R) asked on Monday if Joe Biden is "really in charge," based on the President's much lower profile than his predecessors, and obviously scripted appearances.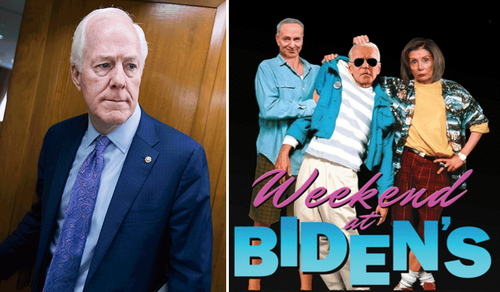 In a Twitter thread citing a recent Politico article, Cornyn tweeted: "The president is not doing cable news interviews. Tweets from his account are limited and, when they come, unimaginably conventional. The public comments are largely scripted. Biden has opted for fewer sit down interviews with mainstream outlets and reporters," adding "Invites the question: is he really in charge?"
Invites the question: is he really in charge?

— Senator John Cornyn (@JohnCornyn) April 12, 2021
Politico noted that White House deputy communications director Kate Berner insists that the administration's communications strategy is "based on innovation in the digital space, flooding the zone in regional and coalitions press and effectively using traditional national media."
"He's the president, he's got a lot on his plate. We have people fanning out every single day across different media to amplify his message," she continued. "We don't let his schedule be a limiting factor for us."
Biden came under fire last month for waiting 64 days to hold his first press conference. Trump, on the other hand, waited just 27 days.