---
Watch: 21-Year-Old Suspect Jack Teixeira Arrested In Pentagon Leak
Update (1445ET): 21-year-old National Guardsman Jack Teixeira has been arrested in connection with the leak of hundreds of classified documents, according to the Washington Examiner and several other outlets.
Teixeira was identified by the NY Times ahead of his arrest at his home in Dighton, Mass Thursday afternoon. Television footage appeared to show armed personnel leading a male wearing red shorts and a green short with his hands cuffed behind his back, the WSJ reports.
Two police cruisers from the town of Dighton were blocking the road near a residence associated with Mr. Teixeira. They declined to speak about why they had blocked the road. A row of people who say they lived on the street were waiting to pass.

One neighbor said the police began blocking off the street around noon. At least one vehicle outside the police blockade had U.S. government license plates. -WSJ
Video: The arrest of the alleged leaker.
-> The circus they make for one unarmed dude seems like a show. https://t.co/h9NhcPLk5g pic.twitter.com/vilteMCd1p

— Lord Bebo (@MyLordBebo) April 13, 2023
*  *  *
Update(1255ET): The New York Times says it knows the identity of the leaker of a trove of classified US intelligence documents which has been subject of widespread reporting this week. The Times says he's a 21-year old member of the Air National Guard: 
The leader of a small online gaming chat group where a trove of classified U.S. intelligence documents leaked over the last few months is a 21-year-old member of the intelligence wing of the Massachusetts Air National Guard, according to interviews and documents reviewed by The New York Times.

The national guardsman, whose name is Jack Teixeira, oversaw a private online group named Thug Shaker Central, where about 20 to 30 people, mostly young men and teenagers, came together over a shared love of guns, racist online memes and video games.

Two U.S. officials confirmed that investigators want to talk to Airman Teixeira about the leak of the government documents to the private online group. One official said Airman Teixeira might have information relevant to the investigation.
The report suggests he hasn't even been interviewed by authorities yet, but likely the young man can expect a knock on his door at any moment. NBC is reporting that his arrest is imminent. Below is a social media photograph republished by the NY Times of the accused leaker:
A pic of Jack Teixeira he posted on social media - released by the NYT pic.twitter.com/IGZGUnN2Wb

— Michael A. Horowitz (@michaelh992) April 13, 2023
We should caution that at this early phase there's little that is fully confirmed.
Very likely, the Pentagon and DOJ could still be investigating a number of different leads based on multiple working hypotheses. But on the question of assertions which have now been pretty much discounted, "unnamed US officials" have hit it out of the ballpark again... just days ago there was this headline, based on no less that three anon officials, oops!:
From the prior... and now looking to be a debunked report:
April 7 (Reuters) - Russia or pro-Russian elements are likely behind the leak of several classified U.S. military documents posted on social media that offer a partial, month-old snapshot of the war in Ukraine, three U.S. officials told Reuters on Friday, while the Justice Department said separately it was probing the leak.
As always, "Russia!"...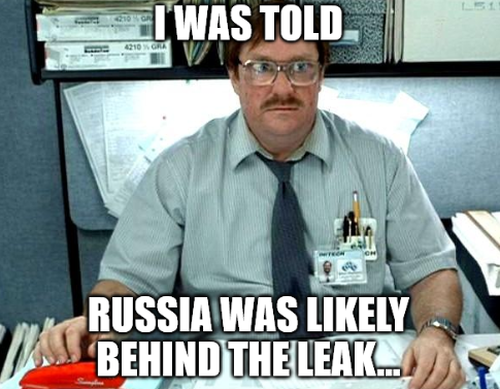 * * *
President Biden announced Thursday while speaking to reporters that US authorities are "getting close" to uncovering the source of the leak of a trove of sensitive Pentagon documents which defense officials say contain "sensitive and highly-classified material." They been subject of widespread reporting over the past days, despite the White House urging media not to publish their contents.
"I can't right now [give an update]. There is a full-blown investigation going on with the intelligence community and Justice Department and they are getting close," Biden said during his trip to Ireland. "I don't have an answer for you." 
The president added: "I'm concerned that it happened but there is nothing contemporaneous that I'm aware of that is of great consequence." 
Separately a White House official said the administration has "taken steps to further restrict access to sensitive information" as Pentagon chief Lloyd Austin stressed he'll 'turn over every rock' to find the leaker.
All of this comes as The Washington Post has published a report claiming that a young man in his 20s who worked on a military base posted the classified reports in a Discord chat room. But the report presents little in the way of evidence, only a teenage source who is said to be a friend of the leaker. However the teenage source has reportedly refused to disclose the identity or location of the alleged leaker: 
The man behind a massive leak of U.S. government secrets that has exposed spying on allies, revealed the grim prospects for Ukraine's war with Russia and ignited diplomatic fires for the White House is a young, charismatic gun enthusiast who shared highly classified documents with a group of far-flung acquaintances searching for companionship amid the isolation of the pandemic.

United by their mutual love of guns, military gear and God, the group of roughly two dozen — mostly men and boys — formed an invitation-only clubhouse in 2020 on Discord, an online platform popular with gamers. But they paid little attention last year when the man some call "OG" posted a message laden with strange acronyms and jargon. The words were unfamiliar, and few people read the long note, one of the members explained. But he revered OG, the elder leader of their tiny tribe, who claimed to know secrets that the government withheld from ordinary people.
Some reports suggest the documents then gained wider circulation on the internet in the context of intense debates over the Ukraine war, as users in the Discord group utilized classified docs during online arguments.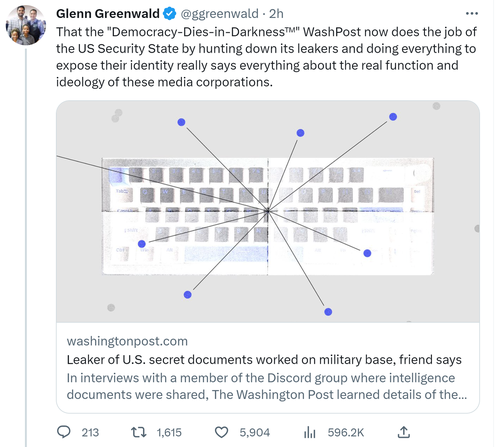 According to more from WaPo:
The young member read OG's message closely, and the hundreds more that he said followed on a regular basis for months. They were, he recalled, what appeared to be near-verbatim transcripts of classified intelligence documents that OG indicated he had brought home from his job on a "military base," which the member declined to identify. OG claimed he spent at least some of his day inside a secure facility that prohibited cellphones and other electronic devices, which could be used to document the secret information housed on government computer networks or spooling out from printers. He annotated some of the hand-typed documents, the member said, translating arcane intel-speak for the uninitiated, such as explaining that "NOFORN" meant the information in the document was so sensitive it must not be shared with foreign nationals.
On the question of whether US authorities believe a foreign government might be behind the leaks, the report has this to offer: 
The source told the Post he believed "OG" only shared the documents to keep members of the group "in the loop" and was not hostile to he U.S. government nor was he working to help another country. 

"He is not a Russian operative. He is not a Ukrainian operative," the source told the Post. 
We still don't know who leaked the draft Dobbs ruling because that went to a liberal corporate outlet. (POLITICO).

We still haven't seen the manifesto of the Nashville shooter because it's inconvenient.

But this leak was put on Discord, so media outlets are hunting for him.

— Glenn Greenwald (@ggreenwald) April 13, 2023
And yet, again given the sparsity of actual evidence presented - and given this is all coming from a single source based on one particular theory - it's hard to assess whether or not this in fact points to the true leaker. Very likely, the Pentagon and DOJ could be investigating a number of different leads based on multiple working hypotheses.
Very likely, the Pentagon and DOJ could be investigating a number of different leads based on multiple working hypotheses.
Loading...