---
Biden Slams 'Unprecedented' Expulsion Of 'Disorderly' Democrats From Tennessee House
President Biden on Thursday took aim at Tennessee Republicans after the state House voted to expel two Democratic lawmakers who participated in a chaotic gun control protest at the state Capitol.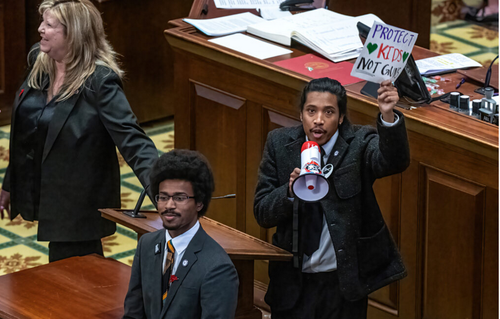 Earlier in the day, the GOP-controlled body voted to expel Reps. Justin Jones and Justin Pearson for "disorderly behavior," after they stormed the Capitol building with protesters following the shooting by a transgender gunman at a Nashville private Christian school, leaving three staff members and three 9-year-old children dead.
The expulsion vote against Jones, D-Nashville, was 72-25, and 69-26 against Pearson, D-Memphis. It needed 66 votes it pass.
Hundreds of protesters, including students, flooded the Tennessee State Capitol on Thursday to demand that lawmakers implement stronger gun laws after a shooting at an elementary school left six people dead, including three 9-year-olds. https://t.co/K3Nl5Z3GiA pic.twitter.com/HRrETnFBqi

— The New York Times (@nytimes) March 31, 2023
A third Democrat, Rep. Gloria Johnson, was almost expelled by a vote of 65-30 for her role in the demonstration.
The trio is accused of violating the House rules of decorum when they took over the speaking podium to lead chants with a crowd protesting the lack of action by lawmakers on gun violence after six were killed — including three children — in a mass shooting at a religious school in Nashville. -Tennessee Lookout
Following the gun control protest, the Republican majority immediately stripped the three Democrats of their committee assignments before voting to expel them - calling the move necessary to avoid setting a precedent that lawmakers can freely disrupt House proceedings.
"I want to make sure everybody knows this has nothing to do about the protest outside the House chamber or the protests outside the Capitol," said Tennessee House Speaker Cameron Sexton in a statement to Fox News ahead of the vote. "This is about these three members' actions on the House floor, how they shut us down, and how they led protests from the House chamber to those [people] in the balcony."
"Without Precedent" according to Biden
"Today's expulsion of lawmakers who engaged in peaceful protest is shocking, undemocratic, and without precedent," said Biden. "Rather than debating the merits of the issue, these Republican lawmakers have chosen to punish, silence, and expel duly-elected representatives of the people of Tennessee."
BREAKING: Tennessee House Republicans vote to expel the first of three Democratic lawmakers after they participated in a gun control protest at the state Capitol following the Nashville school shooting. https://t.co/XjUhpYlj9Z pic.twitter.com/FZHpqqNBou

— NBC News (@NBCNews) April 6, 2023
Biden called on state and federal lawmakers "to act on commonsense gun safety reforms," including a ban on "assault weapons with high capacity magazines," along with universal background checks, liability for gunmakers after mass shootings, and more.
The expelled Democrats called it an attack on democracy.
"We are losing our democracy. This is not normal. This is not OK," Pearson told reporters, adding that the three "broke a House rule because we're fighting for kids who are dying from gun violence and people in our communities who want to see an end to the proliferation of weaponry in our communities. And that leads to our expulsion? This is not democracy."
Guess we're not doing the 'dangerous rhetoric' thing anymore?
KJP gets steamrolled after pushing White House support for "fierce" trans kids who "fight back" in wake of Nashville school shooting https://t.co/h5yzn38mwl

— Not the Bee (@Not_the_Bee) April 7, 2023
Loading...