---
Biden Speech Hailing NATO Strength Overshadowed By Serious Fall On Stage
President Joe Biden on Thursday ratcheted up the pressure on holdout nations Turkey and Hungary by saying that Sweden will join NATO "as soon as possible". The former two countries have blocked Sweden's entry, but recently approved Finland. 
Biden hailed NATO unity in a speech before the US Air Force Academy graduation ceremony in Colorado Springs. "NATO is more energized and more united than it's been in decades. It's now even stronger with the accession of our newest ally, Finland – and soon Sweden – to the alliance, as soon as possible. It will happen. I promise you," President Biden said.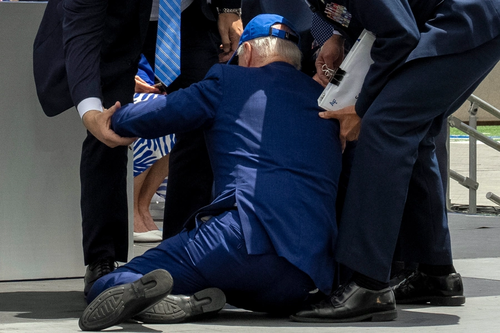 Biden's strong words came immediately on the heels of Blinken's trip to Sweden wherein he said that "the perspective of the United States" is that "the time is now to finalize Sweden's accession."
Especially since Finland's formal membership acceptance in April, European and US officials have been pushing for Sweden's entry as well - but again, Turkey has been adamant in maintaining its rejection, based on accusations that Swedish authorities allow 'terrorist' and Kurdish 'dissident' groups and individuals in its country.
"Welcome to NATO, Finland! I hope we will welcome our Swedish friends very soon, too," French President Emmanuel Macron said soon after Finland's accession.
As for Biden's Air Force graduation speech, his important remarks on NATO or really any of the speech content for that matter were immediately overshadowed by what happened the moment he began to walk off stage...
BREAKING: Biden takes a big fall on stage just now at the U.S. Air Force Academy graduation pic.twitter.com/GxkMbpyoNo

— Jake Schneider (@jacobkschneider) June 1, 2023
The fall looked like a hard one, in a dangerous moment for the 80-year old Commander-in-Chief.
Below is another angle:
Another angle of Joe Biden's fall on stage today. Watch the reactions. pic.twitter.com/74ChFqPafI

— The Post Millennial (@TPostMillennial) June 1, 2023
Below is how The New York Times described the significant fall: 
President Biden tripped and fell after delivering a speech and handing out diplomas to graduates of the Air Force Academy in Colorado Springs on Thursday. Mr. Biden, who is 80 years old, was helped up and appeared to recover quickly.

Mr. Biden's fall was captured on video and spread on social media. He appears to trip, fall to his knees and catch himself with his hands on the floor of the stage. He was helped up by several Air Force officials and Secret Service agents, and he walked back to his seat.

Mr. Biden had just delivered an energetic speech to the Air Force graduates before helping to hand out the diplomas. He fell after he distributed the final diploma and was headed back to his seat.
The White House issued an official statement via its communications director Ben LaBolt, who said in a tweet quickly after the incident, "He's fine, there was a sandbag on stage while he was shaking hands."
Biden declined to talk with reporters on the tarmac before boarding AF1 to fly back from Colorado after he fell on stage. https://t.co/S47Nv2Hr06

— Jennifer Jacobs (@JenniferJJacobs) June 1, 2023
Just as Biden declined to speak about the matter, mainstream media also shied away from commenting. Things were a little different a few years ago when President Trump walked slowly down a ramp (without falling)...
And here's Joe Biden mocking Trump for walking carefully on the ramp, to avoid a fall

**Notice the covid pandemic death ticker on the side** pic.twitter.com/Dg9yRRVRJi

— The Real Brandon (@BluecollarBran) June 1, 2023
At a moment there's a war in Ukraine and dangerous showdown between nuclear armed superpowers the United States and Russia, certainly Moscow is going to see Biden's serious fall on stage as a sign of weakness and frailness from an ageing president. 
* * *
Meanwhile, this is likely to have significant impact on the domestic front as well, as the Democrats decide whether to go all in on Biden in 2024...
Open the Democrat primaries and debates. This isn't fair to anyone. https://t.co/KcW67BaR7z

— jack (@jack) June 1, 2023
Loading...