---
Zelensky Disappointed? Biden's Lackluster UN Speech Only Briefly Focused On Ukraine
At times mumbling and stumbling through words on the teleprompter, as has become the norm, President Joe Biden on Tuesday addressed the United Nations General Assembly, speaking for a little over 25 minutes to the some 140 countries represented.
He has vowed to stay the course in terms of support for Ukraine for as long as it takes, but interestingly he spent a mere one minute on the Ukraine war, at a moment the counteroffensive is widely viewed as having failed. "If we abandon the core principles of the United Nations to appease an aggressor, can any member state in this body feel confident that they're protected? If you allow Ukraine to be carved up, is the independence of any nation secure?" Biden asked rhetorically.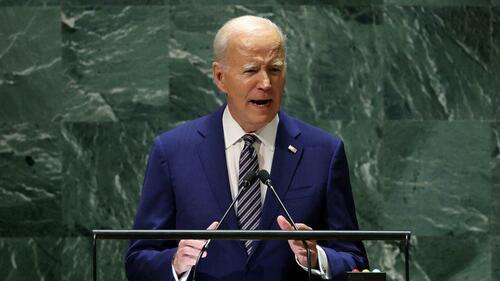 "I'd respectfully suggest the answer is: no," he followed with. "We gather once more at an inflection point in world history," Biden said. "I understand the duty my country has at this critical moment."
He emphasized that Russia alone is responsible for the "illegal war of conquest brought without provocation."
"No nation wants this war to end more than Ukraine," the US president said. "We strongly support Ukraine in its efforts to bring about diplomatic resolution that delivers just and lasting peace. Russia alone bears responsibility for this war."
"That's why the United States, together with our allies and partners around the world, will continue to stand with the brave people of Ukraine as they defend their sovereignty and territorial integrity and their freedom."
Biden spent 1 minute on Ukraine in his speech to the U.N. pic.twitter.com/iY4ICPELz0

— David Sacks (@DavidSacks) September 19, 2023
"The United States seeks a more secure, more prosperous, more equitable world for all people, because we know our future is bound to yours," Biden also said. "Let me repeat that again. We know our future is bound to yours. And no nation can meet the challenges of today alone."
And more... generally on US leadership and democracy on a global stage: "We will defend democracy: our best tool to meet the challenges that we face around the world. We're working to show how democracy can deliver in ways that matter to people's lives," Biden said.
Just before Biden took the UN podium, Ukraine's President Zelensky arrived with a large entourage...
🚨Breaking: Zelenskyy has just arrived at the U.N. National Assembly to demand another 24 billion US taxpayer dollars. pic.twitter.com/8Fp8JVV9ud

— Real Mac Report (@RealMacReport) September 19, 2023
More from Biden's speech....
On China
"We are for de-risking, not de-coupling with China. We will push back on aggression and intimidation to defend the rules of the road … as it helps safeguard security and prosperity for decades," Biden said.
"But we also stand ready to work together with China on issues where progress hinges on common efforts." According to more:
In particular, Biden reiterated U.S. support for revamping how the World Bank and other multilateral development banks work with low- and middle-income countries. The push is an implicit counterweight to China's longtime investment in developing nations around the world.
Biden says he wants to work with China on "accelerating the climate crisis" pic.twitter.com/EWxRdvyuew

— RNC Research (@RNCResearch) September 19, 2023
Middle East issues
Biden praised the recent unveiling of a new rail project which aims to link India to Europe via Saudi Arabia and Israel, amid broader normalization efforts between the two countries.
And on Israeli-Arab 'normalization'...
"It demonstrates how Israel's greater normalization and economic connection with its neighbors is delivering positive and practical impacts, even as we continue to work tirelessly to support a just and lasting peace between Israelis and Palestinians," he said.
Russia
Here is a portion of the speech where he attacked Russian aggression, while Zelensky looked on:
Pres. Zelenskyy watches as President Biden tells U.N. General Assembly to stand up to Russia's "naked aggression" in Ukraine.

"Russia alone bears responsibility for this war. Russia alone has the power to end this war immediately. Russia alone stands in the way of peace." pic.twitter.com/eFLN4pvX81

— CBS News (@CBSNews) September 19, 2023
Multinational force for Haiti
Haiti has recently once again descended into lawlessness and collapsed infrastructure. Washington has been pushing for an international peace-keeping, but no nation has been eager to lead it or be responsible. But Kenya has recently said it is willing.
"Biden has urged the UN Security Council to authorize a multinational force to help restore security in Haiti, which continues to suffer from rampant gang violence," Al Jazeera writes. "Biden also thanked Kenya for agreeing to lead the force."
Africa Coups
He voiced support for the West-friendly bloc, the Economic Community of West African States (ECOWAS), at a moment they have threatened intervention in response the coup in Niger, as well as in Gabon. The US has rejected the junta leaders in Niger.
"We will not retreat from the values that make us strong. We will defend democracy, our best tool to meet the challenge that we face around the world," he said.
* * *
Zelensky will go to Washington later in the week, where he'll go to the White House, and additionally meet with GOP House Speaker Kevin McCarthy.
Zelenskyy has arrived at the UN, probably to demand a check from every country in attendance.pic.twitter.com/dvC5Y6zHpP

— Benny Johnson (@bennyjohnson) September 19, 2023
Below is Tuesday's UNGA speech in full...
Loading...