---
Biden's Pick For Top Bank Regulator Has A Troubling Shoplifting Record
We're finding out more information about President Biden's pick for Comptroller of the Currency (OCC). It's been widely known Saule Omarova is a Soviet-educated Cornell University law professor with Marxist links. A new report released on Wednesday shows she has a "retail theft" record.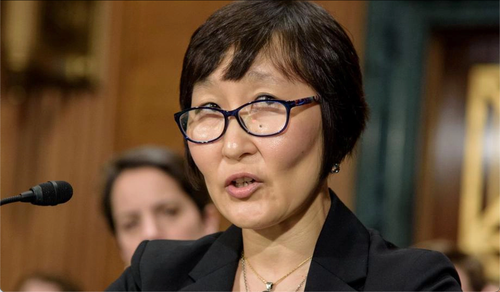 Fox News obtained a Wisconsin Department of Justice criminal background on Omarova that revealed Omarova was arrested in Madison in 1995 and charged with a misdemeanor for "retail theft" after she was singlehandedly caught by a T.J. Maxx security guard for stealing $214 worth of merchandise (in today's money that's approximately $379). 
The report said the security agent told police that Omarova stuffed items into a large purse while concealing the bag with clothing on top. She paid for several things at the jewelry counter but "made no attempt to pay for the items concealed in her purse," Fox News said. As she left the store, she was confronted by the security agent who arrested her. 
Omarova "immediately requested the opportunity to pay for the items" and was "cooperative" as the security agent said he would "sign a complaint" about the items being taken "without his consent."
The police report said she "waived" her rights and "admitted to having stolen the items."
"It should be noted that I advised Omarova she was under arrest prior to having read her rights," the officer wrote in the police report. 
The nonprofit American Accountability Foundation tweeted her case file and said, "Omarova has no respect for our laws, system of government, or our economy. But Biden wants to put her in charge of American banks."
BREAKING: AAF unearths Biden nominee Saule Omarova's arrest records from 1995 when she stole hundreds of dollars in merchandise from a T.J. Maxx.

Omarova has no respect for our laws, system of government, or our economy.

But Biden wants to put her in charge of American banks. pic.twitter.com/G5rlu6MLDT

— BidenNoms, A Project of AAF (@bidennoms) November 17, 2021
As we've previously noted, Omarova's extensive history of socialist writings is problematic considering she could lead the agency responsible for regulating America's banks.
Senate Banking Committee Republicans are pushing back on Biden's OCC nominee:
 "President Biden's choice for banking regulator is a Marxist academic who wants to destroy the American banking and energy sectors and implement socialism in the United States, proving once again that this White House is beholden to the radical left elements of the Democrat party," Sen. Bill Hagerty, R-Tenn., a member of the Senate Banking Committee, told Fox News.
American Bankers Association President and CEO Rob Nichols warned that Omarova's plan to restructure the U.S. banking system fundamentally is an effort to nationalize America's community banks. He called her plan "troubling." 
Omarova has said that she's an easy target because of her immigrant background. "I don't look like your typical Comptroller of the Currency. I have a different history. I am easy to demonize and vilify." she said. 
In a recent interview, she strangely told FT that "what I wrote in that paper has nothing to do with what I believed in then or in what I believe in now." 
Another controversial idea she supports is bankrupting the entire energy complex to support climate change. Considering that's a bad idea ahead of this winter as an energy crisis engulfs the world, Biden's nominee for OCC is a lunatic.