---
'Big Booty Latina' AOC Sued By Comedian She Blocked Over Catcall
Alex Stein, a political provocateur who called Rep. Alexandria Ocasio-Cortez his "favorite big booty Latina," is suing AOC for blocking him on Twitter.
"She wants to kill babies but she's still beautiful. You look very beautiful in that dress. You look very sexy. Look at that booty on AOC," he said last July amid a national debate over abortion.
"Look how sexy she looks in that dress. Oooh, I love it AOC. Hot, hot, hot like a tamale," Stein continued.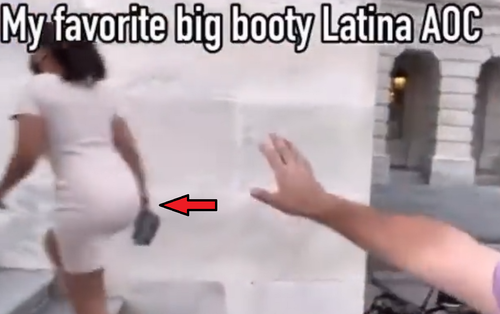 Despite flashing a peace sign, she claimed that she was "actually walking over to deck him."
Here is a video he posted of the incident. I was actually walking over to deck him because if no one will protect us then I'll do it myself but I needed to catch a vote more than a case today pic.twitter.com/RdwCNBDIBb

— Alexandria Ocasio-Cortez (@AOC) July 14, 2022
Stein's lawsuit cites a decision by a federal appeals court which ruled that then-President Donald Trump violated the constitutional rights of several people after he blocked them on Twitter. Days after the Trump ruling, AOC apologized to and settled a case brought by former Brooklyn assemblyman Dov Hikind, who sued her for blocking him, CNBC reports. AOC eventually lifted the block, and admitted that he "has a First Amendment right to express his views and should not be blocked for them."
Stein seeks the same response.
"I really don't have any hard feelings for AOC," he said, adding "I really would like to have her unblock me."
If the congresswoman fights the complaint, it would reopen the legal argument about the rights of political figures to prevent certain individuals or groups from following them on social media platforms.

In 2021, the U.S. Supreme Court erased the 2nd U.S. Circuit Court of Appeals ruling that Trump had violated the First Amendment rights of the people he had blocked from his Twitter account while serving in the White House. The Supreme Court ordered the appeals court to dismiss the case as moot, because Trump by then was a private citizen. -CNBC
Stein's suit claims AOC blocked him "in retaliation to Mr. Stein's exercise of his First Amendment right, because earlier that day Mr. Stein, in the context of political commentary and satire, complimented Ms. Cortez."
"Mr. Stein has a constitutional right to access Ms. Cortez's Twitter account as part of vigorous public comment and criticism," the filing continues. "Ms. Cortez's practice of blocking Twitter users she disagrees with is unconstitutional and this suit seeks to redress that wrong."
Loading...