---
Bill Hwang Released After Posting $100 Million Bail, Says He "Lost His Passport"
Update (3:30pm ET): Bill Hwang may have blown through tens of billions of personal money, but he still had at least $100 million left, because that's how much he just paid to post bail and be freed after pleading not guilty. This means only one thing: Hwang is about to get on a private jet (conveniently, he lives just 10 minutes away from Teterboro where he can find a plethora of one way tickets to purchase) and next week's megaparty featuring Hwang and Jho Low will be superlit.
In his first appearance since being arrested at 6 a.m. Wednesday, Hwang agreed to fork over $5 million in cash and pledged two properties including his personal home to secure his bond, Bloomberg reported. Wearing a face mask, green shirt and tan pants, Hwang agreed not to travel outside of the New York-New Jersey-Connecticut area. Hwang told prosecutors that he lost his passport, so his wife will surrender her passport instead, Bloomberg reports.
His co-defendant, Chief Financial Officer Patrick Halligan, also pleaded not guilty and will be freed on $1 million bail and have limited travel. Both men will be released Wednesday. They are due back in court in lower Manhattan on May 19.
The size of Hwang's bail matches some of the more high-profile white-collar cases of the past year. Trump ally Tom Barrack was freed from jail for $250 million and Nikola Corp. founder Trevor Milton was released for $100 million. While those levels are high, the highest U.S. bail is believed to be $3 billion, set in 2003 by a Texas judge for real estate heir Robert Durst, after he already jumped bail once. An appeals court later slashed the amount to $450,000.

In addition, Galleon Group LLC's Raj Rajaratnam was freed on $100 million bail in 2009 and junk bond king Michael Milken faced a quarter-billion dollar demand in 1989. Bernie Madoff's bail was set at $10 million and he struggled to meet it, unable to find four people to co-sign for him.
And while Bill - passport in tow - is about to flee, one of his accomplices is about to get a knock on the door. According to Bloomberg, as Bill Hwang's Archegos Capital Management piled up billions in an attempt to squeeze shorts in a handful of highly shorted names, he coordinated trades with an old acolyte atop another hedge fund, according to U.S. prosecutors. Sometimes Hwang allegedly enlisted his help to sidestep bank policies threatening to end the buying spree.
Well, according to Bloomberg, that mystery fund manager, identified only as "Adviser-1" in Hwang's indictment unsealed Wednesday, is Tao Li, the head of Teng Yue Partners, a New York-based hedge fund that oversaw $4 billion as of last year, according to people with knowledge of the investigation.
Li and Teng Yue haven't been accused of wrongdoing by U.S. authorities. Teng Yue didn't respond to messages seeking comment. Hwang was arrested Wednesday on charges of fraud for allegedly manipulating markets and deceiving banks that lost billions of dollars. Lawrence Lustberg, an attorney for Hwang, said his client is "entirely innocent."
Bloomberg previously reported that by January of last year Li had taken an intense interest in GSX, amassing a position that was unusually big even among Teng Yue's concentrated bets. At one point that month, as the stock rocketed, GSX accounted for about 40% of the fund's portfolio, according to people familiar with the holdings. GSX later changed its name to Gaotu Techedu Inc.
While we doubt that Toi won't be accused for long, many were relieved (or maybe disappointed) to find out that this mystery accomplice was not Cathie Wood, head of the infamous ARK Invest, and who we already knew was quite close with Hwang.
* * *
After the spectacular collapse of Archegos Capital Management, the SEC announced last October that they were investigating whether the firm engaged in market manipulation.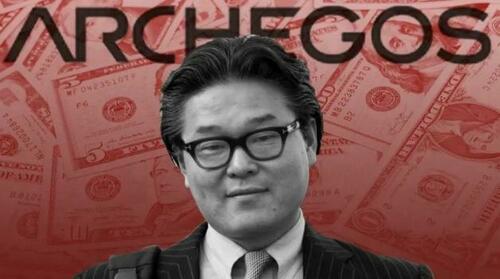 On Wednesday, owner Bill Hwang and his former CFO, Patrick Halligan, were arrested at their homes and charged with racketeering conspiracy, securities fraud and wire fraud in connection with a scheme to manipulate the share prices of public companies in order to boost profits, according to Bloomberg.
They said the plan, which relied heavily on leverage, helped pump up the firm's portfolio from $1.5 billion to $35 billion in a single year. -Bloomberg
Bill Hwang's RIDICULOUS year, as officially documented by the U.S. DOJ:

Hwang's personal fortune grew from $1.5 bln to **$35 billion** within a year. The total size of Archegos's market position with the use of leverage increased from $10 billion to **$160 billion** at its PEAK. pic.twitter.com/7jmL51SgjU

— Sridhar Natarajan (@sridinats) April 27, 2022
According to the 40-page indictment, Hwang engaged in a "fraudulent scheme" that included "interlocking deceptive acts and misconduct, through false and misleading statements to security-based swap ("SBS") counterparties and prime brokers and manipulative trading designed to artificially move the market, which, in tandem, increased Archegos's assets under management from around $4 billion to over $36 billion in just under six months."
From March 2020 until its collapse in March 2021, Archegos, at Hwang's direction, underwent a period of rapid and exponential growth, achieved largely through the entry into SBSs with about a dozen Counterparties, which subjected Archegos to significant exposure to rising and falling share prices of the issuers referenced in its SBSs. Archegos's growth thus presented the firm with a predicament. To continue growing, and otherwise maintain the gains it had achieved through its ramp-up of exposures, Archegos needed to ensure that (1) the value of those exposures would continue to appreciate, and (2) its Counterparties would continue to extend credit margin and trading capacity necessary for Archegos to enter into even more SBSs.
In order to overcome this issue, Archegos "chose not to rely on ordinary market forces," and instead "engaged in a brazen scheme to manipulate the market for the securities of the issuers that represented Archegos's top 10 holdings" by purchasing both securities and SBSs related to those issuers.
Archegos, through Hwang and Tomita, effected this scheme by dominating the market for its Top 10 Holdings, as well as by "setting the tone" (i.e., engaging in large pre-market trading), bidding up prices by entering incrementally higher limit orders throughout the trading day, and "marking the close" (i.e., engaging in large trading in the last 30 minutes of the trading day) and by other non-economic trading, all with the goal of artificially inflating the share prices of its Top 10 Holdings.
To fuel the alleged manipulation, Archegos used margin extended by counterparties - which Hwang and crew 'deliberately misled', because had they answered truthfully after they began asking questions, it "would have led Archegos to exhaust the finite trading resource that its Counterparties provided."
As part of the scheme, Archegos knowingly provided these Counterparties with false assurances concerning its portfolio composition, its concentrated exposure, and its liquidity  profile. As Archegos intended, these deceptions fraudulently convinced its Counterparties that Archegos's overall positioning was less concentrated and more liquid than it actually was. These deceptions induced Archegos's Counterparties to continue to transact with it and extend leverage beyond what the Counterparties' risk tolerance would have otherwise permitted had they known the truth – thus allowing Archegos to continue to grow its positions and, thereby, drive up and sustain the stock prices of the Top 10 Holdings.

Eventually, the weight of Defendants' fraudulent and manipulative scheme was too much for Archegos to bear, and over the course of less than a week in late March 2021, the house of cards collapsed. Price declines in some of Archegos's Top 10 Holdings triggered significant margin calls that Archegos was unable to meet. In turn, without its trading activity to artificially inflate the prices of the Top 10 Holdings, those stock prices collapsed. And, Archegos's subsequent default resulted in billions of dollars in credit losses among its Counterparties and significant losses to the market participants who invested in the stocks at inflated prices.
Hwang's plan was to spark massive rolling short squeezes. He was inspired by SoftBank's gamma squeeze in August 2020 and starting Sept 2020 used tens of billions in TRS to bid up and squeeze the most heavily shorted names.

Only problem is by the end he had nobody to sell to. pic.twitter.com/n7ICkpW4Bf

— zerohedge (@zerohedge) April 27, 2022
As a reminder, Archegos amassed a concentrated portfolio of stocks well in excess of $100 billion by using borrowed money in the form of TRS, which kept the exposure on the books of the various prime brokers working with Archegos, thus allowing Hwang to hide his full exposure. His funded imploded in March as some of the stocks tumbled, triggering margin calls from banks, which then dumped Hwang's holdings.
The pain was especially acute for the fund's prime brokers such as Credit Suisse, Nomura and Morgan Stanley, who collectively lost more than $10 billion, prompting internal investigations and the forced departures of senior executives.
Remember when we used to speculate about where all the buying power was coming from? pic.twitter.com/TwDfcLSw9B

— FlowPoint Partners, LLC (@cppinvest) April 27, 2022
Credit Suisse came under fire last May for the paltry fees they received from Archegos, which FT said at the time "raises further questions about the risks the lender was prepared to shoulder in pursuit of relationships with ultra-wealthy clients," adding that "the low level of fees and high risk exposure have caused concern among the board and senior executives, who are investigating the arrangement, according to two people with knowledge of the process."
It also caused a flood of layoffs and terminations as the bank belatedly looked at its books and realized just how massive its exposure had been.
As Risk.net first reported, Credit Suisse demanded a margin of only 10% for the equity swaps it traded with Archegos and allowed the family office 10-times leverage on some transactions. That was about double the leverage offered by fellow prime broker Goldman Sachs, which took minimal losses when unwinding its positions.
In 2012, Hwang pleaded guilty to insider trading in Chinese bank stocks, and paid $44 million to settle the SEC's charges when he was head of Tiger Asia Management and Tiger Asia Partners. Hwang shorted three Chinese bank stocks based on insider information they received in private placement offerings. Tiger Asia became one of the largest Asia-focused hedge funds after its 2001 founding - running more than $5 billion at its peak. It was dealt a major blow in 2008 after Volkswagen AG's share price savaged short sellers.
Hwang is a former protégé of hedge-fund titan Julian Robertson, who founded Tiger Management in 1980, which as the Wall Street Journal reports, turned $8.8 million into nearly $22 billion. Several investors trained by Robertson became known as the "Tiger cubs."
I dont think Hwang will just "carry on " Julian pic.twitter.com/WaYn1Ssg3L

— Marc Cohodes (@AlderLaneEggs) April 27, 2022
More on Hwang's indictment:
According to the complaint, once Archegos would approach 5% position in a stock, Bill Hwang would allegedly require any additional exposure be limited to total return swap to avoid any public disclosures

— Rebecca Jarvis (@RebeccaJarvis) April 27, 2022
The central aim of Bill Hwang/ Archegos was to control the price and artificially increase the value of securities in Archegos portfolio, according to the charges these securities included the following stocks: pic.twitter.com/iwWOSYMgTI

— Rebecca Jarvis (@RebeccaJarvis) April 27, 2022
According to charges, Hwang and others working at Archegos would routinely buy/sell more than 10-15% of a stock's daily trading volume knowing this would influence the price.

— Rebecca Jarvis (@RebeccaJarvis) April 27, 2022
And read the entire indictment below:
Loading...