---
Bill To Legalize Psychedelic Mushrooms Advances In California Senate
Authored by Jill McLaughlin via The Epoch Times,
A bill to decriminalize hallucinogenic mushrooms cleared the California Senate May 24, reaching the halfway point in the state's effort to legalize the drug, despite increasing opposition by law enforcement and many citizens.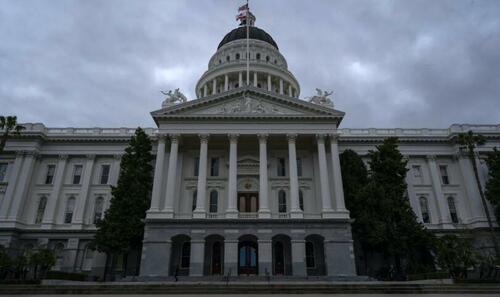 Senate Bill 58 was introduced in December by Sen. Scott Wiener (D-San Francisco), who said criminalizing drug use and possession does nothing but fill up prisons with people who are addicted.
"We shouldn't be criminalizing people for personal use of these non-addictive substances," Wiener said in a May 24 statement.
If passed, the bill would allow the cultivation, transfer, and transportation of fungi or other plant-based materials that can be used as ingredients for the drugs, according to the bill text.
Psilocybin is found in a variety of mushrooms and can be produced synthetically. The bill would only allow plant-based psychedelic drugs for use by people 21 years old and older.
Ingesting the drug can cause sensory perception changes, including auditory and visual hallucinations. The drug's effects after ingestion can begin within 20 to 90 minutes and can last up to 12 hours in some cases, according to the National Institute on Drug Abuse.
Several law enforcement associations, local California governments, and organizations are opposed to legalizing the substance, including the California Association of Highway Patrolmen, the City of Beverly Hills, the California State Sheriffs' Association, California Statewide Law Enforcement Association, the Citizens Commission on Human Rights, Concerned Women for America, and many others.
The California District Attorneys Association opposed the measure, expressing concern that legalizing the drugs for recreational use is not grounded in scientific evidence.
"While we are sympathetic to proponents who argue that the veteran population might benefit therapeutically from exploration of these substances, these drugs are Schedule I controlled substances for a reason," the association said, according to a Senate analysis of the bill. "They have no federally accepted medical use and have a high probability of misuse."
The California Contract Cities Association was also against legalization and was concerned about public safety risks associated with the cultivation and transportation of the materials.
"This means that more hallucinogenic drugs would be able to move across local jurisdictions in far greater numbers with insufficient oversight or accountability from local agencies," the cities association wrote in a Senate analysis. "This is very worrisome from the perspective of local decision-making authorities like our member cities."
Support for the bill includes the Hippie and a Veteran Foundation, Initiate Justice, the Alameda County Democratic Party, the California Association of Social Rehabilitation Agencies, and the California Public Defenders Association. The cities of West Hollywood and Eureka are also in favor of the bill.
Clinical trials are underway to study its use for treating depression and other mental health disorders, according to the American Psychiatric Association.
The association determined in a 2020 study that while research is still preliminary, psychedelics show promise for treating conditions including treatment-resistant depression, anxiety, and post-traumatic stress disorder but the drugs were not ready for use as a treatment.
Psychedelic mushrooms are still illegal under U.S. federal law. The Federal Food and Drug Administration (FDA) has designated psilocybin, the substance found in psychedelic mushrooms, as a "breakthrough therapy," speeding up the development and review of the drug to treat serious conditions.
Preliminary clinical evidence indicates that the drug may demonstrate substantial improvement over available therapy in clinical studies, according to the FDA.
Local measures to deprioritize the policing or prosecution of conduct related to hallucinogens have passed in Oakland and Santa Cruz. Ann Arbor, Michigan, Denver, and Washington, D.C., have also passed similar measures.
Oregon and Colorado have passed similar measures to decriminalize psilocybin and legalize it for supervised use.
The legislation is a stripped-down version of a bill proposed by the same senator in 2021. That bill, which would have legalized plant-based and synthetic psychedelics—such as MDMA, LSD, and ketamine—failed to pass.
In Wiener's San Francisco district, rampant drug use has contributed to runaway homelessness throughout the city. The city passed a motion in 2022 calling for law enforcement to deprioritize investigations and arrests of adults found in possession of psychedelics.
Last month, dozens of residents and advocates protested at San Francisco City Hall against open-air drug markets and unsafe streets. Rally organizer Ricci Wynne told The Epoch Times data showed that the most prominent issues in San Francisco stem from drug use and drug dealing.
Loading...