---
Billionaire Jamie Dimon Hints At Run For Public Office; Bill Ackman Endorses Him For President
JPMorgan's CEO may be getting swept up in the Jeffrey Epstein scandal, but for a billionaire like Jamie Dimon, whose catch phrase is "that's why I'm richer than you" and may as well be "that's why I will always be freer than you", all that will be needed to avoid long-term "legal complications" will be a check with several zeroes on it... or maybe some political immunity. Which may be why the head of the largest US bank is already hinting that after he is done gobbling up all the small and regional banks and gets tired of running JPM, he is considering running for public office.
"I love my country, and maybe one day I'll serve my country in one capacity or another," he said in a Bloomberg Television interview, when asked if he's ever considered a public office position. His comments, made at the bank's annual Global China Summit in Shanghai on Wednesday, come as the US gears up for its 2024 presidential race.
For now, he's focused on his job running the largest US bank, a role he's "quite happy" in. "I love what I do," he said. JPMorgan does "a great job for helping Americans, for helping countries around the world."
Dimon also reiterated his view that "business can be a force for good," and said he's an American patriot who would follow the US government: "Everyone knows I am a patriot," he said. "I am a red-blooded, full-throated, free enterprise capitalist."
As BBG notes, the billionaire Wall Street banker is among a group of long-tenured Wall Street chiefs that also includes Brian Moynihan, 63, who's led Bank of America Corp. since 2010, and Morgan Stanley's James Gorman, 64, who became CEO at the start of 2010 and is stepping down within 12 months. Dimon, 67, who has been head of JPMorgan since 2005, has repeatedly said that he plans to remain atop the biggest US bank for five more years.
And while in the past, Dimon has been quick to publicly shut down speculation that he planned a presidential run, shortly after the story about Dimon's "public run" broke, none other than weepy Bill Ackman, who one year ago sold his NFLX impulse buy locking in losses of $400 million when he would have broken even had he sold it yesterday, endorsed Dimon for president in one of his lengthy, trademark Twitter posts.
Jamie Dimon is one of the world's most respected business leaders. Politically he is a centrist. He is pro-business and pro-free enterprise, but also supportive of well-designed social programs and rational tax policies that can help the less fortunate. He is extremely smart,…

— Bill Ackman (@BillAckman) May 31, 2023
You will never believe just how long the post is...
Jamie Dimon is one of the world's most respected business leaders. Politically he is a centrist. He is pro-business and pro-free enterprise, but also supportive of well-designed social programs and rational tax policies that can help the less fortunate. He is extremely smart, thoughtful, and pragmatic, and he knows how to bring opposing parties together. He is highly respected by the Right, the Left, and the Center.

Jamie is beloved by his 240,000+ employees, highly respected by our military as well as by the global political and business leaders that matter. He has superbly managed @jpmorgan  through every crisis, and has built the world's best, large, global financial institution working for clients from startups and mom and pops, to global institutions and countries.

Our country is at risk with $32T of debt with no end to massive deficits in sight, heading into a recession at a time of great political uncertainty. We need an exemplary business, financial, and global leader to manage through what is likely to be a critically important decade for our country in determining our destiny.

Jamie Dimon is that leader.

Jamie is of exemplary and unimpeachable character. He is a no bullshit, straight-talking, charismatic leader with an enormous grasp of the world's issues and how to address them. He is a great communicator that makes everyone who hears his words feel respected and inspired. He has enormous energy, vigor, and drive.

He is a wonderful father, friend, husband, and son. In sum, he is the kind of person our country deserves as our next leader. And clearly he is thinking about running:

I can't imagine a better time for him to do so.

@POTUS is extremely weak and in cognitive decline. 70% of Democrats don't want him to run. Biden's weakness sets up a large opening for a qualified outsider to run as a Democrat.

Jamie can beat Biden in the primary and @realDonaldTrump in the general election, but he needs to start now and build name recognition among the broad electorate. He will easily raise billions of dollars from Democrats and Republicans to fund his campaign, and he knows how to build support.

Each year, Jamie gets on a bus and travels around the country meeting with tellers, branch managers, and other employees to spread the culture and inspire the JPM team; great preparation for a presidential run. He will also be incredible on the debate stage.

And there is nothing more for him to achieve at JPM. He has already been crowned the world's best banker. JPM stock will go up even more when he becomes POTUS as he can do more for the bank and our economy as President than he can as Chairman and CEO of JPM.  The bank will be in great shape since he has built a deep succession bench that is more than ready to step up.

There is only one better job for Jamie than CEO of JPM and that's POTUS.

Jamie just needs a push from people he respects and from the broader electorate. If you agree that he should be our next POTUS, give him a call, send him an email or go see him, and like and retweet this tweet.

This will be one of the most important elections in our country's history. Jamie is more likely to run if we build a groundswell of support for him. Let's do our civic duty and make it happen.

Our challenges as a nation are largely due to failures of leadership. America needs and deserves great leadership and we need it now.
Considering several years ago Jamie made headlines with his presidential cufflinks during Congressional testimony (that's when being a recently bailed out Wall Street banker was still frowned upon), it appears that the CEO may just follow Bill's advice.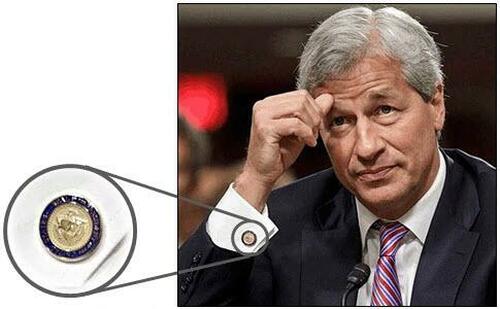 Loading...