---
Billions In Stolen COVID Assistance Funds Likely Gone Forever: Rep. Smith
Authored by Michael Clements via The Epoch Times,
A rush to provide financial assistance to Americans forced out of their jobs in the COVID-19 pandemic resulted in a $191 billion bonanza for fraudsters, according to chairman of the House Ways and Means Committee Rep. Jason Smith (R-Mo.).
"There's no question folks needed help, which is exactly why Congress should have protected this program and those who needed it against the criminals who exploited it to commit fraud," Smith wrote in a statement released at a hearing on Feb. 8.
The Bureau of Labor Statistics reported that in April 2020, the unemployment rate reached a record high of 15 percent after lockdowns to slow the spread of the CCP (Chinese Communist Party) virus, commonly known as the novel coronavirus, closed many businesses. Between March 14, 2020, and April 18, 2020, weekly unemployment claims increased dramatically from 225,500 to 5.3 million.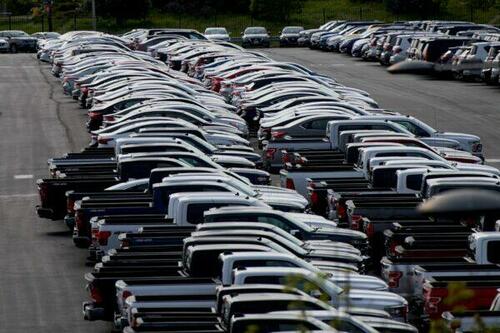 Cars unsold due to the autos market slowdown caused by coronavirus disease (COVID-19) are seen stored in the parking lot of the Wells Fargo Center in Philadelphia, Penn., on April 28, 2020. (Mark Makela/File Photo/Reuters)
Smith said the Coronavirus Aid, Relief, and Economic Recovery Act was an attempt to help. But Congress should have done more to protect the millions of tax dollars distributed under the Act.
Three expert witnesses told the committee some things could and should be done to prevent future problems. But, when it comes to recovering the billions of tax dollars lost to criminals, they held out little hope. Much of that money was lost to organized fraud rings in Nigeria, China, Russia, and other countries.
"To find the overseas fraudsters could be a challenge," said Michael Horowitz, chair of the Pandemic Response Accountability Committee for the Office of the Inspector General, Department of Justice.
Most state unemployment agencies were unprepared for the crush of calls and applications that flooded their offices. Overtaxed office workers, many using 1980s-vintage technology, cut corners and bypassed safety measures to deliver benefits to the newly unemployed and underemployed.
Rep. Bradley Schneider (D-Ill.) said the situation was dire from the start.
"We had a five-alarm fire raging out of control, and we were fighting it with water passed in buckets, and the buckets had holes in them," Schneider said.
Rep. Gwen Moore (D-Wis.) said she was told that up to 80 percent of calls to the Wisconsin Department of Workforce Development went unanswered at the height of the pandemic.
"No one was ready for this pandemic," she told the Committee.
According to the experts, many applicants were allowed to "self-certify." In essence, when the applicant provided identifying information, such as a Social Security Number, the state took their word for it.
The Social Security Administration keeps a "Death Master File Index," a record of Social Security Numbers for people who have died.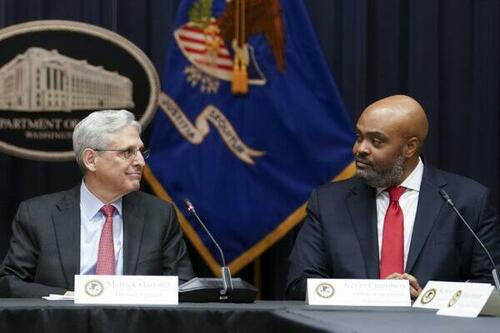 Attorney General Merrick Garland (left) looks at federal prosecutor Kevin Chambers (right) after appointing him to be the Justice Department's chief pandemic fraud prosecutor during a meeting of the COVID-19 Fraud Enforcement Task Force at the Justice Department in Washington on March 10, 2022. The U.S. Secret Service recovered $286 million in fraudulently obtained pandemic funds to the Small Business Administration on Aug. 26, 2022. (Kevin Lamarque/Pool Photo via AP, File)
However, not all agencies have access to the index, and each state handles its own unemployment insurance program. Most state systems are not compatible with other states or the federal government.
Gene Dodaro, comptroller general for the Government Accountability Office (GAO), summed the situation up this way: "Using a Social Security Number is an easy way to get money. My own mother received a payment."
Dodaro said the money his mother received was from someone else using her information to file a fraudulent claim. He had her return the money but said it was an example of how easy it is to defraud the system.
But Social Security numbers weren't the only means used by fraudsters.
According to the Department of Justice, 16 people in Texas either pleaded guilty for their involvement in a plan to defraud the Paycheck Protection Plan administered by the Small Business Administration. The program provided millions in forgivable loans to businesses to help them continue to make payroll during lockdowns.
According to the press release, Abdul Fatani, 57, of Richmond, Texas, was part of a ring that submitted fraudulent loan applications that contained false information on their business's number of employees and monthly payroll expenses. The co-conspirators filed over 80 fraudulent applications for $35 million in loans.
Fraud Ring Stopped
The group took in $500,000. They laundered the illegal proceeds by transferring them among various bank accounts.
Dodaro told the Committee that such fraud is not a new problem. He said that in 2010, an official in New York warned the state that it had a serious problem. The pandemic only exacerbated that problem.
Rep. Claudia Tenney (R-N.Y.) said that as a business owner, she was familiar with some of the issues. She said that while the money was taken from the government, the government was not the victim.
"Our taxpayers, our employers, our employees, have all paid the price for this fraud," she said.
Rep. Nicole Malliotakis (R-N.Y.) agreed. She said New York lost at least $11 billion to fraudulent payments. That money, combined with funds from other states, paid for a $10 million villa in the Dominican Republic, a gold Rolex watch, sports cars, and other luxury items.
Luxury Items Purchased
"One person even received $1.5 million over ten months," Malliotakis said.
The Committee asked the witnesses what could be done to prevent future problems. Larry Turner, with the Department of Labor's Office of the Inspector General, said data analytics is vital to the solution. And this would come from states being able to work together with federal officials.
According to Turner, a central database would enable officials to catch fraudulent applications before they went too far. In his written statement to the committee, Turner said his office had been warning that unemployment insurance fraud was a problem, outlining several investigations and audits that exposed fraud in the system.
Dodaro recommended a closer relationship between state auditors and federal officials. Using a uniform computer system and requiring more audits of easily defrauded programs like unemployment insurance and Medicare, Dodaro said officials could put a dent in the problem.
All three witnesses said it would likely be years before the full extent of the damage is known.
Horowitz noted that recovering even most of the stolen funds is highly unlikely. He told the committee that states are starting to work together, and many have updated their technology due to the crisis.
"The good news is, things are improving; the bad news is, we're not there yet," Horowitz said.
Rep. Gregory Murphy (R-N.C.) was blunt in his assessment of the problem.
"Congress did not do its job. If we don't know where (money) goes or how it's going, we're out of business," he said.
Loading...