---
In 67-32 Vote, Bipartisan Infrastructure Deal Advances To Debate In The Senate
Update (720pm EDT): With 17 Republicans joining all 50 Democrats, the Senate on Wednesday voted to advance debate on a broad infrastructure package, just hours after a bipartisan group of senators and Joe Biden reached accord on a $550 billion plan that is a major step forward for the White House's economic agenda.
BREAKING: In a 67-32 vote, the Senate has voted to advance the bipartisan infrastructure bill pic.twitter.com/YohWPtbmOA

— CBS News (@CBSNews) July 28, 2021
Below is a list of the key republicans who joined the Democrats to pass the vote:
GOP yesses so far

blunt
burr
capito
cassidy
collins
crapo
graham
mcconnell
murkowski
portman
risch
romney
tillis
young

— Jake Sherman (@JakeSherman) July 28, 2021
While the 67-32 procedural vote doesn't guarantee that the package of spending on physical infrastructure will pass the Senate, but is a good indication that it may have enough support. Lawmakers expect votes on amendments and final passage to last into the weekend and possibly next week, with an eye to salvaging a long recess set to begin Aug. 9.
The Senate will convene at 10:30 AM tomorrow. Following the conclusion of Morning Business, the Senate will resume consideration of the Motion to Proceed to H.R. 3684 (the legislative vehicle for the bipartisan infrastructure bill), post-cloture
As noted earlier, a core group led by Republican Senator Rob Portman of Ohio and Democratic Senator Kyrsten Sinema of Arizona hammered out the infrastructure deal after lawmakers failed to muster the votes to begin debate last week.
"Our plan will create good-paying jobs in communities across our country without raising taxes. Reaching this agreement was no easy task—but our constituents expect us to put in the hard work and show that two parties can still work together to address the needs of the American people," the group of nine Republicans, 10 Democrats and one independent said in a statement.
Among the projects that would get money, according to the White House:
$110 billion for roads, bridges and major projects
$73 billion for electric grid upgrades
$66 billion for rail and Amtrak improvements
$65 billion for broadband expansion
$55 billion for clean drinking water
$39 billion for transit
$17 billion for ports and $25 billion for airports
$7.5 billion for electric vehicle chargers
"This deal signals to the world that our democracy can function, deliver, and do big things," Biden said in a statement. It "will help ensure that America can compete in the global economy just when we are in a race with China and the rest of the world for the 21st century."
But several Republicans, including Rick Scott of Florida and Ted Cruz of Texas, blasted the overall price tag and said they would oppose the bill.
"Congress can't keep spending trillions of dollars we don't have," the senators said in a statement. "The infrastructure package announced today continues the trend in Congress of insane deficit spending."
The package would be paid for by measures like re-purposing $200 billion in unspent Covid-19 relief funds, sales from the Strategic Petroleum reserve, increased customs user fees, government-sponsored enterprise fees and increased reporting requirements on cryptocurrency transactions. It also uses some funding sources that are sometimes called gimmicks, like counting revenue from future economic growth, extending cuts to future Medicare spending that Congress regularly turns off and allowing companies
If the Senate is able to pass the bill in the coming days, Democrats hope to quickly pivot to passing a budget for fiscal 2022 which would set up a fast-track process to enact much of the rest of Biden's economic agenda without any Republican support.
* * *
Earlier
Remember how House Speaker Nancy Pelosi said she'd hand-grenade any bipartisan infrastructure bill unless a larger, $3.5 trillion Democratic-only bill was passed in the Senate via reconciliation (requiring a simple majority)?
Looks like it'll be a no-go on both, after Democratic Sen. Kyrsten Sinema (D-AZ) said on Wednesday that she does not support the $3.5 trillion package.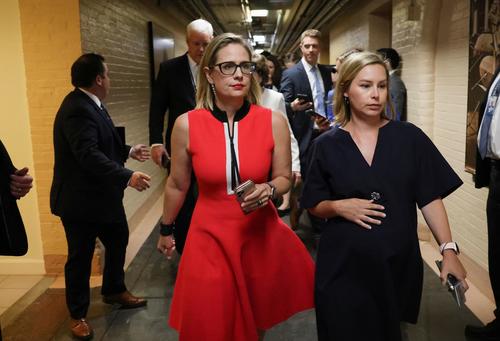 "I have also made clear that while I will support beginning this process, I do not support a bill that costs $3.5 trillion — and in the coming months, I will work in good faith to develop this legislation with my colleagues and the administration to strengthen Arizona's economy and help Arizona's everyday families get ahead," Sinema said in a statement to The Arizona Republic.
Wow. Sinema comes out against the budget as she gets bipartisan infrastructure bill. https://t.co/7qBOFIAFaY

— Jake Sherman (@JakeSherman) July 28, 2021
Your move, Nancy.
*  *  *
A 'bipartisan' group of Senators on Wednesday have finally reached a deal on a $1.2 trillion "hard" infrastructure package, following 'weeks of long nights and endless Zoom calls,' according to Axios.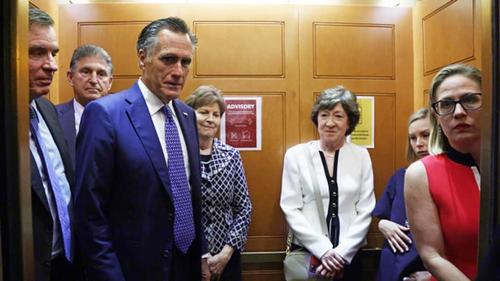 "We now have an agreement on the major issues," said Sen. Rob Portman (R-OH), lead GOP negotiator for a group of Republicans which includes Sens. Mitt Romney (R-UT), Bill Cassidy (R-LA) and Susan Collins (R-ME) - not exactly the MAGA majority of the party.
While Axios suggests it will likely be 'days' before the group finishes writing the bill, Portman says he expects to have the text hammered out by Wednesday night.
In response, Senate Majority Leader Chuck Schumer (D-NY) said on Wednesday that the Senate could vote as early as Wednesday night to advance the proposal - the second time they'll have done so on this procedural measure. Schumer added that he's prepared to keep the Senate in session over the weekend.
"It's time for everyone to get to yes," he said on Monday.
According to the report, "The deal is expected to cost $1.2 trillion over eight years, or $974 billion over five years, and offers more than $579 billion in new spending."
More via Axios:
Behind the scenes: The deal comes hours after Portman and White House counselor Steve Ricchetti huddled for hours at the Capitol Tuesday night hashing out the remaining sticking points of the bill.

The biggest problems revolved around transit policy and how to pay for the package, among other hurdles.
On Wednesday morning, Sens. Portman, Susan Collins (R-Maine), Mitt Romney (R-Utah), Bill Cassidy (R-La.) met with Senate Minority Leader Mitch McConnell (R-Ky.) in his office.
McConnell so far has taken a hands-off approach to the talks. This meeting signals the group is ready to bring him into the fold.

What's next: Schumer has made clear that both the bipartisan bill and the Senate's $3.5 trillion budget resolution need to pass prior to August recess, which as of now is still scheduled to begin in just two-and-a-half weeks.