---
BofA Ordered To Pay $250 Million For Opening Fake Accounts, Charging Illegal Fees
Bank of America has pulled a Wells Fargo - and has agreed to pay $150 million in fines and $100 million to customers for opening unauthorized credit card accounts, improperly charging extra fees, and withholding rewards, according to US regulators.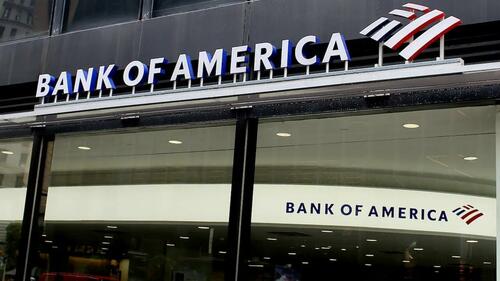 The bank was fined by the Consumer Financial Protection Bureau for "systematically double-dipping on fees imposed on customers with insufficient funds in their account."
BofA also failed to pay advertised credit card reward bonuses, and enrolled customers in new cards without their authorization or knowledge, the CFPB said in a statement.
The $150 million is broken down into a $90 million penalty to the CFPB, and $60 million to the Office of the Comptroller of the Currency. The bank did not admit to or deny the allegations as part of the settlement, Bloomberg reports.
"Bank of America wrongfully withheld credit-card rewards, double-dipped on fees and opened accounts without consent," said CFPB Director Rohit Chopra in a Tuesday statement, adding "These practices are illegal and undermine customer trust."
The consumer-protection agency found that Bank of America charged consumers a $35 overdraft fee and then "double-dipped" by allowing fees to be charged repeatedly for the same transaction, according to the statement. That allowed the Charlotte, North Carolina-based bank to generate "substantial additional revenue," the bureau said.

Bank of America said in an emailed statement that it "voluntarily reduced overdraft fees and eliminated all non-sufficient fund fees in the first half of 2022." It declined to address the case or the allegations against the lender.
In early 2022 BofA vowed to cut back on fees charged to customers for insufficient funds to cover check and debit-card charges, after Sen. Elizabeth Warren (D-MA) said they "snatch billions from struggling families," and that "big banks raked in billions from this abusive practice" during the Covid-19 pandemic.
While BofA did take some steps to reduce the impact on consumers, it didn't completely eliminate overdraft fees - as had been under consideration.
The CFPB also said that BofA employees had been opening credit card accounts for consumers without their knowledge dating back to 2012 - leading to unjustified fees being charged, and impacting borrowers' credit, according to the statement.
BofA also withheld cash rewards or bonus points earned by tens of thousands of customers for signing up for credit cards, according to regulators.
Loading...