---
Bolsonaro Raided, Aide Arrested Amid Fake Covid-19 Vaccination Records Scandal
The mansion of former Brazilian President Jair Bolsonaro and other locations in Brasília, and Rio de Janeiro were raided by police on Wednesday as part of an investigation into fake Covid-19 vaccine cards.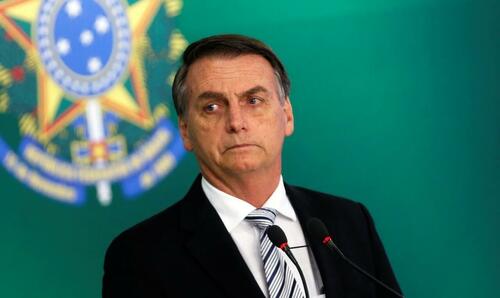 As part of the arrest, Bolsonaro's "right-hand man" Lt Col Mauro Cid Barbosa was one of six people arrested Wednesday morning, The Guardian reports.
Two of Bolsonaro's security guards were also taken into custody. The ex-president was expected to be questioned later on Wednesday. Bolsonaro's mobile phone was seized at his residence in Brasília and he was obliged to hand over the password after initially resisting.

Federal police reportedly believe a series of official Covid vaccination records were falsified on Brazil's health ministry database in order to produce bogus vaccination certificates that would permit international travel, including to the US. -The Guardian
The allegedly falsified records include those for Bolsonaro, his 12-year-old daughter Laura, and Mauro Cid Barbosa and his family. The records were reportedly entered into the health ministry's database between November 2001 and December of last year - Bolsonaro's last month in power after losing the last presidential election to far-left rival Luiz Inácio Lula da Silva.
Bolsonaro, who repeatedly claimed that he had refused vaccination, had also refused to make his vaccination records public.
According to Lula, Bolsonaro should be brought to justice for his actions during the "slaughter" of Covid-19.
"Good morning and [have] a nice Wednesday," Lula tweeted as police rummaged through Bolsonaro's villa.
The investigation seems to involve suspicions that Bolsonaro forged vaccine certificates: i.e., he was never vaccinated by had documents attesting to his vaccination, including to enter the US. Bolsonaro denies this.

Read about this judge here:https://t.co/VCs9u4bM0l

— Glenn Greenwald (@ggreenwald) May 3, 2023
Other Bolsonaro foes chimed in.
"Brazil was governed by a group of Hollywood-style gangsters," said leftwing congressman Guilherme Boulos in a tweet.
This isn't the only investigation into Bolsonaro, who's being probed over several suspected crimes and transgressions while no longer enjoying prosecutorial immunity.
Bolsonaro, meanwhile, told reporters he was "surprised" at the raid, and denied any involvement in "adulteration."
"I wasn't vaccinated. Full stop," he said, adding "I have nothing else to say."
Loading...