---
Brazil's 'Donald Trump' Banned From Public Office For 8 Years
A top Brazilian court has ruled that former president Jair Bolsonaro is barred from running for office for eight years.
The country's highest electoral court says that the man once popularly dubbed "Brazil's Donald Trump" cannot run for or hold any public office until 2030. This means he'll have to sit out the 2026 election, after last year he lost to left-wing opponent Luiz Inácio Lula da Silva.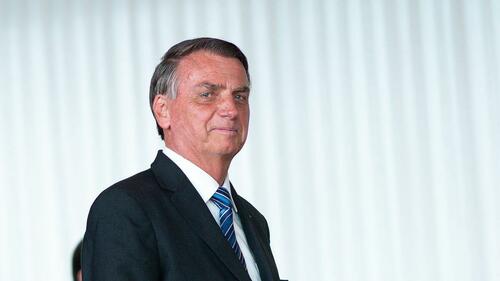 Five out of seven judges found him guilty, with two judges voting against - expressing their rationale that he has a right to free speech in contesting the fairness of the last election.
The charges are centered on attacking public confidence and allegedly stoking violent protests over what he and his supporters called 'fraudulent' elections and rigged voting machines. He was accused further of abuse of power, particularly over his summoning ambassadors to his residence last year to decry the election.
That controversial meeting in particular had been live-streamed. State-funded US media outlet NPR writes, "The case stems from a meeting Bolsonaro held with foreign ambassadors in July 2022, in which he spread false information about Brazil's electoral system and brought its credibility into question ahead of last year's fractious election. The meeting was livestreamed by official television channels and on YouTube."
Brazil's Superior Electoral Court later deemed the video as well as other social media content from the Bolsonaro campaign to constitute 'misinformation' and election interference, after which YouTube complied in removing the videos.
Subsequently an avalanche of Brazilian and American media reports compared the controversy to events surrounding Trump and the 2020 election, as well as January 6, especially when rioters clashed with police in Brasilia in early January, which included Bolsonaro supporters storming Congress, the Supreme Court and presidential palace.
🇧🇷 BREAKING: Former Brazilian President Jair Bolsonaro declared INELIGIBLE to run for office until 2030 after judges concluded he abused his power by casting doubt on the country's voting system

They did to Bolsonaro what they want to do to Trump. 🇧🇷🤝🇺🇸 pic.twitter.com/fHACcIbya5

— Sameera Khan (@SameeraKhan) June 30, 2023
The former Brazilian president had been living in Florida, more or less in a kind of exile while Brazilian officials prepared multiple charges and investigations. When his visa was set to expire, he flew back to Brazil in March, after three months in the US.
During his stay in the US, multiple progressive Democratic lawmakers urged the Biden administration to cancel his visa, arguing that he was sowing election disinformation while living comfortably in a posh Florida home.
Loading...