Former Brazilian President Luiz Inácio Lula da Silva, known as Lula, was ordered released from prison on Friday, after the Supreme Court ruled on Thursday to end mandatory imprisonment for convicts who lose their first appeal. 
Lula, a celebrated leftist icon in Latin America, was freed after a year-and-a-half behind bars due to what his supporters say was a "politically motivated" prosecution from the right-wing government. 
He had been sentenced to a total of eight years and 10 months after being convicted of taking bribes from engineering firms as part of the sweeping anti-corruption "Car Wash" investigation.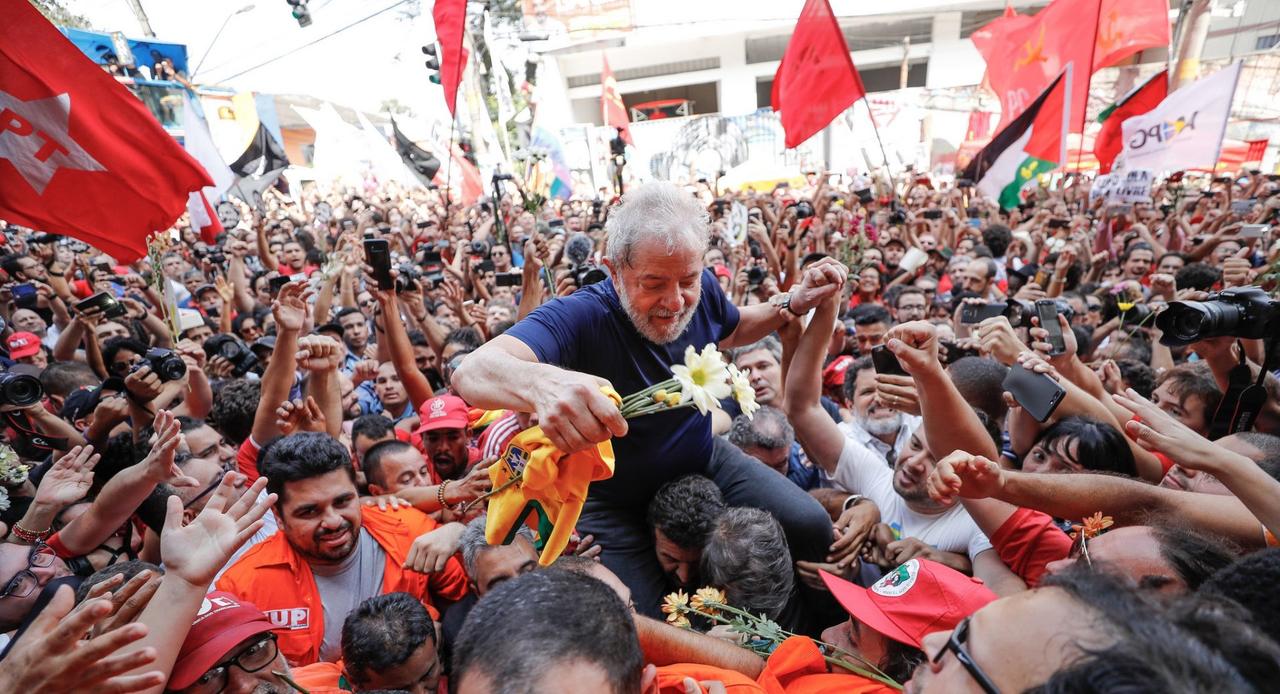 At the time police said they had evidence he benefited from a kick-back scheme at state oil firm Petroleo Brasileiro SA (Petrobras), receiving payments and luxury real estate. A police statement had alleged, "Ex-president Lula, besides being party leader, was the one ultimately responsible for the decision on who would be the directors at Petrobras and was one of the main beneficiaries of these crimes." 
Lula walked out of federal police headquarters in the southern city of Curitiba after the shock announcement of his release Friday to cheers from a large crowd of supporters, who were mostly wearing and carrying signs in the characteristic Workers' Party red. 
"You don't know how much you represent me," the former Brazilian president told the jubilant crowd.
You know who is really pissed right now? Jair Bolsonaro. Sergio Moro. Deltan Dallagnol. pic.twitter.com/YAfILr90Mg

— Andrew Fishman (@AndrewDFish) November 8, 2019
Supporters claim as evidence that Lula was "set up" the fact that the very former federal judge who spearheaded the Car Wash investigations which convicted Lula has quickly advanced in Bolsonaro's administration, as Reuters observes:
Lula and his supporters have also criticized the fact that Sergio Moro, a former federal judge who oversaw the Car Wash probe and convicted Lula, accepted an invitation to become the justice minister of far-right President Jair Bolsonaro, a longtime foe of Lula and key rival in last year's election.
Journalist Glenn Greenwald, who lives in Brazil, tweeted, "An extraordinary day in Brazil - for the world, given Lula's stature." 
"Eu saio com muita vontade de voltar a lutar" pic.twitter.com/7FpiXvjAWl

— Lula (@LulaOficial) November 8, 2019
In his remarks upon emerging from federal prison, Lula further addressed the crowd of supporters saying,  "They did not imprison a man." And added, "They wanted to kill an idea. And ideas are not killed."
* * * 
Meanwhile, look who else was ecstatic over the news. "Truth Triumphed in Brazil!" Maduro tweeted as congratulations. 
¡La Verdad Triunfó en Brasil! En nombre del pueblo de Venezuela, expreso mi más profunda alegría por la liberación de mi hermano y amigo @LulaOficial, quien nuevamente estará en las calles para liderar las causas justas de los brasileños y brasileñas. ¡Viva #LulaLibre! pic.twitter.com/q5GTbbwWIb

— Nicolás Maduro (@NicolasMaduro) November 8, 2019